about:mozilla is a weekly round-up of news and contribution opportunities. Here's what's happening this week.
Demoparty winners
The Mozilla Labs Demoparty Project which explores and finds creative ways to use web technologies has picked the winners of this year's online competition. Check out a cool WebGL Water Simulation and more.
Beyond HTML5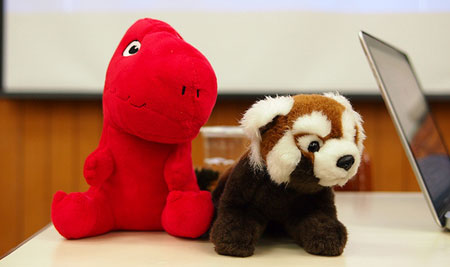 Paul Rouget, one of our Web evangelists, traveled to Taiwan recently to take part in COSCUP to give a talk about the recent developments of HTML5 and participate in a mini-workshop to discuss the future of HTML. See the slides and get a glimpse of the future. (This photo was taken by Othree, cc: by 2.0)
Expanding the Web
Jonas Sicking gives more details about the recently announced WebAPI effort to create APIs that will expand what the web can do for our mobile phones. Learn more about the project's goals, security and privacy issues and how to get involved.
More Popcorn
The Popcorn community has released a new version of its award-winning HTML5 video framework. Checkout the new features and download it now. If you're thinking of helping out, now is a great time to get involved.
People of HTML5
Chris Heilmann continues a series of interviews and short videos introducing different HTML5 spokespeople. This week Chris talks with Divya Manian, Web Opener at Opera Software, who talks about CSS standards, collaboration tools and more.
Upcoming events
* September 7, San Francisco, CA, Firefox on Android Meetup
* September 8, Institute of Contemporary Art, London, Mozpub: A London meet-up for the Mozilla Festival
* September 10 – 12, New York, New York, Open Video Conference
* September 29, City University in London, Add-on SDK Workshop
* November 4 – 6, London, England, Mozilla Festival — Media, Freedom and the Web
* November 12 – 13, Berlin, Germany, Mozilla Camp Europe 2011
* November 19 – 20, Kuala Lumpur, Asia Mozilla Camp Asia 2011
* See more on the Mozilla Community Calendar
Get Involved
These are just some of the available contribution opportunities. Learn more about other ways to get involved!
About about:mozilla
The newsletter is written by Mozilla's contributor engagement team and is published every Tuesday.
If you have anything you would like to include in our next issue, please contact: about-mozilla[at]mozilla.com.
You can also subscribe to the email version.
06 Sep 2011
Leave a Reply