about:mozilla is a weekly round-up of news and contribution opportunities. Here's what's happening this week.
Firefox for Tablets
Lucas Rocha of the Firefox Mobile team announced that the new Firefox UI for Android tablets is now available in nightly builds. Check it out and then drop by #mobile on irc.mozilla.org if you would like to help us make it even better.
Open Badges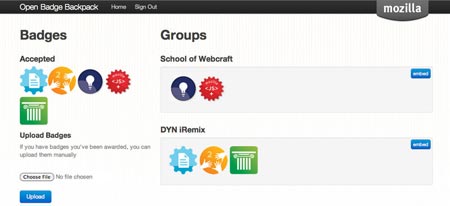 Mozilla launched the Open Badges project which will make it easy for everyone to share and gather badges to show their skills to the world. Download the code and look out for how others, like School of Webcraft, are making use of this new infrastructure.
Promoting New Technologies
Chris Heilmann recently gave a talk about new web technologies and how to promote them. When you want to do a quick show and tell of new technologies you can go to the slides, uncheck the ones you don't want, hit the start presentation button and go for it.
Braderie de Lille
Thanks to the Mozilla Belgium community, Mozilla had a booth at the Grande braderie de Lille in Northern France, a gigantic flea market attracting millions of people. If you're also interested in spreading the word about Mozilla, check out the Mozilla Reps program.
Meet A Mozillian
Jessica Klein is a talented illustrator interested in education and ways to connect people with new technologies. She is the Design and Learning Lead of Hackasaurus. Find out more about Jessica and some of her great ideas, like creating hackable comics.
Thanks Mike Shaver
Mike Shaver announced that he's leaving Mozilla after working at Mozilla the past 6 years (and he's been involved even longer, since before Mozilla.org even existed). John Lilly and Asa Dotzler were just two of the people who wanted to thank Mike for all that he's done for Mozilla and the web. Thanks and good luck, Mike!
Upcoming Events
* September 29, City University in London, Add-on SDK Workshop
* November 4 – 6, London, England, Mozilla Festival — Media, Freedom and the Web
* November 12 – 13, Berlin, Germany, Mozilla Camp Europe 2011
* November 19 – 20, Kuala Lumpur, Asia Mozilla Camp Asia 2011
* See more on the Upcoming Events Calendar
Get Involved
These are just some of the available contribution opportunities. Learn more about other ways to get involved!
About about:mozilla
The newsletter is written by Mozilla's contributor engagement team and is published every Tuesday.
If you have anything you would like to include in our next issue, please contact: about-mozilla[at]mozilla.com.
You can also subscribe to the email version.
20 Sep 2011
Leave a Reply