about:mozilla is a weekly round-up of news and contribution opportunities. Here's what's happening this week.
Open Election 2012
Mozilla partners with public media to launch Open Election 2012. The event will showcase how open web technologies and citizen participation can make election coverage more accessible to diverse audiences, and provide new ways to engage with the news. Tuesday's State of the Union Address from U.S. President Barack Obama will include crowd sourced captions and subtitles provided by everyday citizens around the world.
Tomorrow's Webmakers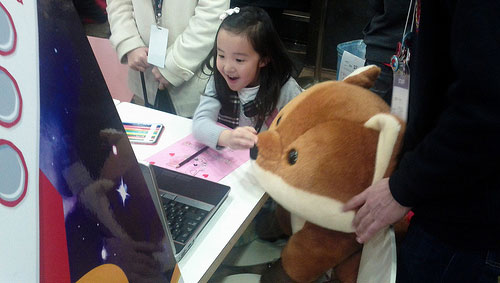 Our Japanese community along with Mozilla staff and friends organised a wonderful hackjam event for young Web makers in Tokyo. The whole day was run as a series of Hive "Popups" which included activities like remixing the web with Hackasaurus and prototyping Web interfaces on paper.
Community Photo Collection


The Creative team needs your help collecting photos that capture the personality of our global community for an upcoming design project inspired by the new orange design of the Firefox download page. If you have any pictures that you'd like to submit, please tag them with mwcboothdesign by Thursday.
SOPA/PIPA Postponed
Thank you to everyone who spoke out against the proposed Stop Online Piracy Act and the PROTECT IP Act. It's your actions that have postponed these bills. We have a breakdown of the statistics for the campaign if you would like to find out more.
Dev Derby for January
This month's competition is about orientation, and we are looking forward to some really interesting ideas and demos from you people! So, what are you waiting for? Submit your demo now!
Thunderbird testday
The Thunderbird team is organizing an important test day to make sure that we aren't breaking anything for people that will update from 3.1.x to 10. If you would like to participate find out how to get involved.
Meet Some Mozillians
Bonjour Mozilla says bonjour to Eduardo Urcullù, Marco Zehe, Majda Dans and Roi et Reine . Read more about how these people are contributing to Mozilla.
Upcoming events
* January 24-25, Mission Bay Conference Center, San Francisco Node Summit
* January 25, Online Mozilla CTF hacking competition
* January 25, Mozilla, San Francisco Selenium meetup
* January 26, Online Thunderbird ESR testing
* February 4-5, Brussels, Belgium, FOSDEM (Free and Open source Software Developers' European Meeting)
* See more on the Mozilla Community Calendar
Get Involved
These are just some of the available contribution opportunities. Learn more about other ways to get involved and find other Mozillians in our community who share your interests.
About about:mozilla
The newsletter is written by Mozilla's contributor
engagement team and is published every Tuesday.
If you have anything you would like to include in our next issue,
please contact: about-mozilla[at]mozilla[dot]com or send us a status message on mozilla.status.net or a tweet @aboutmozilla .
You can also subscribe to the email version.
Have a good week folks and keep rocking the Web!
24 Jan 2012 paulbooker
Leave a Reply