about:mozilla is a weekly round-up of news and contribution opportunities. Here's what's happening this week.
What exactly is a Webmaker?
Want to know what Mozilla means by Web making? Or why you (and Mozilla) should care? Mark Surman and Michelle Levesque recently gave a 20 minute talk that answers this question.
Winding down Drumbeat.org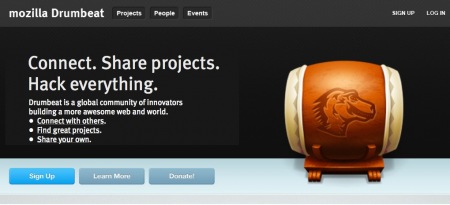 Later this month were going to be winding down the Drumbeat brand and web site. We're going to be focusing on our most successful projects that also happen to be ones that will help us build the next generation of webmakers. If you would like to get involved with building our new Website or help us with reinventing our brand or with other things that were working on check out our Mozilla Webmakers wiki for details on our projects, community calls, and others ways to stay in touch.
Dev Derby February
It's February and time for our next Dev Derby! This month, we want to see what you can do with touch events. Your submitted demos will be showcased in our Mozilla's Demo Studio, and we would also like to feature you in an article here on Mozilla Hacks as well! Go for it!
Popcorn Learning Labs
If you would like to organize (or take part in) a Mozilla Popcorn Learning Lab that introduces developers and filmmakers to remixing web content into video using open tools then check out this guide for more information.
Meet Some Mozillians
Bonjour Mozilla says bonjour to Cédric Menge (Chewey), Paul Berettoni (cmal), David McNamara (Mackers), Otto de Voogd and Philipp Kewisch. Read more about how these people are contributing to Mozilla.
Upcoming events
* February 21, San Francisco, USA and online, Firefox Add-ons Made Easy
* March 25, London, England Mozilla Popcorn Learning Lab
* See more on the Mozilla Community Calendar
Get Involved
These are just some of the available contribution opportunities. Learn more about other ways to get involved and find other Mozillians in our community who share your interests.
About about:mozilla
The newsletter is written by Mozilla's contributor engagement team and is published every Tuesday.
If you have anything you would like to include in our next issue, please contact: about-mozilla[at]mozilla[dot]com or send us a status message on mozilla.status.net or a tweet @aboutmozilla .
You can also subscribe to the email version.
Have a good week folks and keep rocking the Web!
21 Feb 2012 paulbooker
Leave a Reply