about:mozilla is a weekly round-up of news and contribution opportunities. Here's what's happening this week.
FOSDEM 2012
Last weekend many Mozillians attended FOSDEM in a freezing cold Brussels. A huge thank you to Benoit Leseul and team for organizing our efforts there. Rob Hawkes talked about open Web apps and open Web games, whilst Tristan Nitot announced six grants to international non-profits who will strengthen the Web, free and open source software and user sovereignty.
Mozilla Antarctica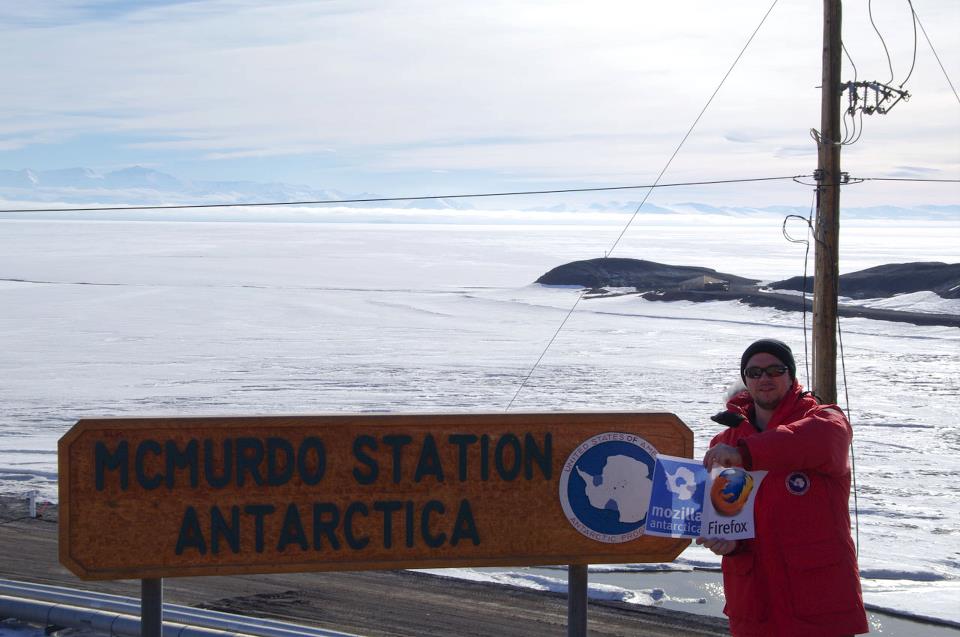 The Mozilla Antarctica Community Site recently launched which will provide news, interviews and other stuff from the coolest Mozilla community. Not only do we love the penguins but Antarctica is the only continent to have a majority Firefox market share. Must be all the intelligent scientists using it!
Become a WebFWD Affiliate
Do you want to spread some open source love? You do? Great! Because you can now become a WebFWD affiliate and increase awareness of Mozilla's open innovation program. Signing up is super simple and in a few clicks you can display your love of WebFWD.
Bedrock ready to go!
The Web Development team have finished the new Bedrock platform which will power the mozilla.org website. Bedrock is a complete rewrite of the site, clearing up years of cruft and implementing cool new features.
Interview with Nikhil Suresh
Havi Hoffman interviews Nikhil Suresh about Bouncy and the Apple, his non-violent 2-person shooter game which won him the November MDN Developer Derby. She learns a little bit more about Nikhil and what inspires him.
Meet Some Mozillians
Bonjour Mozilla says bonjour to Serge Gautherie, Melek Jebnoun, Tim Taubert and Felipe Gomes and Sean Martell. A special hello to (quite possibly) the youngest Mozillian on the planet: William Joseph Markham. Read more about how these people are contributing to Mozilla.
Upcoming events
* February 10, Online – Firefox Beta for Android Test Day
* February 23, San Fransisco, USA – WebQA 'Live' Test Day
* See more on the Mozilla Community Calendar
Get Involved
These are just some of the available contribution opportunities. Learn more about other ways to get involved and find other Mozillians in our community who share your interests.
About about:mozilla
The newsletter is written by Mozilla's contributor
engagement team and is published every Tuesday.
If you have anything you would like to include in our next issue,
please contact: about-mozilla[at]mozilla[dot]com or send us a status message on mozilla.status.net or a tweet @aboutmozilla .
You can also subscribe to the email version.
Have a good week folks and keep rocking the Web!
08 Feb 2012 leo
One Response to "FOSDEM, Mozilla Antarctica, WebFWD and more…"
on 10 Jun 2012 at 10:09 pm

1

Fakhir

Great effort guys but in my opinion, mozillians should visit Africa too.