about:mozilla is a weekly roundup of news and contribution opportunities. Here's what's happening this week.
A scouting movement for the web
Mark Surman, Executive Director at the Mozilla Foundation, published a blog post about a scouting movement for the web. He did a talk on that idea at last week's TEDx Seneca, where lots of people listened to his speech and appreciated it. Watch the video to find out why he thinks that we can have a world where making and coding online are mainstream amateur activities.
What are we working on?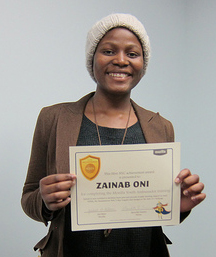 Matt Thompson, Chief Storyteller for the Mozilla Foundation, has posted some updates again. This time he's talking about Audrey Watters, who answered this question: "What's the best way to teach web-building to anyone?", and he shows Chris Appleton's Mozilla "webmaker" branding concepts. The most important news however is about Zainab, a new and highly motivated Mozilla Youth Ambassador. Click on the picture above to find out more about her or check out Matt's post where you can also find some more information about "StoryThing" and the Mozilla Summer Code Party.
WebRTC – Connecting Browsers… And People
Anant Narayanan, a hacker at Mozilla Labs, talked in a blog post about WebRTC, a free and open project that allows browsers to communicate in real time by using simple JavaScript APIs. He shows one cool possibility for its usage: Video calling powered by easy JavaScript and HTML code in your browser. The stream is being established by WebRTC, now you just have to sit back and talk to your friends. Cool, huh?
The Firefox Clinic Was Awesome
Last month the Mozilla Support team put together the pilot Firefox Clinic event and had 51 Firefox users come into the San Francisco space, many with computers in tow, to get in-person help. Check out this blog post by Michael Verdi to read more about it. It also includes a few videos, one of them is an interview where the users talk about their experiences.
HTML5 Dev Derby
Are you a developer and do you have good HTML5 skills? Great! Then take part in this month's Dev Derby which is hosted by the Mozilla Developer Network. This month, it's all about what you can do with HTML5 audio. The prizes are also great. The winner will get an Android mobile device and the follow-ups will get nice things too. So start hacking now and submit your entries.
Firefox Beta Buttons Going Abroad
As you may know, the Firefox Affiliates team has created buttons to share the awesomeness of Firefox. Now they came up with buttons for Firefox Beta and the best thing is yet to come: It's available in all locales. So go ahead and become a Firefox Affiliate today and put it onto your website or blog to spread Firefox Beta. Additionally, the beautiful blue buttons look really cool, don't they? You can see two examples on Chelsea Novak's blog.
News From Hacks.Mozilla.Org
This week, there are two interesting updates you might want to take a look at. The first one is about the first ever MDN Hack Day in New York City where lots of cool Mozillians spent two days of meetings, strategy, demos and hacking in Brooklyn. In another article, Joe Stagner talks about the difference between an app and a page, which should encourage developers to submit their apps to the Mozilla Marketplace. Isn't it exciting to see what you can do with HTML5?
Meet Some Mozillians
Bonjour Mozilla says bonjour to Rob Hawkes, Paul Adenot, Stephen Étienne, Julia Buchner and to all the Mozillians in New York. Read more about how these people are contributing to Mozilla.
Upcoming events
* April 13, Tulsa, Oklahoma Tulsa School of Dev
* April 13, Online Firefox Critical Unconfirmed Bugs Testday
* April 14, Taipei, Taiwan OSDC.tw 2012
* April 14, Carnon-Montpellier, France djangocong
* May 9, London, England Open House
* May 10, London, England Geek Quiz
* May 12, London, England MDN Hackday
* May 14, London, England Monday Mobile Madness
* May 15, London, England Open House 2
* May 16, London, England Geek Bowling
* See more on the Mozilla Community Calendar
Get Involved
These are just some of the available contribution opportunities. Learn more about other ways to get involved and find other Mozillians in our community who share your interests.
About about:mozilla
The newsletter is written by Mozilla's contributor engagement team and is published every Tuesday.
For more on what has been happening this week also check out the Mozilla Project Meeting.
If you have anything you would like to include in our next issue, please contact: about-mozilla[at]mozilla[dot]com or send us a status message on mozilla.status.net or a tweet @aboutmozilla .
You can also subscribe to the email version.
Have a good week folks and keep rocking the Web!
10 Apr 2012 dboswell