When you upgrade to Windows 10 or get a device with it already installed, you may be surprised to find that your default browser is set to Microsoft Edge by Windows. We want to help you upgrade smart, preserving your default choice or, if you've already upgraded and lost your defaults, help you switch back.
Upgrade smart
During your Windows 10 upgrade, you will be given an option to use Express settings or to customize your settings on your own. To preserve your default choices, choose customize settings.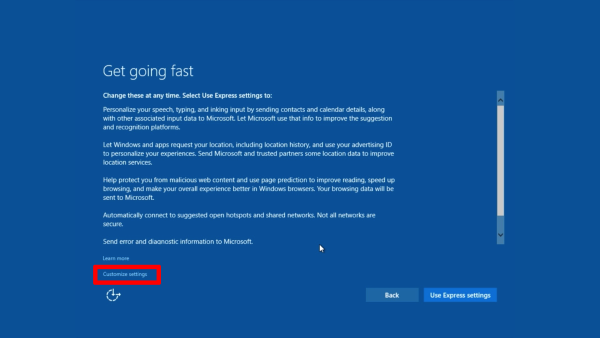 You will then be given options to send various kinds of inputs to Microsoft. This includes speech, typing, inking, contacts, calendar details and permissions for apps to use your Microsoft advertising ID. Customize those as you like.
The next window allows you to customize your defaults for your web browser, photo management, music, movies and TV. Click on "Let me choose my default apps" to manage your browser default settings.
Deselect Microsoft Edge to keep your previous default browser settings.
On the last screen of settings customization you will be presented with options for SmartScreen, page prediction and automated network connections. Customize as you like. When you press next your settings will be saved.
Set back to default
Microsoft has changed how to set default applications in Windows 10 and to help with the process, we have illustrated below all the steps you need to set or change your default back to your intended choice.
When you open Firefox for the first time, you will be asked if you'd like to make it your default browser. To do so, click the "Use Firefox as my default browser" button.
The Windows Settings app will open with the Choose default apps screen. Scroll down and click the entry under Web browser. The Web browser icon will say either "Microsoft Edge" or "Choose your default browser". It may not be intuitive, but you need to click on the Microsoft Edge logo to open the window that will let you choose another Web browser as your default.
3. This will open the Choose an app screen. Click Firefox in the list to set it as the default browser.
4. Firefox is now listed as your default browser. Close the window to save your changes.
If you aren't prompted by Firefox to reset your defaults, you may need to navigate to the Options pane in Firefox and then click on the "Make Default" button to access the default applications screen.
If you need more help, please go to our support page.