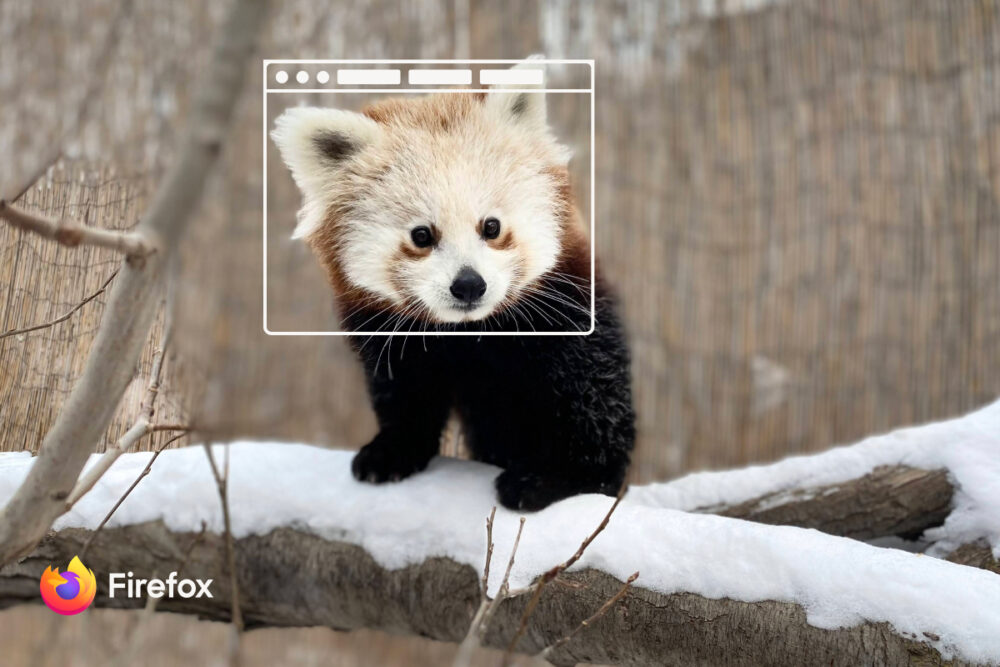 Firefox IRL: Meet Linda and Saffron, Idaho Falls Zoo's mother-daughter red panda duo
Did you know that the red panda is also known as a firefox? Sept. 16 is International Red Panda Day, so we thought it would be a good time to visit a Firefox, ahem red panda, in real life and talk to their caretakers at zoos across the U.S. See our full series of interviews here.
Forget "Gilmore Girls." The best mother-and-daughter show to watch is right at Idaho Falls Zoo. We're talking about red panda Linda and her little one, Saffron.
In 2021, Saffron was born at Idaho Falls Zoo and since then, she's been at her mother's side. Katie Barry, general curator at the zoo, tells us that Saffron recently discovered how yummy grapes taste and is always looking for treats along with her mom. We chatted with Katie, who shared a fun fact about how red pandas are able to go head first down a tree.
Tell us about the red pandas you care for.
"Linda is very much a nosey panda, wanting to be right up in your business as we clean the enclosure. She is always looking for handouts and loves bamboo and grapes. Saffron is a little more cautious and will keep her distance until the food comes out. Linda always hogs the grapes, so growing up Saffron never knew how good they were until late last year when she had her first one. Now she will be right up with Linda waiting when keepers come in with treats."
What's the coolest part about working with red pandas?
"Red pandas are very curious, smart and playful animals. Being able to work with them is just amazing. They are fun to watch move the enclosure, over logs, ropes, ladders and tree branches. Their adaptation of the thumb-like bone to help grip the stocks of bamboo and cool ankle bone structure that allows them to turn their foot so they can go head first down a tree."
How did you get your start as a zookeeper?
"Beginning my career in zookeeping, I first obtained a biology degree with an emphasis in zoology. From there, I took the time searching for internships and other available opportunities to get work experience in the zoo field. For me, I did a yearlong program at a facility in Washington that had exotic, big cats and learned animal husbandry basics. My peers and I had classes going over USDA regulations, nutrition and diet prep to proper cleaning and care for the animals. After completing the program, I was fortunate enough to get a job at a zoo in Mississippi as a zookeeper. Through my career, I have had the privilege to work with a variety of animals, from reptiles to primates and just about everything in between. Though I did enjoy the carnivores best; the red pandas are part of the small carnivore group."
What does your typical day look like?
"A typical day consists of a morning meeting where as a team we discuss what is going on, any meetings, trainings, tours, etc. that may be happening that we need to know about and schedule for. From there, our top priority is to check all the animals in our areas making sure they are all in good health, followed by a.m. feedings, any medications that need to be given out and moving on to clean. Exhibits are cleaned and checked before animals are put back out for the day and once out, holding areas are cleaned and checked over as well as giving out enrichment. The day is finished up with making diets for the night and next morning followed by p.m. feedings, shifting of any animals per protocols and end-of-the-day health checks. During the middle of the day, as time allows, we do various projects around our respective areas, fill out the day's paperwork and work with the animals on specific behaviors to help promote better veterinary care and overall animal management. While the zoo is open, the animal care staff provides educational encounters with the public throughout the day."
For visitors to the Idaho Falls Zoo, you can meet the zookeeper at the red panda exhibit on Saturdays to learn more about the mother-daughter duo.
Thank you, Katie, for sharing your stories about Linda and Saffron. It sounds like just the perfect show to watch this summer!
Get Firefox
Get the browser that protects what's important