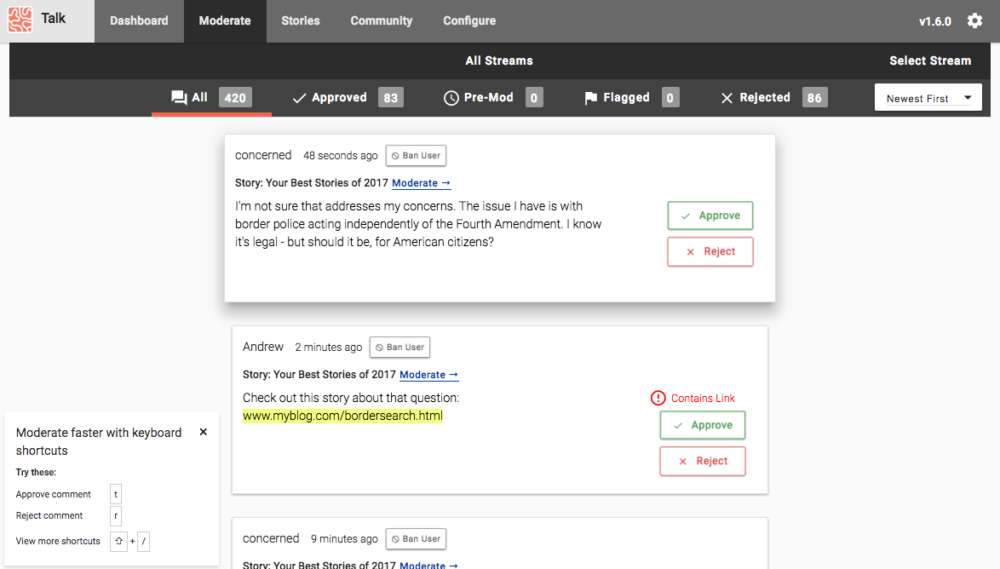 Mozilla and the Washington Post Are Reinventing Online Comments
To engage readers, build community, and strengthen journalism, Mozilla's open-source commenting platform will be integrated across washingtonpost.com
Digital journalism has revolutionized how we engage with the news, from the lightning speed at which it's delivered to different formats on offer.
But the comments section beneath that journalism? It's… broken. Trolls, harassment, enmity and abuse undermine meaningful discussion and push many people away. Many major newsrooms are removing their comments. Many new sites are launching without them.
Instead, newsrooms are directing interaction and engagement to social media. As a result, tools are limited, giant corporations control the data, and news organizations cannot build a direct relationship with their audience. 
At Mozilla, we're not giving up on online comments. We believe that engaging readers and building community around the news strengthens not just journalism, but also open society. We believe comments are a fundamental part of the decentralized web.
Mozilla has been researching, testing, and building software in this area since 2015. Today, our work is taking a huge step forward as the Washington Post integrates Talk — Mozilla's open-source commenting platform — across washingtonpost.com.
Talk is currently deployed across the Washington Post's Politics, Business, and The Switch (technology) sections, and will roll out to more sections in the coming weeks.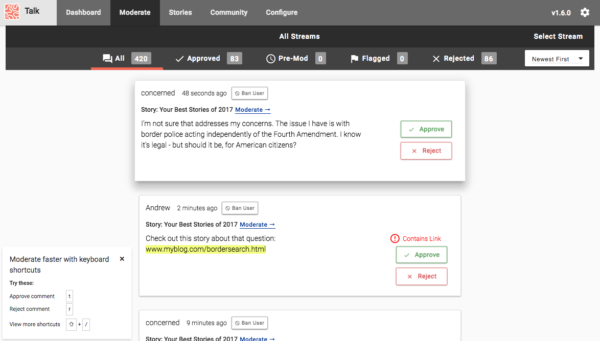 What is Talk?
Talk is developed by The Coral Project, a Mozilla creation that builds open-source tools to make digital journalism more inclusive and more engaging, both for audience members and journalists. Starting this summer, Talk will also be integrated across Fairfax Media's websites in Australia, including the Sydney Morning Herald and The Age. One of The Coral Project's other tools, Ask, is currently being used by 13 newsrooms, including the Miami Herald, Univision, and PBS Frontline.
"Trust in journalism relies on building effective relationships with your audience," says Andrew Losowsky, project lead of The Coral Project. "Talk rethinks how moderation, comment display and conversation can function on news websites. It encourages more meaningful interactions between journalists and the people they serve."
"Talk is informed by a huge amount of research into online communities," Losowsky adds. "We've commissioned academic studies and held workshops around the world to find out what works, and also published guides to help newsrooms change their strategies. We've interviewed more than 300 people from 150 newsrooms in 30 countries, talking to frequent commenters, people who never comment, and even trolls. We've learned how to turn comments — which have so much potential — into a productive space for everyone."
"Commenters and comment viewers are among the most loyal readers The Washington Post has," said Greg Barber, The Post's director of newsroom product. "Through our work with Mozilla, The New York Times, and the Knight Foundation in The Coral Project, we've invested in a set of tools that will help us better serve them, powering fruitful discussion and debate for years to come."
The Coral Project was created thanks to a generous grant from the Knight Foundation and is currently funded by the Democracy Fund, the Rita Allen Foundation, and Mozilla. It also offers hosting and consulting services for newsrooms who need support in running their software.
Here's what makes Talk different
It's filled with features that improve interactions, including functions that show the best comments first, ignore specific users, find great commenters, give badges to staff members, filter out unreliable flaggers, and offer a range of audience reactions.
You own your data. Unlike the most popular systems, every organization using Talk runs its own version of the software, and keeps its own data. Talk doesn't contain any tracking, or digital surveillance. This is great for journalistic integrity, good for privacy, and important for the internet.
It's fast. Talk is small — about 300kb — and lightweight. Only a small number of comments initially load, to keep the page load low. New comments and reactions update instantaneously.
It's flexible. Talk uses a plugin architecture, so each newsroom can make their comments act in a different way. Plugins can be written by third parties — the Washington Post has already written and open sourced several — and applied within the embed code, in order to change the functionality for particularly difficult topics.
It's easy to moderate. Based on feedback from moderators at 12 different companies, we've created a simple moderation system with keyboard shortcuts and a feature-rich configuration.
It's great for technologists. Talk is fully extensible with a RESTful and Graph API, and a plugin architecture that includes webhooks. The CSS is also fully customizable.
It's 100% free. The code is public and available for you to download and run. And if you want us to help you host or integrate Talk into your site, we offer paid services that support the project.