Explore the immersive web with Firefox Reality. Now available for Viveport, Oculus, and Daydream
Earlier this year, we shared that we are building a completely new browser called Firefox Reality. The mixed reality team at Mozilla set out to build a web browser that has been designed from the ground up to work on stand-alone virtual and augmented reality (or mixed reality) headsets. Today, we are pleased to announce that the first release of Firefox Reality is available in the Viveport, Oculus, and Daydream app stores.
At a time when people are questioning the impact of technology on their lives and looking for leadership from independent organizations like Mozilla, Firefox Reality brings to the 3D web and immersive content experiences the level of ease of use, choice, control and privacy they've come to expect from Firefox.
But for us, the ability to enjoy the 2D web is just table stakes for a VR browser. We built Firefox Reality to move seamlessly between the 2D web and the immersive web.
Designed from the virtual ground up
The Mixed Reality team here at Mozilla has invested a significant amount of time, effort, and research into figuring out how we can design a browser for virtual reality:
We had to rethink everything, including navigation, text-input, environments, search and more. This required years of research, and countless conversations with users, content creators, and hardware partners. The result is a browser that is built for the medium it serves. It makes a big difference, and we think you will love all of the features and details that we've created specifically for a MR browser.
– Andre Vrignaud, Head of Mixed Reality Platform Strategy at Mozilla
Among these features is the ability to search the web using your voice. Text input is still a chore for virtual reality, and this is a great first step towards solving that. With Firefox Reality you can choose to search using the microphone in your headset.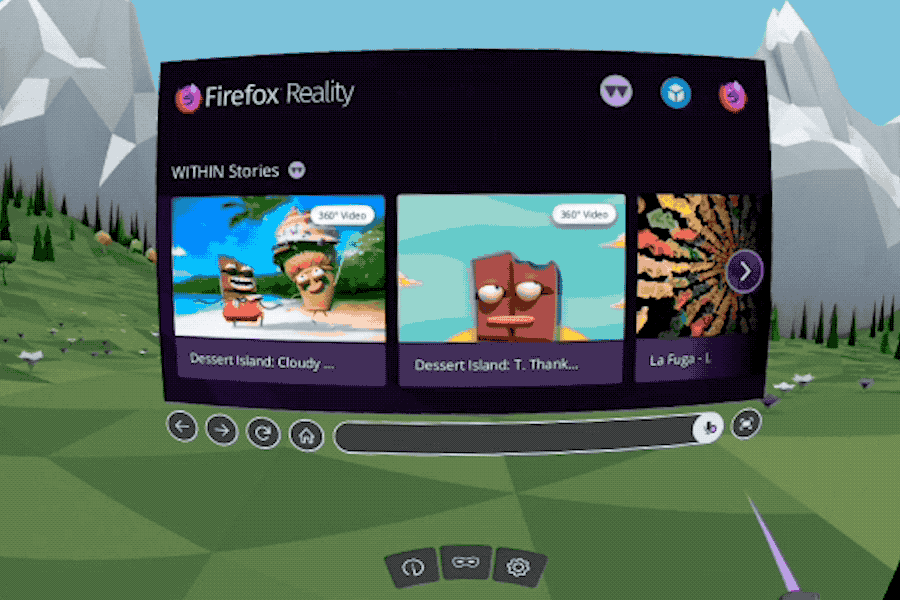 Content served fresh
We spent a lot of time talking to early VR headset owners. We asked questions like: "What is missing?" "Do you love your device?" And "If not, why?" The feedback we heard the most was that users were having a hard time finding new games and experiences. This is why we built a feed of amazing content into the home screen of Firefox Reality.
– Andre Vrignaud, Head of Mixed Reality Platform Strategy at Mozilla
From the moment you open the browser, you will be presented with immersive experiences that can be enjoyed on a VR headset directly from the Firefox Reality browser. We are working with creators around the world to bring an amazing collection of games, videos, environments, and experiences that can be accessed directly from the home screen.
A new dimension of Firefox
We know a thing or two about making an amazing web browser. Firefox Reality is using our new Quantum engine for mobile browsers. The result is smooth and fast performance that is crucial for a VR browser. We also take things like privacy and transparency very seriously. As a company, we are dedicated to fighting for your right to privacy on the web. Our values have guided us through this creation process, just as they do with every product we build.
We are just getting started
We are in this for the long haul. This is version 1.0 of Firefox Reality and version 1.1 is right around the corner. We have an always-growing list of ideas and features that we are working to add to make this the best browser for mixed reality. We will also be listening and react quickly when we need to provide bug fixes and other minor updates.
If you notice a few things are missing ("Hey! Where are the bookmarks"), just know that we will be adding features at a steady pace. In the coming months, we will be adding support for bookmarks, 360 videos, accounts, and more. We intend to quickly prove our commitment to this product and our users.
Built in the open
Here at Mozilla, we make it a habit to work in the open because we believe in the power of transparency, community and collaboration. If you have an idea, or a bug report, or even if you just want to geek out, we would love to hear from you. You can follow @mozillareality on twitter, file an issue on GitHub, or visit our support site.
Calling all creators
Are you creating immersive content for the web? Have you built something using WebVR? We would love to connect with you about featuring those experiences in Firefox Reality. Are you building a mixed reality headset that needs a best-in-class browser? Let's chat.
Firefox Reality is available right now.
Download for Oculus
(supports Oculus Go)
Download for Daydream
(supports all-in-one devices)
Download for Viveport (Search for "Firefox Reality" in Viveport store)
(supports all-in-one devices running Vive Wave)