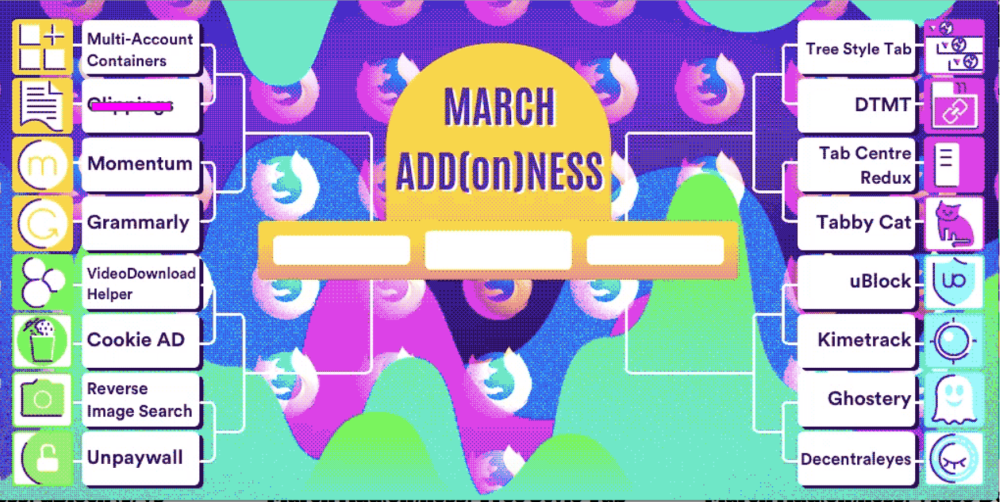 Firefox March Addonness: Video Download Helper (1) Vs Cookie AD (4)
It's battle two of Firefox March Addonness today and we have…
Video DownloadHelper
Media
Video DownloadHelper is the easy way to download and convert Web videos from hundreds of YouTube-like sites.
Video DownloadHelper is a strong contender, giving users the ability to snag videos from virtually any site. The add-on automatically finds videos on a webpage. What users do with those videos is nobody's business and anyone's guess.
Fun Fact: 300 hours of video are uploaded to YouTube every minute and almost 5 billion videos are watched on Youtube every single day. If you tried to download all of them, your computer would explode.
VS
Cookie AutoDelete
Media
Control your cookies! This WebExtension is inspired by Self Destructing Cookies. When a tab closes, any cookies not being used are automatically deleted. Whitelist the ones you trust while deleting the rest. Support for Container Tabs.
Cookie AutoDelete is fighting an uphill battle. Everybody knows what a video is, but web cookies remain mysterious to most people on the web. Cookie AutoDelete trashes unused cookies when you close a tab, giving users the ability to easily assume different identities while surfing. Will this somewhat sneaky add-on be able to pull off a win against its vivacious video opponent? Let's find out!
Fun Fact: According to Nestle, the most popular cookie in Idaho is oatmeal chocolate chip. In Maine, it's molasses.
Get yourself over to our Twitter to vote on your favourite Add-on and help it get all the way to the top.