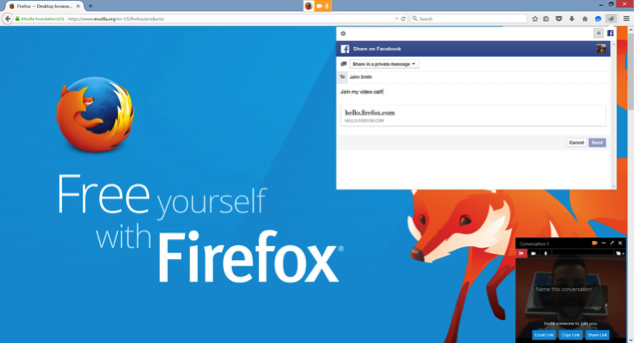 New Sharing Features in Firefox
Whichever social network you choose, it's undeniable that being social is a key part of why you enjoy the Web. Firefox is built to put you in control, including making it easier to share anything you like on the Web's most popular social networks. Today, we're announcing that Firefox Share has been integrated into Firefox Hello. We introduced Firefox Share to offer a simple way of sharing Web content across popular services such as Facebook, Twitter, Tumblr, LinkedIn and Google+ and other social and email services  (full list here) to help you share anything on the Web with any or all of your friends.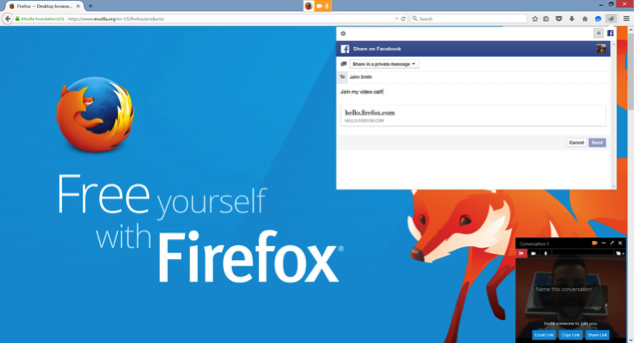 Firefox Hello, which we've been developing in beta with our partner, Telefonica, is the only in-browser video chat tool that doesn't require an account or extra software downloads. We recently added screen sharing to Firefox Hello to make it easier to share anything you're looking at in your video call. Now you can also invite friends to a Firefox Hello video call by sharing a link via the social network or email account of your choice, all without leaving your browser tab. That includes a newly added Yahoo Mail integration in Firefox Share that lets Yahoo Mail users share Hello conversation links or other Web content directly from Firefox Share.
For more information:
Release Notes for Firefox for Windows, Mac, Linux
Release Notes for Android
Download Firefox