The Best Last-Minute Halloween Costume of 2018: A Password Manager
You know what's spooky? Having your accounts hacked.
It's easy to feel detached from passwords and logins. When you hear about things like September's Facebook security breach or October's latest data leak, you might not be creeped out because a password is just a collection of numbers and letters—it doesn't feel personal. What's really at stake though is all of the deeply personal information those passwords help keep locked down. More of your identity than you think might be pieced together and exploited with access to just one account in the wrong hands.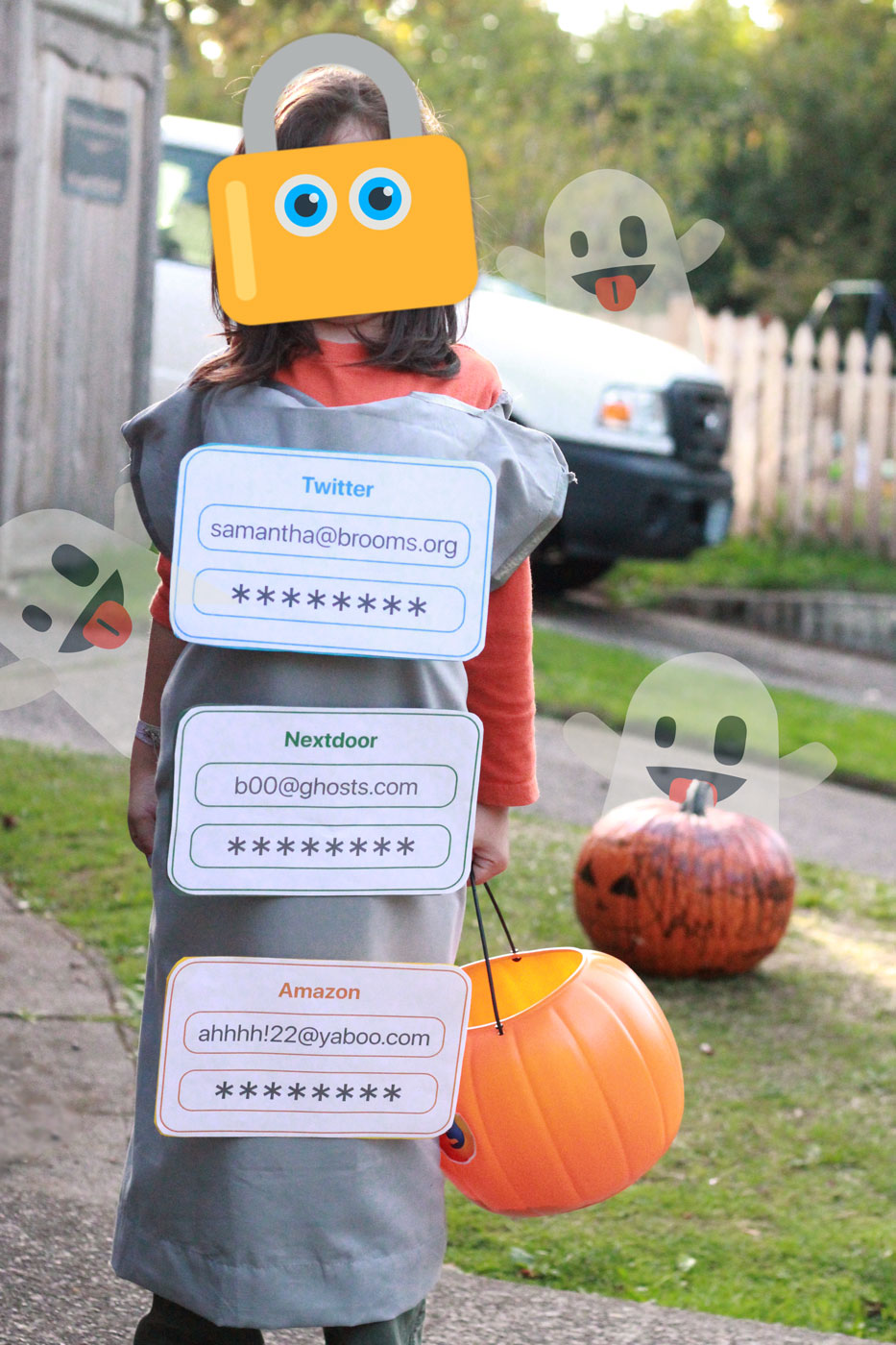 In fact, passwords are so valuable that thousands of them are stolen every day and traded on the black market. It's not all a horror show out there, though! You can take steps to protect those precious passwords.
That's why this year's hottest new last-minute Halloween costume is inarguably the password manager. In one super simple DIY costume, you can both properly spook your friends and neighbors *and* educate them about the importance of privacy online.
We've put together a printable pattern so you can make this costume yourself in a few simple steps.
Step 1
Find a pillowcase sized to your liking. This really depends on who the costume is for. For a child, you can go standard size for a solid tunic-to-maxi fit. On an adult around 5'4", a standard pillowcase can reach tunic length, though it might be tight in places. We'd recommend going full California King.
Step 2
Cut a hole for your head and arm holes. You know what they say: measure twice, cut once. If you don't have a sewing machine, or have failed several times with fabric glue, duct tape works nicely to bind any fraying at the edges.
Step 3
Print the password fields. There are a few ways you can print them, depending on how much time and craftiness you have at your disposal. You can either print them onto regular paper, cut them out and velcro them to your costume, though we won't judge if you just safety pin them on. This costume is thematically about safety, so do be sure to use a safety pin rather than a straight pin, as that could get dangerous. If you have the time, reinforce that regular paper with some sturdier cardstock (like we've done here).
You could also print them onto transfer paper and iron them on. Turns out transfer paper is tricky to find, so don't leave that until the last minute (like we've done here).
Step 4
Impress everyone you know and definitely be the savviest person in any room.