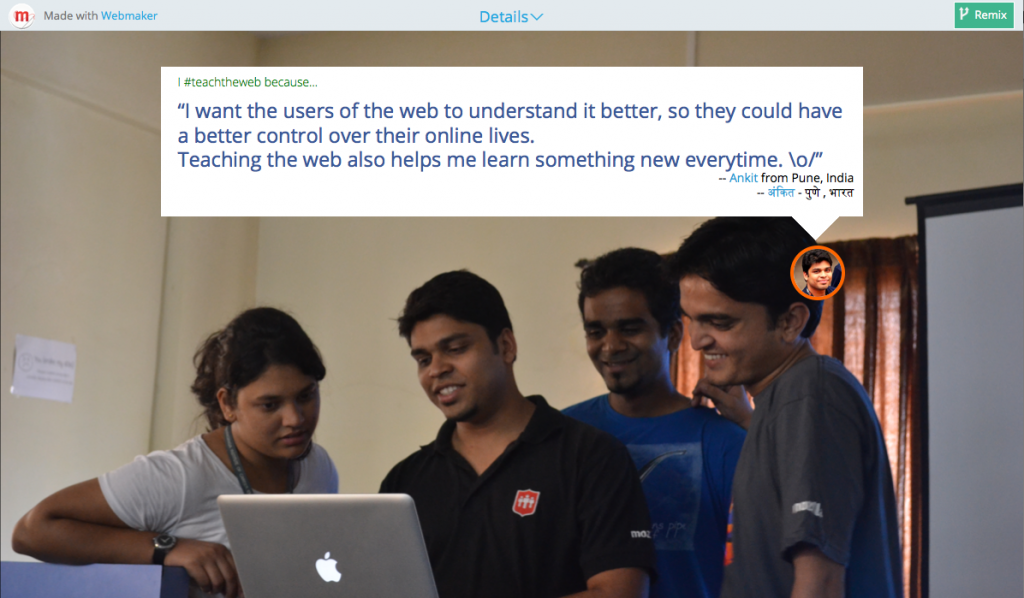 What inspires you to teach the web? We asked Webmaker community members for their answers — then invited them to share their stories using this remixable Webmaker template. What's your story? We'd love for you to make and then share your own using the #teachtheweb hashtag on Twitter.


I want users of the web to understand it better, so they can have better control over their online lives. Teaching the web also helps me learn something new every time.
Ankit is a Master's student in Computer Science, Webmaker Mentor and Mozilla Rep. As a "Super Mentor" / Webmaker community leader, Ankit helps train others to become Maker Party hosts and teach web skills in their own communities. He helped organize five separate Webmaker events in the last five months.
Ankit also helped facilitate our "Teach the Web" open online course (MOOC).  Here's an extended story from Ankit in his own words about why he's passionate about helping others understand the basics of coding and telling stories online.

It's so rewarding to see kids' faces light up the first time they "get it." The realization that the Web is made out of code they can shape and remix and create themselves is life-changing It's like teaching someone a new superpower!
I love sharing knowledge and skills. I'm always very happy every time I see the cheerful, enthusiastic faces of young people when they teach and learn the web.
Yoe One is a student in System Information. She's also a blogger and journalist. "I love Webmaker because it gives me more chances to teach about the Web to more people, especially students," she says.
Yoe One and her colleague, Benny, have started to build relationships with dozens of schools and local government to create interest in teaching digital literacy. She is also helping to bring in and train more mentors like her, "teaching the teachers" or "training the trainers."
Here's more from the Maker Party Yoe One helped organize in Surabaya:
The future should be something our kids can make for themselves rather than have to buy or go without.
Chad is a language arts teacher, National Writing Project teacher consultant and connected learning ambassador. He's also a pretty awesome cartoonist.

Chad is all about bringing more creativity and play into the classroom. He has used Mozilla Webmaker to do everything from creating a remixable personal map of the London Tube, to having students create mock Wikipedia entries for their own fictional rock bands.

Chad describes his own personal "webmaker story" on his blog
:  "With the help and support of friends at the
National Writing Project
, the
Mozilla Foundation
,
Teen Tech Girls
, and
#nerdcamp
, I started thinking of myself as a coder, as well as a teacher, husband, parent, gamer, writer, and reader. I even repaired an appliance because I thought to myself, "Hey, it can't be that different from coding."
It's never too late to learn to code. There's no right way to do it. Wonderful people can help you find ways to learn when you get stuck.
I want to empower everyone to become the makers of the web that we as citizens of the world need.
Ibraahiima has organized Maker Parties in Normandy, France and is passionate about translation, language teaching and flying.  He has used Webmaker tools in his classrooms to teach English as a second language, and gave an interview to a French newspaper.


"We talked about Webmaker, Mozilla values, and especially why webmaking is so important to teach to our youth — and also to everybody who is interested in the web. To keep the web open, a web for the people and by the people."

I believe that everyone should be given the opportunity to explore the endless possibilities of the Web.
Faye is a university student in Manila and a Mozilla Rep. Faye helped organize a big Maker Party in the Philippines attended by Mozilla's Executive Director, Mark Surman, and has thrown four other Webmaker events in the past five months.


Faye also hosted an all-girl Maker Party in Manila, "where women can learn how they can teach the wonders of the Web." She is also the official Webmaker Country Lead for the Phillipines, and is thinking strategically about how to improve Webmaker and how to get it out of Manila into remote regions.


Stephen is a interactive media artist and visiting research student at the Centre for Cultural Studies in Goldsmiths University. He using Webmaker tools like the X-Ray Goggles to remix pages like the one below.



"The three Webmaker tools – X-Ray Goggles, Thimble, and Popcorn Maker – each promise methods for snapping and reshaping the web — website remixing, website building and cloud based video remixing," he says in this article. "They channel the playful anarchy of punk hacktivists and opens up their methods so everyone can remix the web and share the results with one another."


Jeannie Crowley, New York City
I teach the web because a teacher once said to me, "I can't learn that."
Jeannie is the Manager of Digital Media & Learning at Bank Street College of Education, and loves teaching about "Hip Hop, Remix & Political Discourse." She was one of the first-ever Webmaker mentors, and created data visualizations and social media analysis of our "Teach the Web" open online course. She also created a Webmaker music video response to the NSA Prism scandal, and made this Rihana mash-up.
Your turn
Why do *you* teach the web? Hit the "remix" button to make and share.