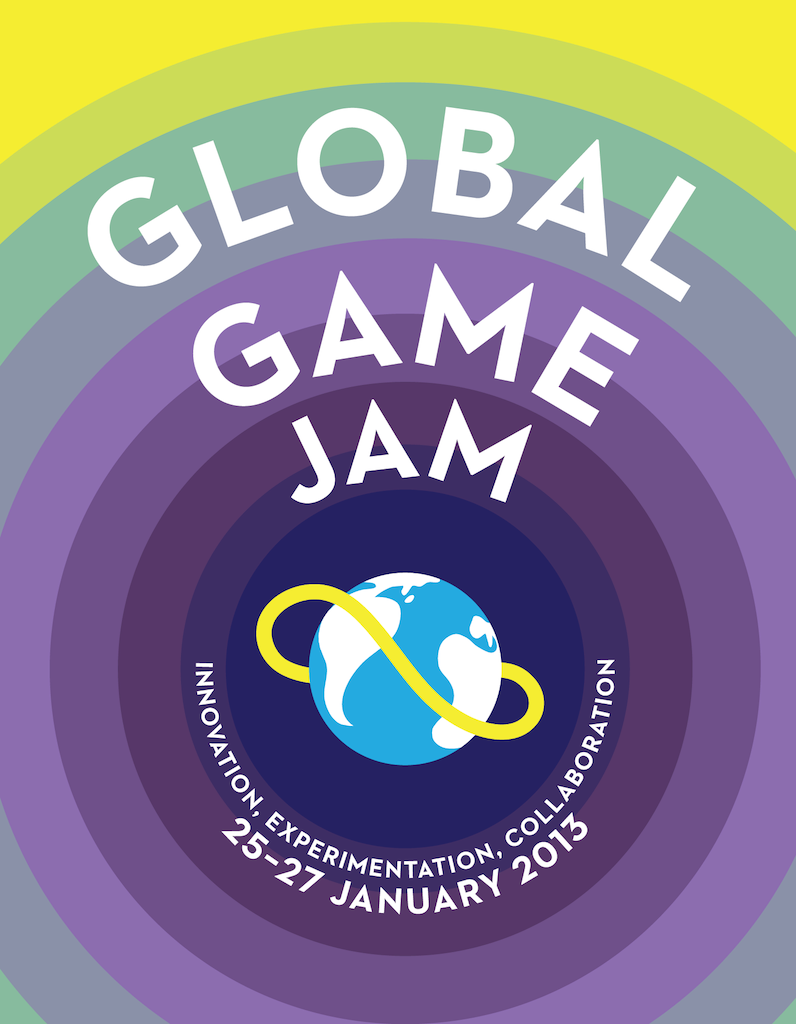 This past week we had the tremendous pleasure to participate in the Global Game Jam that took place in over 320 locations around the world with more than 16K registered participants!
The Global Game Jam, now in it's 5th year is an extraordinary annual event organized by thousands of volunteers from New Zealand to Hawaii, who are given the task of making a game within 48 hours. Games are inspired by a special theme, which was revealed this year in a video with …. the sound of a beating heart.  It was humbling to see some 3,000 games made over the weekend inspired by this universal theme.
Participants in Global Game Jam can also choose to create their games using what is called a "diversifier";  an additional creative or technical constraint. We were delighted to present the "May The (Web) Force Be With You" diversifier as well as sponsor local jammers in Warsaw, Toronto, Atlanta, Pittsburgh, Austin, LA & Boston to create games for the web.
We are still going through the (fun) task of playing all the games that were submitted under our diversifier, but meanwhile we handpicked some terrific games for you to enjoy and even inspire you as you are making your own submissions for Game On.
Vermin Throne by Damian Sommer & Mladin Stambolija in Toronto, Canada
The Vermin Throne is an experimental multiplayer story game for 4 to 10 players, playable in almost any web browser (on phones too!). You play as a rat, trying to kill or shame all your siblings so that you can claim the throne for yourself.
* This game is made with the awesome Twine tool that we recommend you try out if you haven't yet.
Artichoke <3 Beet by Culim, Ken Snyder, Daniel Perry, Dawn Rivers, Benjamin Taylor & David Allen at the MIT GameLab in Boston, US
An artichoke follows its heart in search of its beet.
Game: </3 by Doug Macdonald, Jim Crawford, Kumar Daryanani, Letisha Kelsey, and Nathan Grayson in San Francisco, US
In this HTML tag-breaking game players must discover common traits and complete several mini-games while attempting to save a failing marriage.
Arrhytmia by Luis Augusto Maciel Cavalheiro, Rodrigo Cândido Gryzinski, Maycon Robert dos Santos and Leonardo de Mattos Lima in Curitiba, Brazil
In this minimalistic arcade game you need to keep the rhythm while the circles stack !
Guinea Pig by Lara Schenck, brbonline and Jim Newsome in Pittsburgh, US
Guide your guinea pig through a cholesterol clogged artery, while weakening and collecting germs to develop a delicious vaccine.

A hilarious simulation where you start out on the lowest rungs of your family business as you fight to keep hearts beating… and make a cash-grab for vital-organs.
Geometry Saga by John Posey, Chris Goodrich, Darius Hill, Sarah Wilson , Inki Hong, Shaun Chasin, Kathryn Cheng, Meagan Moffat.
A 2D action adventure platforming rpg that involves only simple geometry.

WikiBeat by Paul Gestwicki & JdHurst in Indianapolis
A fun multiplayer Wikipedia Trivia for all you wiki-geeks out there.
Want to play more? You can check all the web games submitted under our diversifier here. Want us to feature your Global Game Jam games?  tweet us a line @mozgames and we will make sure to play and showcase them here. And don't forget; you only have till the 24th of February to submit your games to  Game On.