meme ( /ˈmiːm/)
"an idea, behavior or style that spreads from person to person within a culture."
"A meme is an idea that behaves like a virus–that moves through a population, taking hold in each person it infects." – Malcolm Gladwell"
We need Mozilla Popcorn to become a virus.
Hear us out here.
In our early iterations of Popcorn Maker, we've been tackling the problem of how to make it easy for non-programmers to create Popcorn experiences. It remains the central focus of the project, and we've fleshed out our User Stories to imagine the full experience that a user might have. Tthese stories have informed the foundational changes to Popcorn Maker that Ben outlined in a recent blog post.
During our Popcorn Maker sprint, we put a lot of thought into imagining how our users' creations will get shared and disseminated on the web. Ben has blogged about how Popcorn.js is a gateway drug to learning JavaScript (Also of the good sort. Stay with us). Similarly, we want Popcorn Maker to be a tool for injecting the Maker meme onto the web.
Fork my meme
To do this, we'll need to do a few things. First, we need to make it easy for Popcorn makers to embed their creations on their own blogs, Tumblrs and websites. This means offering <iframe>embeds.

More interestingly, we want to give viewers the ability to fork others' Popcorn productions. If you've watched Jonathan MacIntosh's Buffy Vs Edward pop-up video remix, for example, wouldn't you love the ability to easily clone his creation and add to it?
Each Popcorn creation needs a post-roll that offers viewers the ability to 1) Replay, 2) Share and embed, and 3) Fork this creation.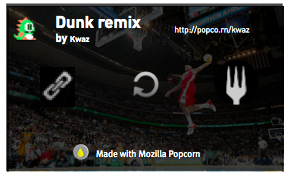 Popcorn Gallery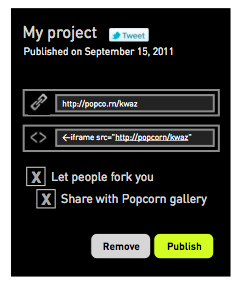 To build WordPress-like community scaffolding, we need the ability for every single creation to be made available in the Popcorn Gallery. When users choose to [Share] from Popcorn Maker they have an option to share to the Gallery that is checked by default.
While the Gallery will favour our default templates, it will become a jumping off point for new creators to get started with Popcorn. It will solidify the notion that creating on the web is generative. The act of creation will start by building on someone else's work.
We think Popcorn will be a good bug to catch. Like getting the chicken pox when you were a kid. Or maybe more like taking an interest in photography. We're sure this is the right metaphor.
Note: knock knock jokes, box stores and lolcats were all considered as alternatives while titling this post. Go meme or go home.