With the 10th anniversary update to Firefox, there was an important update to the new tab experience, promoting Tiles to the Firefox stable build, and making them available to hundreds of millions of users around the world.  Today we are excited to announce our first two sponsored Tiles partners: CVS Health and their media agency Mindshare North America, and Booking.com.
What are Tiles for?
For years, the new tab page in Firefox was unique in being intentionally blank – but by 2012, we learned that we could facilitate many users' workflow through the new tab page.  We added thumbnails based on a calculation of "frecency" (frequency and recency of a user's browsing history, essentially the same way that the Awesome bar calculates relevance). We learned that many users find these history thumbnails useful; but we were not entirely satisfied with the feature.  Thumbnails might be broken, and the experience could be much more dynamic.
We need to be able to use our voice with our users, for example to raise awareness around issues that affect the future of the Internet, and to promote those causes that we believe are important to that future.
We have been exploring the content discovery space.  There are many aspects of digital advertising that concern us: from the overall integrity of the advertising system on the Web, to the user having control over what happens to their data, and then to what happens to the data once the user has given their consent.  I have been writing for a while on this blog about the principles we follow and the ideas we have to improve digital advertising.
Lastly, we wanted to explore ways to contribute to the sustainability of the project in a way that we felt could align with Mozilla's values.
Tiles are our first iteration on starting to solve these problems.  They create a more useful, attractive and dynamic new tab page.  Tiles also represent an important part of our efforts to create new communications, content and advertising experiences over which Firefox users maintain control.
Partnering with Mozilla
We're very excited to have partnered with CVS Health (and Mindshare/GroupM) in the United States and Booking.com globally as our first two Firefox sponsored Tiles partners.  We are live in 8 languages and 25 different countries*, and will continue to iterate with Mindshare/GroupM and Booking.com, as well as with our community, as we continue to improve on the experience.
We have been delighted to work with Mindshare/GroupM and Booking.com.  When we collaborate, we need to understand the vision and objectives of the partner, and to understand if that partner is able to work within the framework of Mozilla's principles.  Running sponsored content in Tiles is results-based, not surveillance-based. We do not allow tracking beacons or code in Tiles. We are not collecting, or providing them with, the data about you that most digital ad networks do.  There are certain categories that require screening or what's commonly known as age-gating, or have other sensitivities, that we will stay away from, such as alcohol and pharmaceuticals.
The user's experience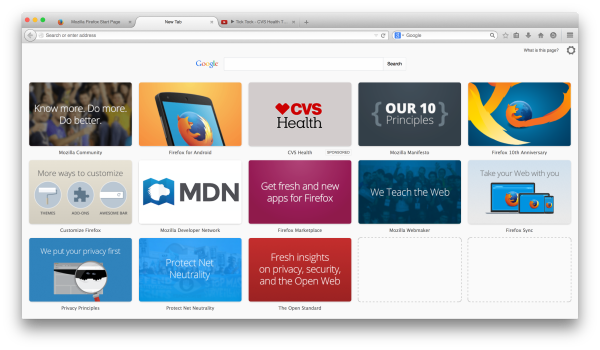 For users with no browsing history (typically a new installation), they will see Directory Tiles offering an updated, interactive design and suggesting useful sites.  A separate feature, Enhanced Tiles, will improve upon the existing new tab page experience for users who already have a history in their browser.
Tiles provides Mozilla (including our local communities) new ways to interact with and communicate with our users.  (If you've been using a pre-release Firefox build, you might have seen promotions for Citizenfour, a documentary about Edward Snowden and the NSA, appearing in your new tab in the past few weeks.)
Tiles also offers Mozilla new partnership opportunities with advertisers and publishers all while respecting and protecting our users. These sponsorships serve several important goals simultaneously by balancing the benefits to users of improved experience, control and choice, with sustainability for Mozilla.
What users currently see in the New:Tab page on Firefox desktop will continue to evolve, just like any digital product would.  And it will evolve along the lines I discussed earlier here. Above all, we need to earn and maintain users' trust.
You can learn more about Tiles here.
Looking ahead
User control and transparency are embedded in all of our design and architecture, and principles that we seek to deliver our users throughout their online life: trust is something that you earn every day.  The Tiles-related user data we collect is anonymized after we receive it – as it is for other parts of Firefox that we instrument to ensure a good experience.  And of course, a user can simply switch the new tab page Tiles feature off.   One thing I must note: users of ad blocking add-ons such as Ad Block Plus will see adverts by default and will need to switch Tiles off in Firefox if they wish to see no ads in their New Tab page.  You can read more about how we design for trust here.  (Note:  AdBlock Plus is not a Mozilla product and their content blocking mechanism is under their control.  We expect that they may add support for the Tiles in future releases)
With the testing we've done, we're satisfied that users will find this an experience that they understand and trust – but we will always have that as a development objective.   You can expect us to iterate frequently, but we will never assume trust – we will always work to earn it.  And if we do have and maintain that trust, we can create potentially the best digital advertising medium on the planet.
We believe that we can do this, and offer a better way to deliver and to receive adverts that users find useful and relevant.  And we also believe that this is a great opportunity for advertisers who share our vision, and who wish to reach their audience in a way that respects them and their trust.  If that's you, we want to hear from you.  Feel free to reach out to contentservices@mozilla.com.
And a big thank you to our initial launch partners, CVS Health, Booking.com, and Citizenfour  who see our vision and are supporting Mozilla to have greater impact in the world.
* that list in full:
Argentina, Australia, Austria, Belarus, Belgium, Brazil, Canada, Chile, Colombia, Ecuador, France, Germany, Hong Kong, Japan, Kazakhstan, Mexico, New Zealand, Peru, Russia, Saudi Arabia, Spain, Switzerland, United Kingdom, United States and Venezuela.