Was die neuen Menüs von Firefox ausmacht? Speed!
Sobald Du den neuen Firefox heruntergeladen hast, merkst Du sofort: Wir haben umdekoriert. Und zwar so richtig. Heute auf der Tageskarte: Sidebar and Bibliothek…
Durch die Photon UI erstrahlt die Benutzeroberfläche in neuen Glanz. Photon ist smart, umfassend und natürlich von nichts geringerem als der Lichtgeschwindigkeit inspiriert. Unser letztes UI-Refresh ist schon 5 Jahre her. Umso aufregender und – seien wir ehrlich – umso lang ersehnter ist dieses Update, das die unfassbar schnelle Multi-Prozessor-Geschwindigkeit, die Firefox Quantum jetzt unter der Haube hat, gerecht wird.
Natürlich geht so eine Umdekoration nicht ohne Neuorganisation, wie Dir jeder "Fernseh-Wir-Machen-Dein-Zuhause-Schön-Innenarchitekt" bestätigen würde. Gerade heute, da wir mehr Zeit als je zuvor im Web verbringen, braucht es das. Denn wir sammeln und sammeln, speichern, folgen, suchen, fügen hinzu – aber am Ende passen  eben doch nur eine bestimmte Anzahl von Icons auf die  Toolbar . Deswegen  haben wir ein cleane, aufgeräumte Speicheroptionen für Deine Web-Schätze designt.
Dein Sidebar-Menü stellt sich vor
Wenn Du auf dieses kleine Icon klickst, öffnet sich die Sidebar, oder sagen wir besser: Dein gesammeltes ganz eigenes Internet-Lesezeichen-Universum. Mit dem Klick materialisiert sich die Sidebar an der linken Seite Deines Bildschirms. Du hast genug gesehen und willst, dass sie wieder verschwindet? Easy: Klicke X! Oder hey, Du magst das Lesezeichen-Universum lieber auf der rechten Seite Deines Bildschirms durchforsten? Klicke einfach auf den Pfeil neben "Lesezeichen". Dort findest Du im Dropdown-Menü Optionen, um das "Umdekorieren" nach Deinen Vorlieben zu gestalten.
Deine "Greatest Hits of The Internet" in der Bibliothek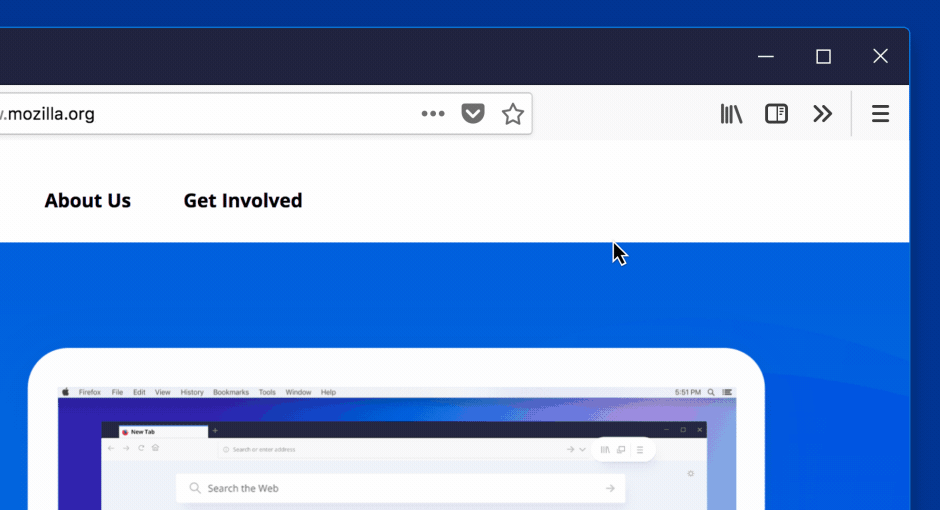 Und dann gibt es da Deine Bibliothek. (Ganz klar, wer träumt nicht von einer ganz eigenen Bibliothek. Stimmts?)
Um Dir Deine persönlichen "Greatest Hits of The Internet" anzeigen zu lassen, kannst Du auf das kleine Symbol klicken, das aussieht, als wären Bücher in einem Regal aufgereiht (Ja, wir lieben dieses Symbol auch!). Du findest hier alles, was Du brauchst: Deine Lesezeichen, Downloads, synchronisierten Tabs, Deine aktuelle Chronik und noch viel mehr. Und es wäre nicht Dein Firefox Quantum Browser, wenn das nicht alles (lichtgeschwindikeitsmäßig) schnell ginge. Das Wegklicken übrigens auch.
Das sind nur ein paar der vielen kleinen Anpassungen, die wir designt haben, um einen echten Unterschied für Dich zu machen – einen noch viel schnelleren, viel viel schöner anzuschauenden und total aufgeräumten Browser. Und dafür haben wir redesignt, umdekoriert, neuorganisiert. Denn gerade Dein heißgeliebtes  Internet verdient doch ein aufgeräumtes perfekt organisiertes -Zuhause, oder nicht?!
Viel Spaß beim Surfen!
This post is also available in: English (Englisch)