Signing in to Pocket just got even more secure
The Pocket app and web experience are trusted by millions of people everyday to stay up to date and informed on the topics they care about most, free from clickbait, fake news and the pressure and anxiety often felt while on social media platforms. Since being acquired in 2017, Pocket is part of the family of products made by Mozilla, the nonprofit-backed tech company building responsible technology that prioritizes people over profits, so internet safety and security are top of mind for our customers.
In order to provide additional security benefits such as two-factor authentication to our users, all Pocket accounts will be converted to Firefox accounts, an authentication service powered by Mozilla. For those of you who enjoy logging in to Pocket via Google or Apple, you'll still benefit from the enhanced security that's enabled by having Pocket backed by Firefox accounts.
We want you to have the best security for your account — and we're lucky to be a part of the Mozilla family of products that have a team working full-time on creating the best authentication experience possible. By using a Firefox account to access Pocket in any browser or mobile device, you will benefit from Mozilla's privacy policy, which always puts people first. (To learn how to manage your Firefox account and the data associated with it, click here).
Transitioning to a Firefox account is quick and easy!
Starting July 11, 2023, Pocket users will be prompted to transition to a Firefox account in order to log in and access their Pocket account. Aside from changing how you log in to Pocket, this does not affect your saved items. While optional at first, the transition to a Firefox account in order to log in will be required by August 15, 2023.  
For Pocket Premium subscribers, converting your account will not impact your subscription.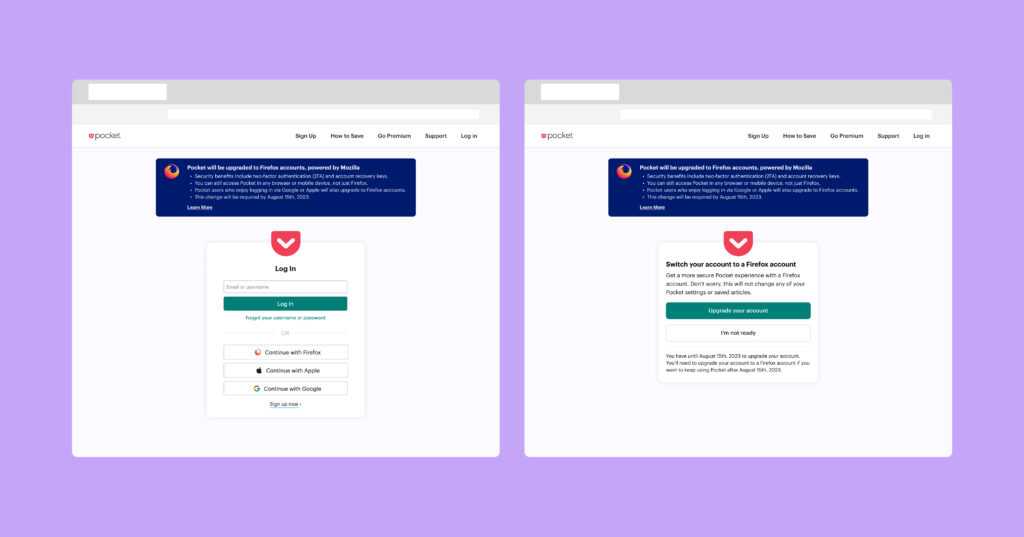 How to move to a Firefox account for Pocket
Beginning July 11, 2023, if you're already logged in to Pocket, simply log out to be redirected to the Pocket Log In page.
Enter your email and click Next. If you haven't already set up your Firefox account, you'll be prompted with instructions. For Pocket users who log in via Apple ID or Google, please see *below.
Select Upgrade my account to proceed. (Note: If you select I'm not ready, you will be prompted to transition your account the next time you log in.)
Log into your Firefox account or create a new one.
You'll then be redirected to your Pocket content.
And from then on, simply use Continue with Firefox to log into Pocket.
*For people who login with their Apple ID and Google login
If you use Apple ID or Google login to access your Pocket account, you don't need to do anything. Your account will be auto-migrated on July 11, 2023. The next time you log in after this date, you'll access Pocket with your new Firefox account using the same Apple ID or Google login.
Note that if you have already signed into Pocket with your Firefox account, your account has already been converted. There's nothing else to do!
Additional help and FAQs
While we'll now require a Firefox account to sign up or log in to Pocket, you can continue using your preferred web browser to access Pocket. Our Pocket browser extensions for many popular browsers and apps for iOS and Android will continue to be available as well.
Creating a Firefox account also comes with other features that will make your time online more enjoyable, including other Mozilla products such as Monitor and Relay, both of which do not require using a Firefox browser.
If you have any other questions regarding signing up and transitioning to Firefox accounts to log in to your Pocket account, you can visit our Frequently Asked Questions (FAQ) page.
If you need any other assistance with your Pocket account, click here to contact Pocket Support.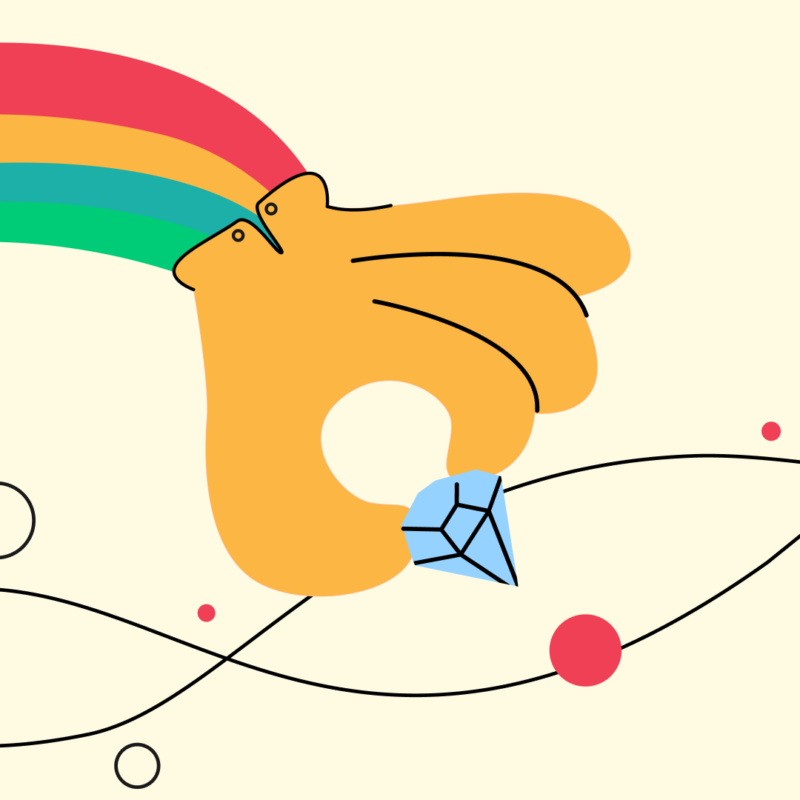 Save and discover the best articles, stories and videos on the web
Get Pocket