Due to weather, we moved the Firefox Gone Mobile ice cream truck to this coming Monday through Wednesday, June 27-29 from noon to 6pm. Follow @mozmobile to discover our location each day!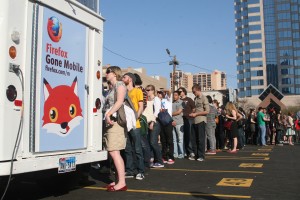 Since March, the Firefox Gone Mobile ice cream truck has cruised through the US cities of Austin, Los Angeles and New York serving free, community-named gourmet ice cream and talking to folks about Firefox for mobile. It's been fantastic to interact with each and every visitor, answering questions, demoing Firefox for Android and Firefox Home for the iPhone, helping folks download and eating free sweet treats!
Due to its great reception, we're proud and excited to finally be taking Firefox Gone Mobile across the pond! Each day we'll be spreading the Firefox cheer, handing out swag and talking up Firefox for mobile! Not to mention, passing out free ice cream with flavors that include:
Mozilli Vanilli – Vanilla Bean with a Choccy Chip
Tipsy Fox – Rum and Raisin
Chilla from Mozilla – Refreshing Cherry Sorbet
Foxy Tennis – Luscious Wimbledon Strawberries & Cream
Our locations may change multiple times a day, so follow us at @mozmobile and be sure to look out for #fficecream on Twitter. If you're the type that likes to plan ahead here's an idea of where we may be kicking off each day:
Monday – Covent Garden, Bloomsbury
Tuesday – Soho Square, Hyde Park
Wednesday – Hoxton Square, Shoreditch
We'll be tweeting our location throughout the day so bring a friend or co-worker, get a hug from The Firefox himself, (maybe a t-shirt too!) and learn more about Firefox for mobile. See you there.