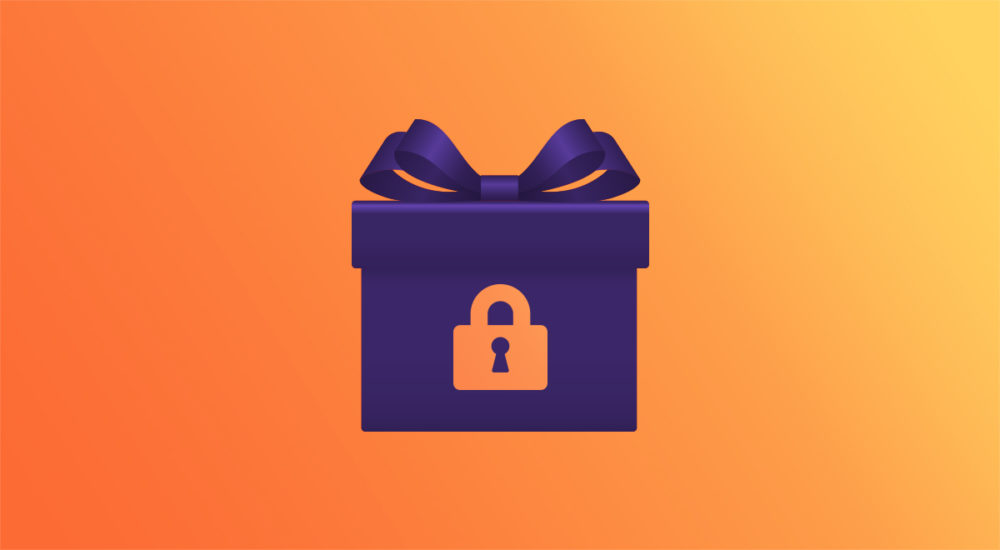 Firefox chroni Twoje świąteczne zakupy na 2 sposoby
Kolejne święta tuż, tuż, a wraz z nimi – sezon zakupów. Pamiętaj jednak, że podczas poszukiwania w internecie prezentów dla najbliższych warto też podarować coś sobie – prywatność. Informacje na temat Twojego wyszukiwania i zachowań zakupowych to wielka gratka dla reklamodawców gromadzących dane na temat Twoich zwyczajów. Jeśli nie korzystasz z Firefoksa, za każdym razem, gdy szukasz czegoś wyjątkowego dla kogoś, informacje na ten temat mogą zostać przekazane za pośrednictwem platformy handlowej reklamodawcom i firmom, które w ramach świątecznego szału kupują, sprzedają i wymieniają Twoje dane. Firefox pozwala zapobiec tej przykrej niespodziance nie tylko w święta, lecz za każdym razem, gdy robisz zakupy online. Tym sposobem zabezpieczasz się przed dwoma potencjalnymi problemami:
Problem nr 1: profilowanie na podstawie zainteresowań Twoich najbliższych
Gdy szukasz prezentów dla innych, np. wujka pasjonata kuchni lub kuzynki w ciąży, elementy śledzące dodadzą informacje o tych tematach do Twojego profilu, co spowoduje, że będą Ci się wyświetlać reklamy na temat rzeczy, które tak naprawdę Cię nie interesują. Tym sposobem możesz nieustannie widzieć m.in.:
niekończące się reklamy ubrań dla niemowlaków tylko dlatego, że szukasz czegoś fajnego dla kuzynki w ciąży;
milionów reklam garnków i patelni, bo kupujesz wujkowi nowy nóż szefa kuchni;
całą gamę reklam drogiego wina (choć wolisz piwo), bo kupujesz siostrze otwieracz i stojak do butelek, o których zawsze marzyła.
To nie tylko prawdziwy kalejdoskop bezużytecznych i irytujących reklam, lecz także doskonały dowód na to, jak intensywnie firmy śledzą Twoje poczynania i na tej podstawie dopasowują treści.
Problem nr 2: prezenty-niespodzianki ujawnione przez reklamy
Gdy wyświetlane reklamy są powiązane z Twoimi wyszukiwaniami i zakupami, nierzadko psuje to nawet najlepszei niespodzianki. Typowym przykładem tego jest szukanie pierścionka zaręczynowego – wkrótce potem wszędzie będziesz widzieć wyłącznie reklamy jubilerów i pierścionków. Wystarczy, że taka reklama pojawi się na ekranie, gdy partner lub partnerka będą akurat spoglądać przez ramię lub pożyczą telefon bądź laptopa, i cała niespodzianka na nic. To samo może zresztą przydarzyć się z dowolnym prezentem dla bliskiej osoby.
Firefox Cię chroni
Firefox automatycznie blokuje elementy śledzące – prawie 12 mld każdego dnia – dzięki czemu przeglądane strony i zakupy pozostają prywatne, a reklamodawcy wiedzą o Tobie mniej. Nie mówiąc już o mniejszej liczbie niechcianych reklam, które krążą za Tobą po całym internecie. Dlatego podczas zakupów na nadchodzące święta powiedz stop elementom śledzącym i reklamodawcom. Pobierz i zacznij używać Firefoksa.
This post is also available in: English (angielski) Deutsch (niemiecki) Français (francuski) 简体中文 (chiński uproszczony) Indonesia (indonezyjski) Italiano (włoski) Português (portugalski, Brazylia) Русский (rosyjski) Español (hiszpański)