*Feb. 13 update: I posted more details about Directory Tiles here.*
We believe that if you put the user front and center, you can make every experience for them richer and more meaningful. The Content Services team has embraced this, and today I wanted to share some of our thinking and explain our first steps for putting it into practice.
When the user is at the center everyone benefits, including content creators whether they are  publishers or marketers. Digital has already disrupted all kinds of industries, thanks in large part to its ability to deliver more choice and personalization for users.  The challenge for digital media is that it is a rapidly-changing environment, and what worked yesterday might not work tomorrow.
While Mozilla hasn't always seen eye-to-eye with all viewpoints in the digital content community, particularly the IAB, we think they'd agree that users' interests should come first, and we want to help their members deliver compelling content to strengthen the Web ecosystem. So, when IAB Chairman Randall Rothenberg invited Mozilla to participate and share our views at their Annual Leadership Meeting this week, we jumped at the chance. One of the main themes being explored at the meeting is Publisher Transformation, so I contributed Mozilla's perspective and latest activities in a speech to attendees this morning.
Directory Tiles program
Mozilla is kicking off an exploration to transform the user's content experience through two initial programs, one of which you may have already read about called UP, which I'll provide an update on in a future post.
The newest program is one we're calling Directory Tiles, which is designed to improve the first-time-with-Firefox experience. Currently, if a new Firefox user opens a new tab, this is what they see: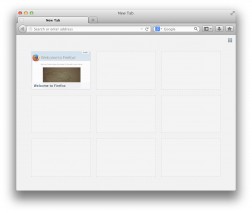 Their tiles – those nine rectangles that populate over time with the most frequent and recent websites they visit – are empty.  The new tab page isn't delivering any value for them.
Directory Tiles will instead suggest pre-packaged content for first-time users.   Some of these tile placements will be from the Mozilla ecosystem, some will be popular websites in a given geographic location, and some will be sponsored content from hand-picked partners to help support Mozilla's pursuit of our mission.  The sponsored tiles will be clearly labeled as such, while still leading to content we think users will enjoy.
We are excited about Directory Tiles because it has inherent value to our users, it aligns with our vision of a better Internet through trust and transparency, and it helps Mozilla become more diversified and sustainable as a project. While we have not worked out the entire product roadmap, we are beginning to talk to content partners about the opportunity, and plan to start showing Directory Tiles to new Firefox users as soon as we have the user experience right.
We'll be updating this blog with more information about Directory Tiles and other initiatives, so keep us bookmarked.