An internship at Mozilla is your opportunity to take on a project that allows you to stretch your personal skills while also making a real impact in the world. Some of our current interns are taking Firefox's accessibility up a notch, doing next-generation voice design and building out our suite of mobile applications.
In our last post we shared about some unique internship opportunities at Mozilla. Beyond those, we also invite between 45-60 students to be mentored as part of a three-to-four month paid internship at one of our offices (so far we've hosted our interns in our Berlin, London, Mountain View, Paris, Portland, San Francisco and Toronto locations). Recruiting begins in September, and we hire on a rolling basis through March. While there is no set application deadline, openings are limited, so we encourage you to apply early.
Beyond the logistics, we're betting you'd like to know more about what it's really like to be an intern here. What leads folks like you to apply, and what actually happens when you arrive? To get the real story, we asked three of our current interns to share more about their work, and how things are playing out for them this summer.
Making an impact
Julia Cambre is a PhD student in Computer Science at Carnegie Mellon University's Human-Computer Interaction Institute, with a focus on studying voice. She was attracted by the foundational work Mozilla is doing in this emerging area, and got some extra encouragement to apply from a colleague at CMU, Jessica Colnago, who was an intern at Mozilla last summer. Since completing her internship last year, Jessica has continued to collaborate with Mozilla. "This summer feels like the start of an even longer-term collaboration relationship", Julia says.
For Abdoulaye Oumar Ly, an intern this summer on Firefox's front-end development team in our Toronto office, applying for an internship "was a natural choice." Abdoulaye had long been interested in Mozilla products and got his feet wet as an open source contributor to the Firefox Focus mobile app. "The specific and helpful feedback I got as a contributor made me realize that people here are very interested in helping you learn," he says. So he did more, going on to work with Mozilla as part of Google's Summer of Code (GSOC) program. At GSOC, Abdoulaye specifically focused on adding multi-select functionality to the tab bar in Firefox Desktop — effectively making changes in the heart of one of the most complicated (and most important) parts of the Firefox UI.
And even then, Abdoulaye wanted more. "I wanted to know more about the browser itself — its architecture, how C++ and JavaScript code work together. I was also curious how such a distributed company like Mozilla works." (Mozilla has ten offices around the world, and nearly half of us work remotely from our homes or a coworking space). Now Abdoulaye's back as a full-time intern, working on a project to make site isolation work with Firefox, which supports better security and performance.
"I'm surprised at how down-to-earth and helpful people are at Mozilla. You feel like you're more than an intern. While many other companies just have interns submit patches, I can also review patches at Mozilla," says Abdoulaye.
Julia has had a similar experience; one of her memorable moments this summer happened a few weeks ago when she had the chance to do a live demo of a new voice prototype in front of the entire company. "It was terrifying and also super thrilling," she recalls. "I'd already demo-ed this to a few people, but to feel the reaction from 1,000 people and see their enthusiasm for this experimental stuff we are working on was just awesome."
Maliha Islam experienced a similar kind of impact during her summer internship in Toronto. Her peers at her previous internship clued her into Mozilla and she was intrigued by Mozilla's history as a pioneer of the web and was inspired to contribute to open source.
Maliha assumed that most of her four-month internship would be spent fixing a bunch of bugs. But she also hoped to work on a feature that Firefox would ship first, before other browsers, and had an idea for adding a visual impairment simulation to developer tools. Her manager really liked her proposal, and now she's demoing the feature on one of the UK's largest ticketing websites, which unwittingly excluded viewers by using color-coded dots to display ticket prices.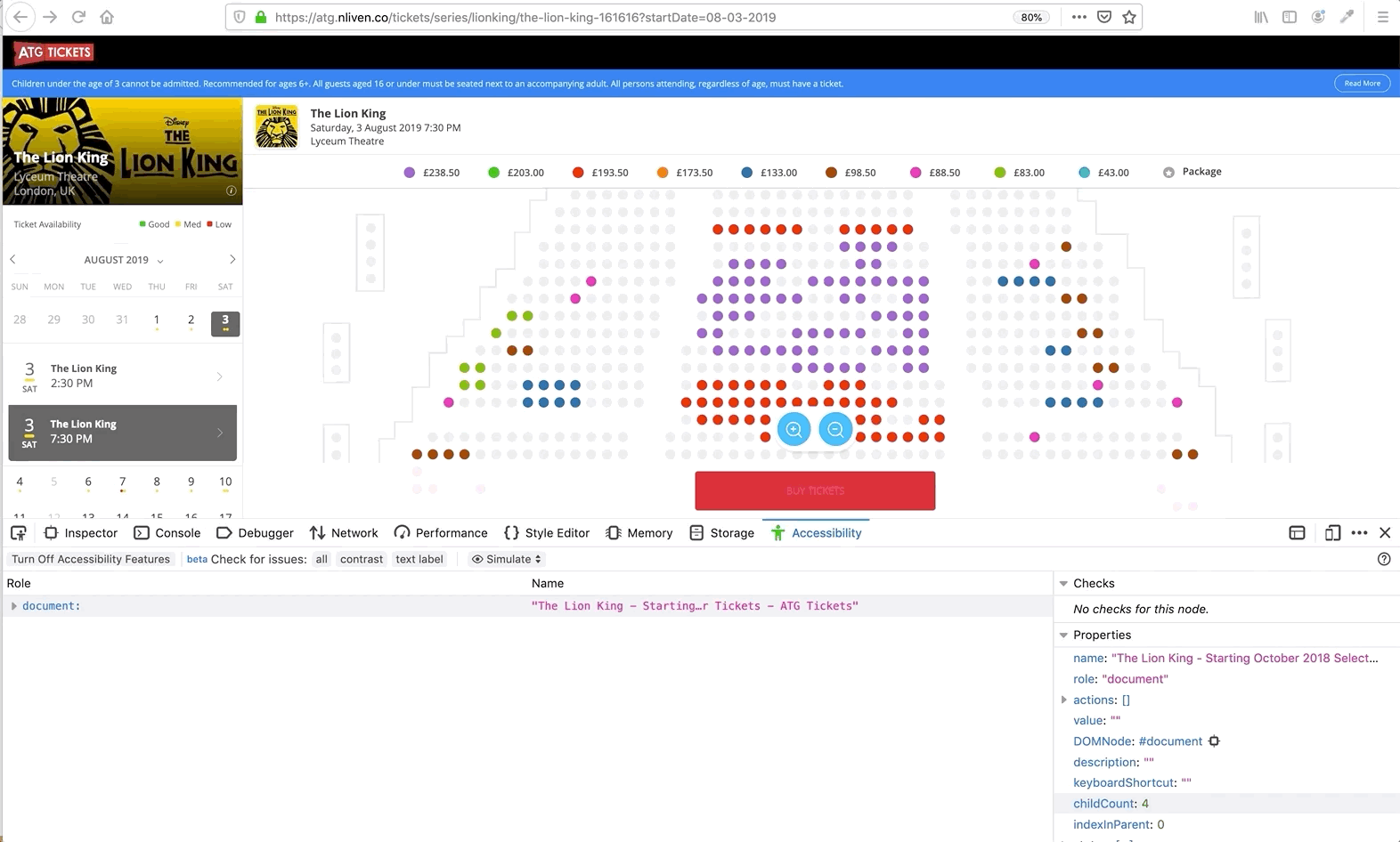 Maliha shepherded a new feature that allows developers to visualize color restrictions while they code
"We're hoping that by letting developers see their websites through the lens of someone with color blindness, this feature will allow them to design their websites to be more inclusive," Maliha says. "Also, Firefox will be the first browser to have this feature!"
Like Julia and Abdoulaye, Maliha felt similarly empowered to contribute. "There's a lot more collaboration — not only between engineers but also product managers and designers," Maliha says. "Everyone's opinion is taken into account for the final product. It's been really interesting to see how people consider something from different angles."
"Our interns are fully integrated into our teams and, on the accessibility team, we're constantly seeking innovative ways to improve the connected lives of people with disabilities. So when Maliha pitched the idea of adding visual impairment simulation to Firefox, we jumped at the opportunity!" says her manager Jamie Teh on Firefox's Accessibility team.
Face-to-face
A big opportunity for our summer interns is the chance to travel to our bi-annual All Hands events, where staff, interns and the broader Mozilla community work together, face-to-face, over the course of a week. It's there that interns like Abdoulaye can meet people like Jared Wein in real life, after collaborating together online for over a year but never meeting in person. It's also where Maliha got to meet and watch her Australia-based manager — one of two members on her team who were born blind — code.
Some of our 2019 interns at our Whistler All Hands (June 2019)
Our 2019 All Hands was also where Julia met Ian Bicking, who swung by to help her team brainstorm on a prototype. When he began to review her code, Julia became curious about his background. A quick internet search revealed that the engineer sitting beside her and reviewing her code was the original author of two Python packages, Pip and Virtualenv.
Onward
At the end of the internship, though, it's about what's learned and how it can be used moving forward. Julia expects the work she did this summer to serve her for the long-run. "I feel like I've grown tremendously as a developer and voice researcher in my time here," she says. "I hope to continue as a contributor after my internship because I'm really excited to see where my project goes from here, and I want to stay involved. I also feel like working for Mozilla has made me more passionate about privacy, security and open source innovation. These values are things I plan to carry forward in my work and career."
For Maliha and Abdoulaye, the skills they've learned are both technical and relational. "I've learned a lot of technical skills like improved software development practices, but for me personally, the soft skills are a bigger take-away from this summer," Maliha says. "I get nervous talking to people. But here, everyone's approachable and helpful, so it's getting easier for me to speak with people as well as learn from them."
Abdoulaye says: "I am more detail-oriented, better able to follow software development best practices and I've also gained a lot of soft skills. I think I'm getting better at communicating out my issues and ideas. These things will always be helpful in my career."
Thinking of applying? Our intern's advice is to set a goal for your internship, and, don't be intimidated if you get assigned something outside your comfort zone. "Mozillians are very helpful, and will help you reach the goals you set for yourself," Maliha says. "Have a plan for your internship and you'll get the help you need to achieve them."
Want to learn more about what we're about and why we do what we do? We hope so. Looking forward to meeting you.