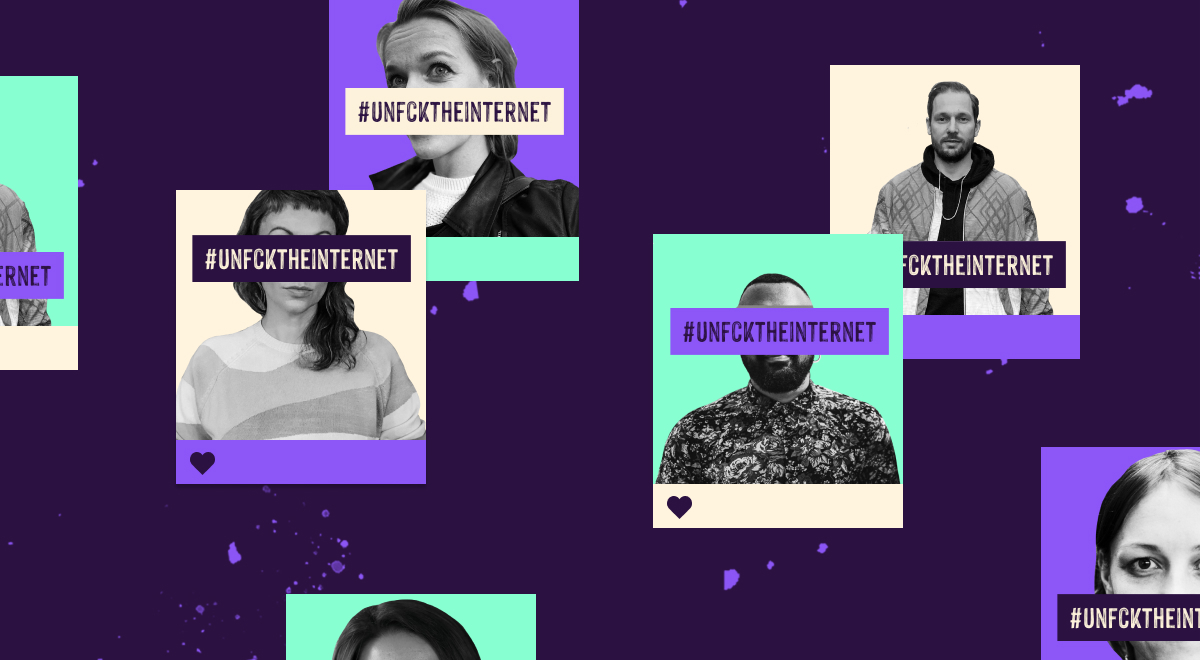 Unfck the Internet? Das geht nur gemeinsam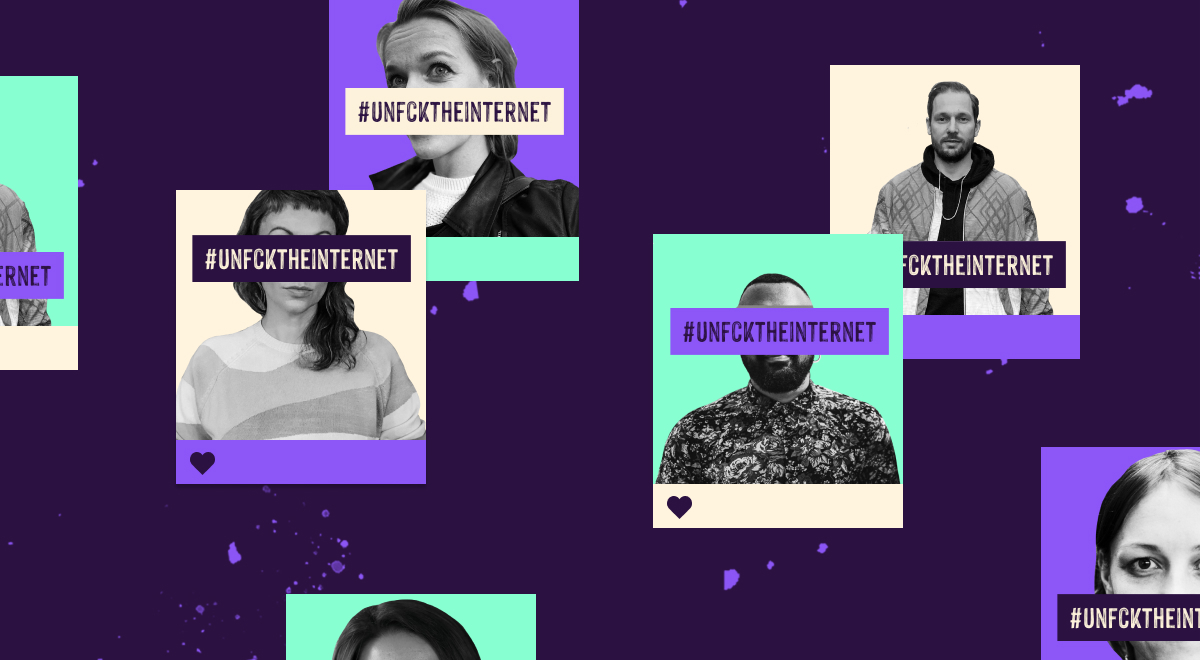 Wir lieben das Internet. Und wir brauchen das Internet. Aber: das Internet ist fcked:
Online-Werbung weiß zu viel über uns,
Algorithmen zeigen uns oft nur noch das, was anderen nützt,
Desinformation verbreitet sich häufig schneller als echte News und beeinflusst unsere Meinungen und Urteilsvermögen
und Hassrede in Kommentarspalten und Social-Media-Kanälen sind beinahe Standard geworden.
Aber meckern hilft bekanntlich wenig und eines ist auch klar: Wir lieben das Internet! Es ist eine unserer wichtigsten Ressourcen für Informationen und Nachrichten. Es ist unser magisches Mittel, um uns mit anderen zu connecten. Und es ist ein Ort, an dem wir uns entfalten und gegenseitig inspirieren können.
Also müssen wir handeln. Und es ist Zeit, diese Herausforderung anzugehen – gemeinsam.
Schritt 1: Schütze dich, informiere dich, hol dir die Kontrolle zurück
Auf Unfck the Internet findest du fünf einfache Dinge, die du sofort tun kannst, um dich besser online zu schützen und das Web besser zu machen.
Aber wir brauchen deine Hilfe, um genau solche Tipps weiterzuverbreiten. Firefox ist klein und deshalb müssen wir umso lauter sein, wenn wir gehört werden wollen. Dafür brauchen wir jetzt deine Unterstützung:
Schritt 2: Hilf uns jetzt dabei lauter zu werden
Um Unterstützung für unsere Mission und den Aufruf "Unfck the Internet" zu bekommen, haben wir uns mit Menschen und Organisationen zusammengetan, die – wie wir alle – das Internet täglich nutzen und die unsere Ansichten und Ziele teilen. Zusammen möchten wir Bewusstsein dafür schaffen, dass das Internet ein Riesenproblem hat und es Zeit ist, das Web zu "unfcken".
Schließe dich Sara Nuru, Malcolm Ụzọma Ohanwe, Lucas Reiber, Maria Astor und vielen mehr am 10. November 2020 an und hilf uns dabei laut, lauter, am lautesten zu werden.
Wie?
Poste ein Foto von dir oder etwas, dass dir passend erscheint, mit diesem UnfckTheInternet-Sticker (in Grün, in Creme, in dunklem Violett oder hellem Violett) auf Instagram oder Twitter mit #Unfcktheinternet.
Sag der Welt, was "Unfck the Internet" für dich bedeutet, wovon du genug hast und was Unternehmen und Plattformen deiner Meinung nach angehen und ändern müssen, um dich und das Web so wie du es liebst, zu schützen.

Teile dein Bild, deine Message und die Aktionen der Website firefox.com/unfck mit deiner Community.
Wir müssen gemeinsam dafür sorgen, dass:
Unternehmen ethisch und bewusst mit den Daten der Menschen umgehen,
wir alle unser Recht auf Kontrolle über unsere Daten verstehen und einfordern
mehr Auswahl und unabhängige Optionen für die Internetnutzung zur Verfügung stehen und es Platz und Schutz für Vielfalt im Web gibt
Plattformen alles daran setzen, Profit und Macht nie darüber entscheiden zu lassen, welche Beiträge und welche Bewegungen mehr Sichtbarkeit bekommen
wir alle die Dinge hinterfragen, die uns scheinbar mehr Bequemlichkeit und Effizienz online bieten
wir nie aufhören mehr zu lernen und uns weiterzuentwickeln
Warum ist uns das so wichtig?
Firefox macht nicht auf Privatsphäre — Firefox macht Privatsphäre! Wir glauben, dass das Internet ein weltweiter, öffentlicher und für alle verfügbarer Raum sein sollte, in dem User selbst entscheiden, was und wie viel sie von sich preisgeben. Unseren Beitrag hierfür leisten wir, indem wir Produkte, Technologien und Programme entwickeln, die den Menschen wieder die Kontrolle über ihr Leben im Web zurückgeben und Bewusstsein dafür schaffen, dass das Web und seine Nutzer*innen geschützt werden müssen.