Internet Health in the News
Week in Review for April 14
This week's Internet Health in the News recap includes stories about net neutrality, cell phone etiquette, fake news, border searches, and crypto parties.
It's Friday, April 14, and if you live in the United States, you have a few extra days this year to get your taxes done. They are due on Tuesday, April 18.
Here's a bonus story to help you get ready for the big day.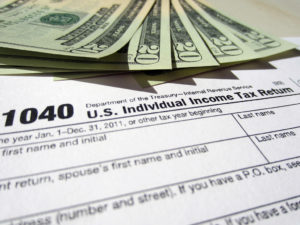 USA Today: Don't panic! A step-by-step guide to everything you need to know as Tax Day approaches
Calling all procrastinators: The deadline for filing and paying your taxes is fast approaching and you are running out of time. We know, doing your taxes is as much fun as having a root canal or passing a kidney stone. Here is everything you need to know in one easy place.
…Now to the health of the Internet
Internet Health
ArsTechnica: Ajit Pai can't convince websites that killing net neutrality is a good idea
The plan to eliminate net neutrality rules and replace them with voluntary commitments is not winning over lobbyists for major Internet companies. Federal Communications Commission Chairman Ajit Pai and his staff met with the Internet Association, a trade group whose members include Amazon, Dropbox, eBay, Facebook, Google, Microsoft, Netflix, PayPal, Reddit, Spotify, Twitter, and about 30 other Web companies. The meeting occurred about a week after Pai reportedly met with broadband industry lobby groups to discuss his plans for eliminating net neutrality rules.
ReplyAll: Obfuscation
This week, we debut a new segment designed to help you calibrate your anger in a changing world. Plus, how to cloak yourself from all the people who are now allowed to see your internet browsing history.
Listen
The Hollywood Reporter: Why "No Phones at the Table" Is a Rule Worth Following (Guest Column)
The internet brings the world together and tears intimacy apart every day. Book a flight, buy handmade jewelry, map your route, get a job, meet someone new, all modern miracles and potential new connections achieved in seconds, but at home and in our workplaces, our devices have become magnets at polar opposite, repelling us from each other. Whether it is the pull of the new and not-yet-known (I was always so excited to check the mailbox as a kid), or the permission to retreat (what a relief to have your phone in an elevator to avoid small talk!), it is harder and harder to remain present and in the moment with those around us, even in our own homes.
Decentralization
The Washington Post: The government just wrapped a major auction that'll shape the future of the Internet
T-Mobile, Dish Network, Comcast and AT&T were among the biggest winners of a historic government auction of wireless airwaves, the Federal Communications Commission said Thursday. The auction will transfer a significant amount of spectrum — the invisible radio waves that carry voice, video and data — from TV stations to companies in other industries eager to build out wireless data networks. For consumers, the results may mean bigger Internet pipes or a faster experience.
Web Literacy
The Hill: FCC has received 40 'fake news' complaints since October
Television viewers have been complaining to the Federal Communications Commission about "fake news," according to the agency's records. A Freedom of Information Act request from the Columbia Journalism Review revealed that the FCC has received 40 complaints about fake news on television since the term entered the mainstream back in October.
CNET: Cities count on civic hackers to get the data to the people
It was a busy Saturday in downtown Louisville, Ky. While participants in a local 5K ran through city streets, dozens of civic hackers gathered a few stories up in a co-working space called the LouieLab for the Open Data Day hackathon. They worked on projects that would meet the hackathon's main goal: deliver public data to area residents that would connect them to their community.
Online Privacy + Security
Crypto Friends (Via Medium): Digital Security Training Resources for Security Trainers, Spring 2017 Edition
The goal of this post is narrow: to provide resources to trainers focused on basic security hygiene, the digital equivalent of doing healthcare by teaching "hand washing."
We do not believe that security trainings will fix the political problems in the U.S. and elsewhere, and much advice in these guides depends on the good will of the U.S. government (e.g., legal access to strong encryption). However, we believe that operational security advice and digital security tools are still useful for protecting vulnerable communities from some real dangers they now face.
The New York Times: That Fingerprint Sensor on Your Phone Is Not as Safe as You Think
Fingerprint sensors have turned modern smartphones into miracles of convenience. A touch of a finger unlocks the phone — no password required. With services like Apple Pay or Android Pay, a fingerprint can buy a bag of groceries, a new laptop or even a $1 million vintage Aston Martin. And pressing a finger inside a banking app allows a user to pay bills or transfer thousands of dollars. While such wizardry is convenient, it has also left a gaping security hole.
The Atlantic: The Steady Rise of Digital Border Searches
New statistics released Tuesday by U.S. Customs and Border Protection reveal that the rate of digital border searches is on pace to quadruple since 2015. That means more and more travelers entering the U.S. are being asked to turn over their electronic devices to be analyzed.
Business Insider: More and more people are using VPN services to protect their privacy online — here's how they work
Some of you may be looking for ways to browse the web privately, and one of the most prominent solutions is to use a virtual private network, or VPN, which cloaks your online activity.A VPN essentially hides your internet activity from your internet service provider, which means it has nothing to sell to third parties.
NPR: States Introduce New Legislation To Protect Internet Privacy
A recent move by Congress to strip the Federal Communications Commission of the power to protect Internet privacy has provoked outrage among some, and state legislatures may try to weigh in.
Mashable: How to lock down your iMessages so you don't snitch on yourself like Alabama's (former) governor
We've seen politicians sunk by not-so-private tweets. But one of the most recent political scandals saw former Alabama Governor Robert Bentley taken down by his own texts. The politician, caught using public resources to cover up a torrid affair with a staffer, stepped down from office earlier this week (after the state already began impeachment hearings, mind you).  There was plenty of evidence of the affair, including sexty iMessage exchanges between Bentley and his mistress, seen by his then-wife on her state-issued iPad, which was signed into the same Apple ID Bentley used on his state-issued iPhone.
Digital Inclusion
Axios: Transgender techies are transforming the industry
Transgender people have been involved in tech for a long time, and several industry pioneers have been trans women, including Lynn Conway and Naomi Ceder. But their visibility in this field has been slow to match the rise of the trans movement, even though the numbers in the industry have risen — which is where the inaugural Transform Tech Summit comes in.
Who: A group of transgender and non-binary techies gathered at Salesforce's offices in San Francisco for the summit on Thursday to examine the issues facing trans people in tech and how tech people can help the trans civil rights movement.
The Economist: Silicon Valley's sexism problem
Uber is not the only technology star in the spotlight for its treatment of women. Google has been accused by America's Department of Labour of paying female employees significantly less than male ones (see article). Google flatly denies the charge. But that technology in general, and Silicon Valley in particular, has a gender problem is not in doubt. A survey of 210 women in the valley found that 60% had experienced unwanted sexual advances and that two-thirds felt excluded from important social and networking opportunities. PayScale, a research firm, has found that only 21% of American tech executives are female (the figure in other industries is 36%). Women in tech are paid less than men, even after controlling for experience, education and responsibilities.
Internet star of the week