An online creative on tackling our 'mixed feelings' on the internet
Here at Mozilla, we are the first to admit the internet isn't perfect, but we are also quick to point out that the internet is pretty darn magical. The internet opens up doors and opportunities, allows for people to connect with others, and lets everyone find where they belong — their corners of the internet. We all have an internet story worth sharing. In My Corner Of The Internet, we talk with people about the online spaces they can't get enough of, what we should save in Pocket to read later, and what sites and forums shaped them.
This month we chat with Mi-Anne Chan, founding editor of mixed feelings, an advice-column newsletter that covers existential questions from relationships and work to how style, home and culture contribute to identity. We talk to her about our emotions on the internet, early aughts beauty YouTube pages and where digital media is going next.
What is your favorite corner of the internet?
Hate to shamelessly plug mixed feelings in question one but, I mean it when I say that my favorite corner of the internet is our Discord channel. I started mixed feelings, an advice-column newsletter, with our art director Logan Tsugita, branded director Lloyd D'Souza, deputy editor Amalie MacGowan, and a group of incredible creatives last year. 110% of our content concerns itself with existentialism (and brief respite from that in the form of highly personal shopping recommendations and op-ed's about why everyone should talk during movies). 
So, naturally, we made a Discord where our team and a little under a hundred or so [mixed feeling-]ers dump all our weird thoughts, memes, pet photos and armchair reviews of the last episode of "Succession" and the best and worst dressed at the Met Gala.
It's all fun, memes and silliness, but every now and then the channel will light up with really sweet and helpful conversations around topics like… "What questions should I ask a potential manager in a job interview?" I get a little jolt of positive activation every time I see a notification come through. I just love it so much.
What is an internet deep dive that you can't wait to jump back into?
I love world building and complicated lore so I spend a lot of time reading Fandom.com. I read the Fandom pages for pretty much anything — "Shadow and Bone," "Wheel Of Time," you name it — particularly at night to calm myself before going to sleep. Lately I've been falling asleep reading the "Attack On Titan" page about the biological difference between titans and pure titans and the breakdown of the "nen" power system in "Hunter x Hunter."
What is the one tab you always regret closing?
These Nikes that I've been considering for months but haven't talked myself into buying yet (I can't decide between the all black or the blue!). The cycle goes: open the link on my browser, ask my friends if I should buy them, wait on it for a few weeks, close the tab, open it again a few days later.
What can you not stop talking about on the internet right now?
I love to discuss. And lately I have been trying to find anyone who will chat about the future of media with me. I don't claim to know all the answers, but I find discussing the intersection of digital media, industry, and culture wildly stimulating. I love the Decoder, a podcast hosted by The Verge editor-in-chief, Nilay Patel. He's an incredible interviewer and while some of the episodes are a little too "inside baseball" tech for me (I care about the chip shortage but not that much!) I think Nilay does an incredible job of illuminating the cultural impact of tech and media on your everyday internet user. This one, which uses Olivia Rodrigo's "Sour" album as a way in to discuss the music industry, copyright and songwriting credits as a whole, is particularly interesting. Nilay is a former copyright and trademark lawyer so he really goes into the nitty gritty details.

I'm also reading former Buzzfeed News editor-in-chief Ben Smith's new book "Traffic," which charts the rise and fall of Buzzfeed and Gawker as an allegory for the cultural impact of media then and now. It's a personal read for me as I was entering the digital media landscape around this time and know all too well the excitement and pain of chasing page views and uniques from my time at Refinery29. That said, though I'm not done with the book, I can already tell it would make an interesting read for anyone interested in the media/information ecosystem and how these gigantic companies were created.
What was the first online community you engaged with?
I was a beauty editor in a past life and everything I learned in my nascent pre-editor days was from YouTubers like Ingrid Nilsen (then MissGlamorazzi), Michelle Phan and the like. I remember interviewing for my first editorial internship at W Magazine almost a decade ago and spotting the Clarisonic Mia in the background of their then-beauty editor's Skype screen. I had no business knowing anything about this facial tool because I frankly could not afford such a thing, but I did because I had heard so many YouTubers talk about it earlier that year. I'm convinced it helped me get the job, which ultimately snowballed into my getting my first real job in media two years later!
I exclude myself from the drama these days so I'm not so sure what the beauty landscape on YouTube looks like in 2023, but 2010-2014 was a magical time of 17-minute makeup tutorials shot on the floor of your favorite creator's bathroom. It was special.
What articles and videos are in your Pocket waiting to be read/watched right now?
The Case Against The Trauma Plot, The New Yorker; I have started this a hundred times and need to finish it. I don't know why I keep putting it down, this topic is inherently interesting!!!
There I Almost Am by Jean Garnett, The Yale Review; I always have this saved to my Pocket to reread. It's a personal essay about the complicated nature of twinship, but I think it applies to anyone who has had or currently has a "best friend." It puts into words that shameful feeling of wanting, needing to be part of something but also resenting the fact that you are.
If you could create your own corner of the internet, what would it look like?
Honestly, I think we're already in the process of making my ideal internet corner at mixed feelings, which I am so honored to be able to do. We talk about our feelings endlessly on our platforms but something I'd love to explore more are conversations around fandom as it relates to community building and identity. I was the president of Harry Potter Club in high school (lol), which eventually just turned into Fandom Club so I'd love to explore fandom in a nuanced way down the line.
Your site, mixed feelings, has done some beautiful writing around mental health and healing. What other corners of the internet do you think are having healthy and happy conversations around mental health?
I love Dr. Marisa Franco's Instagram page. She's a psychologist and author of "Platonic," a book all about making friends as an adult (she's also a mixed feelings writer!). Dr. Franco's specialization is in friendships so she drops truths constantly about things like how your attachment style might impact you as a friend or how to set boundaries while preserving friendships. She recently did a takeover for us, where she answered tons of questions like how to turn an acquaintance into a close friend and more!
---
Mi-Anne Chan is a writer, editor and creative director based in Brooklyn, New York. She is currently senior director of programming and creative development at Condé Nast Entertainment, where she oversees the editorial video and audio portfolio for Teen Vogue, them. and LOVE. You can follow her on Instagram here and subscribe to mixed feelings on Substack.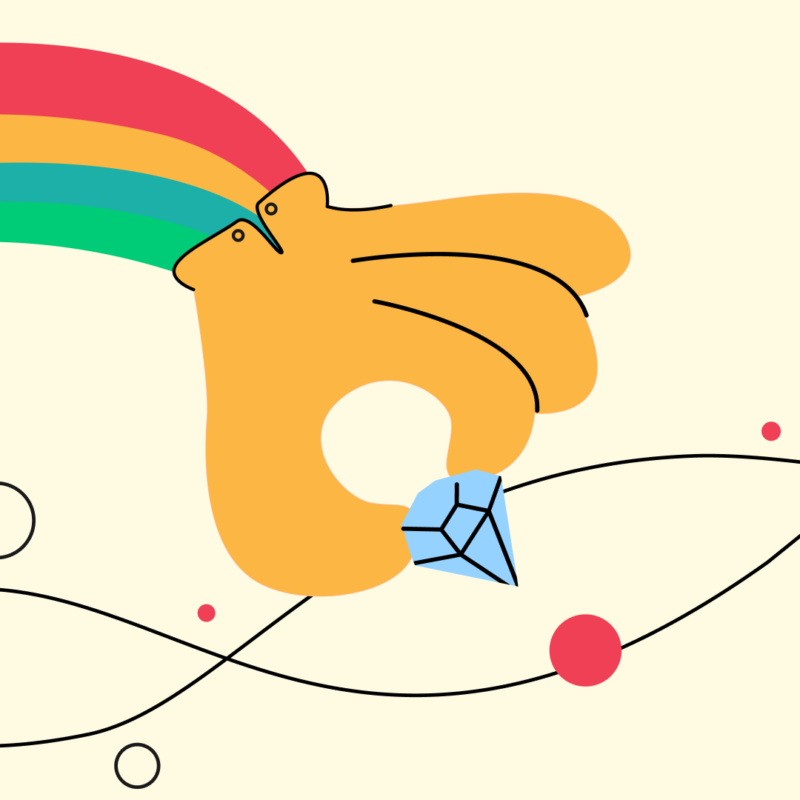 Save and discover the best articles, stories and videos on the web
Get Pocket