Keeping AI Accountable with Science Fiction, Documentaries, and Doodles (Plus $225,000)
Mozilla is announcing the seven recipients of its Creative Media Awards — projects that use art and advocacy to highlight the unintended consequences of artificial intelligence
The artificial intelligence (AI) behind our screens has an outsized impact on our lives — it influences what news we read, who we date, and if we're hired for that dream job.
More than ever, it's essential for internet users to understand how this AI works — and how it can go awry, from radicalizing YouTube users to promoting bias to spreading misinformation.
Today, Mozilla is announcing funding for seven art and advocacy projects that shine a light on the AI at work in our everyday lives.
These seven projects are winners of Mozilla's latest $225,000 Creative Media Awards. They hail from five countries. And they make AI's impact on society understandable using science fiction, short documentaries, games, and more. These projects will launch to the public by June 2019.
Mozilla's Creative Media Awards are part of our mission to support a healthy internet. They fuel the people and projects on the front lines of the internet health movement — from digital artists in the Netherlands to computer scientists in the United Arab Emirates to science fiction writers in the U.S.
The winners:
[1] Stealing Ur Feelings | by Noah Levenson in the U.S. | $50,000 prize
Stealing Ur Feelings will be an interactive film that reveals how social networks and apps use your face to secretly collect data about your emotions. The documentary will explore how emotion recognition AI determines if you're happy or sad — and how companies use that information to influence your behavior.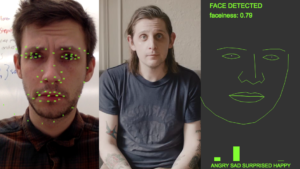 [2] Do Not Draw a Penis | by Moniker in the Netherlands | $50,000 prize
Do Not Draw a Penis will address automated censorship and algorithmic content moderation. Users will visit a web page and will be met with a blank canvas. Users can draw whatever they like, and an AI voice will comment on their drawings (e.g. "nice landscape!"). But if the drawing resembles a penis or other "forbidden" content, the AI will scold the user, take control, and destroy the image.
[3] A Week With Wanda | by Joe Hall in the UK | $25,000 prize
A Week With Wanda will be a web-based simulation of the risks and rewards of artificial intelligence. Wanda — an AI assistant — will interact with users over the course of one week in an attempt to "improve" their lives. But she quickly goes off the rails. Along the way, Wanda might send uncouth messages to Facebook friends, order you anti-depressants, or freeze your bank account. (Wanda's actions are simulated, not real.)
[4] Survival of the Best Fit | by Alia ElKattan in the United Arab Emirates, and Gabor Csapo, Jihyun Kim, and Miha Klasinc | $25,000 prize
Survival of the Best Fit is a web simulation of how blind usage of AI in hiring can reinforce workforce inequality. Users will operate an algorithm and see first-hand how white-sounding names are often prioritized, among other biases.
[5] The Training Commission | by Ingrid Burrington and Brendan Byrne in the U.S. | $25,000 prize
The Training Commission is a work of web-based speculative fiction that tells the stories of AI's unintended consequences and harms to public life. It unfolds from the perspective of a journalist who is reckoning with how deeply AI has scarred society.
[6] What Do You See? | by Suchana Seth in India | $25,000 prize
What Do You See? highlights how differently humans and algorithms "see" the same image, and how easily bias can take root. Humans will visit a website and describe an image in their own words, without prompts. Then, humans will see how an image captioning algorithm describes that same image.
[7] Mate Me or Eat Me | by Benjamin Berman in the U.S. | $25,000 prize
Mate Me or Eat Me is a dating simulator that examines how exclusionary real dating apps can be. Users create a monster and mingle with others, swiping right and left to either mate with or eat others. Along the way, users have insight into how their choices affect who they see next — and who is excluded from their pool of potential paramours.
~
These seven awardees were selected based on quantitative scoring of their applications by a review committee, and a qualitative discussion at a review committee meeting. Committee members include Mozilla staff, current and alumni Mozilla Fellows, and outside experts. Selection criteria is designed to evaluate the merits of the proposed approach. Diversity in applicant background, past work, and medium were also considered.
These awards are part of the NetGain Partnership, a collaboration between Mozilla, Ford Foundation, Knight Foundation, MacArthur Foundation, and the Open Society Foundation. The goal of this philanthropic collaboration is to advance the public interest in the digital age.
Also see: (June 4, 2018) Mozilla Announces $225,000 for Art and Advocacy Exploring Artificial Intelligence