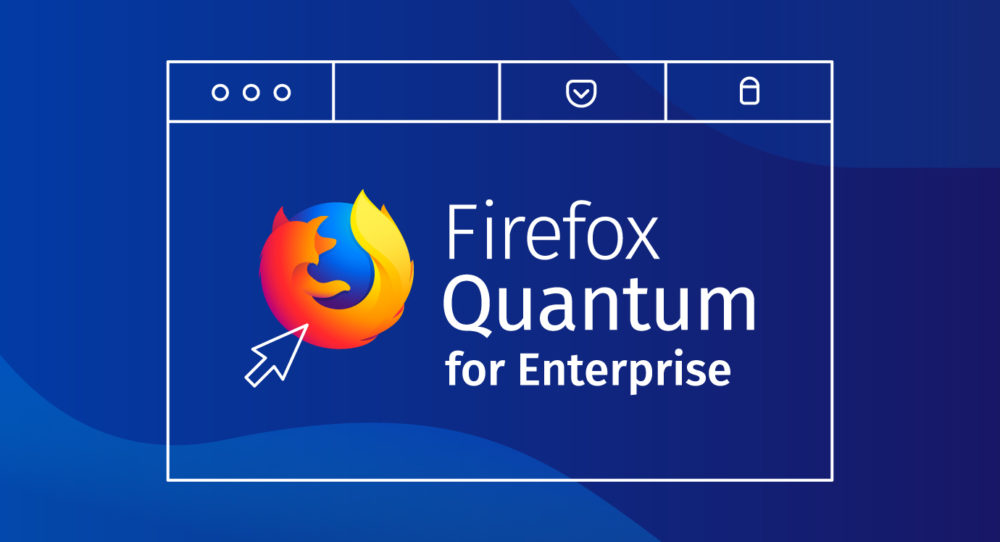 Firefox gets down to Business, and it's Personal
Right now everybody's talking about the right way to make the products that we love meet our individual needs AND respect our privacy.
At Mozilla, striking this balance has been our bread and butter for more than two decades. With today's release of Firefox, we're bringing you more features and tools that allow you to personalize your browser without sacrificing your privacy.
Here's what's coming out in today's Firefox Release:
Enterprise IT pros can customize Firefox Quantum for the office
It's not uncommon for people to use many different browsers, one they personally use at home and another at the office. Similar to how you set up your own Firefox browser with your personal preferences, Firefox Quantum for Enterprise can now be customized by your employer to optimize for performance on the job and meet the specific needs of your workplace.
Today's release has a new feature to support IT professionals who want to customize the browser for their employees. IT professionals can now configure Firefox for their organization, either using Group Policy on Windows, or a JSON file that works across the Mac, Linux, and Windows operating systems. Here's a look at how it works:
Easily configure Firefox with Windows Group Policy
IT professionals can choose to deploy either the standard Rapid Release (RR) of Firefox or the Extended Support Release (ESR). The standard Rapid Release auto-updates with performance improvements and new features roughly every six weeks, while the Extended Support Release usually receives these features in one big upgrade per year. Both Rapid Release and Extended Support Release receive critical security updates as soon as possible. With today's release, the Extended Support Release of Firefox is now version 60.
IT professionals eager to use to Firefox Quantum in their organization can visit this site for access. IT professionals curious about why the new Firefox is great for for organizational use can learn more in this blog post about Firefox Quantum for Enterprise.
WebAuthn Provides Extra Layer of Security
Almost every online transaction we make, from paying bills to buying movie tickets, needs a password to access our personal online accounts securely. Today, Firefox is the first browser to support a new security standard, Web Authentication (WebAuthn).
With Firefox, WebAuthn allows people to use a single device like a YubiKey to log into their online accounts without typing a password, or as secondary authentication after entering a password. Only websites that have adopted WebAuthn will recognize your YubiKey and allow you access. Essentially, WebAuthn is a set of anti-phishing rules that uses a sophisticated level of authenticators and cryptography to protect user accounts. It supports various authenticators, such as physical security keys today, and in the future mobile phones, or biometric mechanisms such as face recognition or fingerprints. When your YubiKey is plugged in, the website will read it and automatically log you into your accounts. Web developers and product managers interested in learning more about WebAuthn can read about it on our Hacks Blog.
New Tab Experience Gets Personal Treatment, plus Pocket sponsored stories
The New Tab Experience was one of the features we rolled out with Firefox Quantum last year. We launched it as a visual snapshot of the top sites you've visited, recent history and bookmarks, and recommendations from Pocket. And from what we've heard from our users, it gets them faster to the sites they visit and check frequently.
Today, when you click on the New Tab, you'll see a wider layout which includes Search, Top Sites, Recommendations by Pocket and Highlights. "Top Sites" is one of our most requested features so we increased the "Top Sites" menu from six to eight icons and increased the size of the "Highlights" icons.
As part of our exploration into new models that can support high quality content on the web, users in the US may now see an occasional sponsored story within Pocket's recommendation section on New Tab. It's part of our focus to deliver personalization, without sacrificing user privacy. What's unique is that all the recommendations happen on your computer, meaning neither Mozilla, Pocket, nor sponsors receive a copy of your browsing history. You can learn more about how the process works here.
Firefox for Android gets faster with a new CSS engine
One of the elements which made the launch of our new Firefox Quantum browser successful was the addition of our new CSS engine, Stylo. It's written in Rust, a systems programming language sponsored by Mozilla. Today, we're shipping Firefox for Android with Stylo, giving it a Firefox Quantum boost. It takes better advantage of mobile devices with multiple cores that are optimized for low power consumption, which is perfect for anyone on the go.
Plus, Firefox Quantum Extension Challenge Winners revealed
Last year, we introduced the new WebExtensions API when we launched our new Firefox Quantum browser so you could continue to personalize your browser in the Quantum era. In March, we launched a contest asking consumers and developers for more fun and useful extensions to use with the new API. We had more than 100+ entries in our Firefox Quantum Extensions Challenge, which have also been added to our Add-ons library. Today, we're happy to announce the winners, Envify for Best Dynamic Theme, Session Sync for Best Tab Manager/Organizer, and Worldwide Radio for Best Games & Entertainment. To learn more about the winners, visit our Firefox Frontier blog.
Check out and download the latest version of Firefox Quantum for the desktop and Android.