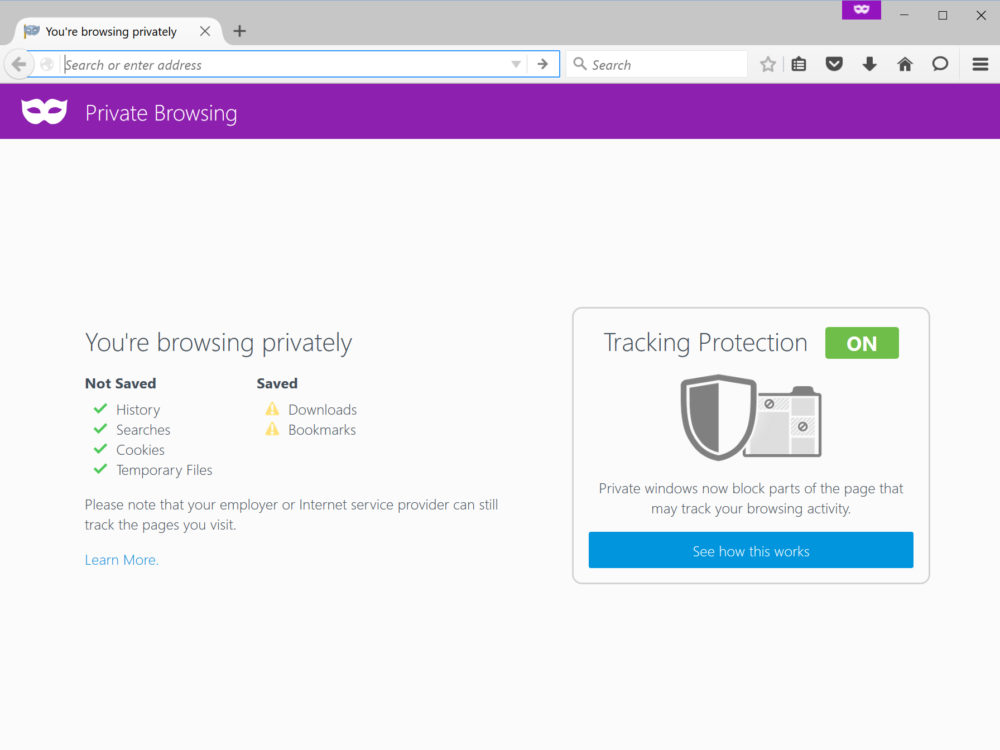 Firefox Now Offers a More Private Browsing Experience
We're releasing a powerful new feature in Firefox Private Browsing called Tracking Protection. We created this feature because we believe in giving you more choice and control over your Web experience. With the release of Tracking Protection in Firefox Private Browsing we are leading the industry by giving you control over the data that third parties receive from you online. No other browser's Private Browsing mode protects you the way Firefox does—not Chrome, not Safari, not Microsoft Edge or Internet Explorer.
You can learn more about Firefox Private Browsing with Tracking Protection by checking out this video.
Private Browsing with Tracking Protection
We first added Private Browsing to Firefox to give you control over your privacy locally by not saving your browser history and cookies when you close a private window. However, when you browse the Web, you can unknowingly share information about yourself with third parties that are separate from the site you're actually visiting, even in Private Browsing mode on any browser. Until today.
Private Browsing with Tracking Protection in Firefox for Windows, Mac, Android and Linux actively blocks content like ads, analytics trackers and social share buttons that may record your behavior without your knowledge across sites.
We're also introducing a new Control Center in Firefox that contains site security and privacy controls in a single place in your address bar. Since some Web pages may appear broken when elements that track behavior are blocked, we've made it easy to turn off Tracking Protection in Private Browsing for a particular site using the Control Center.
New Firefox Developer Edition
Today we're also releasing new visual editing tools in Firefox Developer Edition including Animation Tools that work the same way animators think.
We created a fun, hands-on experience called DevTools Challenger to give designers a deep-dive on how to make the most of these new tools.
We think these new tools in Developer Edition make creating animations less like writing a script and more like creating a movie, but judge for yourself! You can find out more from Director of Engineering Dave Camp about Firefox Developer Edition on the Mozilla Hacks blog here.
We hope you enjoy the new Firefox!
More information: