1. Firefox is open source and is the only browser made by a not-for-profit, mission-driven organisation.
2. Firefox is available not only for Windows, Mac and Linux-based desktops, but on Android phones and tablets, too. In fact, Firefox for Android has been downloaded from the Google Play Store more than 80 million times.
3. Firefox was the first browser to offer themes an add-on platform to add new features, functionality or a customised look to your browser. Nearly 4 billion add-ons have been downloaded since we made add-ons available.
4. A global community of volunteer contributors translate Firefox into nearly 90 languages for the 50% of non-English language version users. The Access Firefox team makes the latest version of Firefox accessible to users with visual and motor impairments.
5. Firefox launched the only truly open mobile operating system for smartphones. Firefox OS-based smartphones are now available in 24 countries across Asia, Europe and Latin America.
6. Firefox Developer Edition is the first browser designed specifically for developers.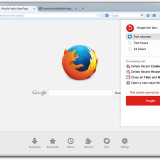 7. Firefox is dedicated to protecting online privacy and providing users with control. It includes tools to help protect your privacy like Private Browsing, Guest Browsing and Do Not Track as well as new privacy features we've introduced like the Forget button.
8. Firefox was first to bring 3D in-browser gaming to life on desktop and mobile by pioneering technologies like WebGL, now adopted by all major browsers.
9. A lizard is at the heart of Firefox. Gecko is a Web engine used by around a quarter of the Web, which has brought new capabilities to the Web and increased interoperability dramatically.
10. More than 10,000 contributors expressed their support for our mission by paying for a full-page ad in The New York Times to celebrate the launch of Firefox 1.0 in 2004.