In honor of International Earth Day on April 22, we want to help you manage your Firefox resources. We can't make you unplug your computer, but we can get you on the Web faster and give you a better browsing experience so you can make the most of your time online.
If you browse the Web with multiple tabs open at once, there's a great way to speed up your browser and enhance Firefox's performance by loading one tab at a time when you restart – or any time you open your browser. (See this site for more on browsing with tabs.) By changing a few settings, each tab will load as you select it (instead of all tabs at once), which will make your Firefox faster. You're managing your Firefox memory, which makes your Firefox start up faster, and new pages load more quickly, which makes your experience better, and makes you a happier Firefox user! In the next few months, this will be the norm for everyone, because we're going to build it into the browser. Until then, here's how you can turn on this setting yourself.
Steps:
1. Select Firefox -> Options (Preferences on a Mac)
2. In the General panel of your Options menu – look at your Startup selection
3. From the drop-down menu, select Show my windows and tabs from last time – this will restore the pages you were visiting the last time you closed Firefox.
4. Just under that drop-down box, check the box that reads Don't load tabs until selected. Voila! Now, only the last tab you were working in will be loaded on startup.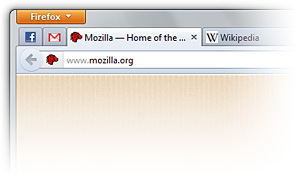 There's even a shortcut you can use to open a tab – you don't have to leave your keyboard! Press the Control (Command on a Mac) button and the letter T at the same time, and a new tab will open. The cursor will even be ready in the Awesome Bar to let you start typing the url. Who needs a mouse?