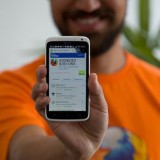 There are thousands of ways to customize your Firefox browser with Add-ons. These small pieces of software that add new features or functionality to your Firefox browser can allow you to increase your online security, download videos, be more social, change your browser's look and much, much more.
Here's the really great news: Add-ons aren't just for your computer. You can install an add-on to enhance your Firefox for Android as well!
You can access the Android Add-ons from within Firefox for mobile:
Tap the hardware "Menu" button
Tap the "More" button
Tap the "Add-ons" button
Tap the orange folder icon in the upper-right of the add-ons manager screen. Alternately, you could go directly to https://addons.mozilla.org/android/ to achieve the same result.
With so many Add-ons to choose from, where do you start? Here are a few of the most popular on Android to give you ideas and get you on the path to discovery.
Phony: View mobile or desktop versions of sites by imitating other browsers. Do you get annoyed by being forced into the mobile version of a site? Or when you get a simplified mobile sites? Phony awaits you in the Firefox menu, so you can view sites the way you want by masquerading as an iPhone, Android device or desktop browser. Watch the video to see how to install Phony, or any of these Android Add-ons.
LastPass: This free online password manager and form filler makes your Web browsing easier and more secure. Your sensitive data is encrypted locally before being uploaded so even LastPass can't access it. It allows you to create strong passwords (you only have to remember one), automatically fill out forms to save you time, log into your favorite sites with a single click, access and manage your data from multiple computers seamlessly and more.
PDF Viewer: This Add-on allows you to read PDFs right from your mobile browser. Yay!
AdBlock Plus: This is the most popular mobile (and desktop!) Add-on. Troubled by tracking? Bothered by banners? Install Adblock Plus to regain control of the Internet and change the way that you view the Web.