How do you get the latest version of Firefox? In the past, you would have to take an action — either download the new version of select "Update" from your Firefox menu to initiate an update.
There were lots of people that gave us feedback on that method. It wasn't pretty. But we always appreciate what our Firefox fans have to say, and here's a great new tip for you.
If you're on the latest version of Firefox and the version number starts with a 16 or greater, you never have to lift another finger to get the latest version. (At the top of the Firefox window click the Firefox button, go over to the Help menu and select About Firefox. For Windows XP: Go to the Help menu and select About Firefox.)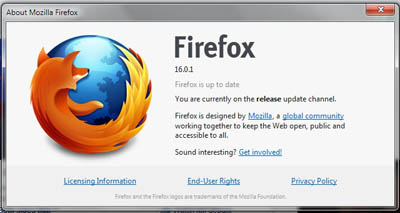 That's it! From now on, when Firefox has a new feature, or a security update, you don't have to do a thing. It will update like clockwork without any effort from you as we roll out changes to all of our users.
Of course, if you want to be the very first to have an update, you can always check on your own, and configure your settings to check for updates. Instructions to do that can be found in this support article.
If you have a tip you'd like to share with other Firefox users, please post it on our Facebook page with #FirefoxTips and tag us, or post on Twitter with #FirefoxTips. You can also view more tips in our archive.
If you found this tip useful, be sure to share it with the Facebook and Twitter buttons below, and help tell the world about Firefox.