Many folks love Firefox Add-ons — those little pieces of code that bring enhanced features to your Firefox browsing. However, sometimes, you might want to do a little "spring cleaning" and disable or delete the ones you don't use. This also keeps your Firefox running smoothly.
Click on the Firefox button (Tools in Windows XP) and then Add-ons. In the Add-ons Manager tab, choose Extensions. Select the add-on that you want to disable or remove. To turn it off, select Disable. To delete it altogether, select Remove. Restart your browser to make sure changes took effect. (Removing an add-on means you'll have to download it again to get it back. If you disable an add-on, you can follow the same instructions and choose "Enable" to turn it back on.)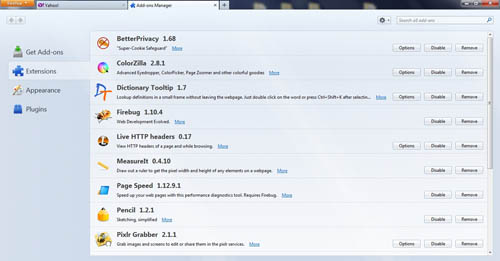 More instructions about disabling or deleting add-ons can be found in this article.
If you have a tip you'd like to share with other Firefox users, please post it on our Facebook page with #FirefoxTips and tag us, or post on Twitter with #FirefoxTips. You can also view more tips in our archive.
If you found this tip useful, be sure to share it with the Facebook and Twitter buttons below, and help tell the world about Firefox.