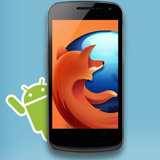 When we here at Firefox create a product we think it's awesome and cool and fun and, well, you get the point. That's because we love the Web, and we love making the Web a better place for you and the millions of others that use it.
But since we created it, of course we're going to think it's great. That's why, when someone else — either a respected press outlet or one of our fabulous Firefox fans — says that something we created is great, it's even more special. That's because now you can see that the products we love are products that others love as well!
Take, for example, Firefox for Android. Why would you want to use Firefox for Android over, say, the stock browser, or another browser? We think it's because we've made it faster, safer, more secure. But here's what some others had to say.
"The company is giving the browser's newfound speed the MVP treatment. That rapidity is as good a place as any to start a quick hands-on, especially since the native browser lag on our older Galaxy S handset often makes us want to hurl it through a pane of glass." – Engadget
"I've been using Dolphin Mini up until now, but would abandon it for a slicker interface (and one that isn't an ugly pea green). Firefox for Android, at long last, does the trick." – TIME
"For many Android users, Mozilla's updated Firefox app could quickly become their favorite mobile browser… I've found it to be the best mobile browsing experience I've had yet." – VentureBeat
"In both benchmark testing and regular use, Firefox is as fast — and often faster — than both the stock Android browser as well as the beta version of Google Chrome, which surprised me." –GigaOM
"Google's own Chrome browser requires version 4.0 ("Ice Cream Sandwich") or newer to run, which covers less than 30 percent of the installed base. This makes Firefox the best option for an actively maintained browser on these phones, which are likely to be older or cheaper models without much hope of manufacturer support." — Ars Technica