Hello, my name is Carmen, and I am a super tab user on Firefox.
Since my job is to give you some of the best tips and tricks for using Firefox here on The Den, I wanted to share my top tips for tabs.
There are some settings in the Preferences window that I suggest you make sure are turned on (though there are more available that you may find useful.) You can see how to adjust your tab settings here.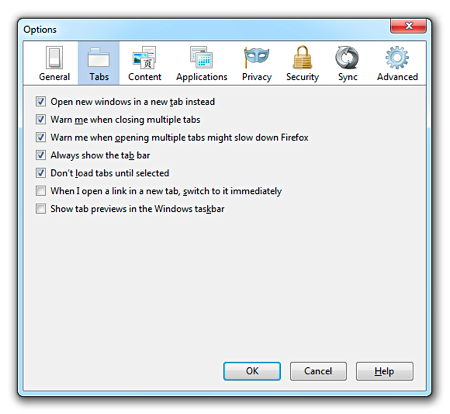 Open new windows in a new tab: If you have a lot of sites open at the same time, a lot of windows can mean things get buried and are hard to find. I like opening new windows in a tab instead. Make sure to check this box in Preferences if you agree.

Warn me when closing multiple tabs: When you close a window with multiple tabs, Firefox asks "are you sure?" This prevents you from accidentally closing the whole window when you intended to only close the current tab, or gives you time to bookmark a page before shutting down Firefox so you don't lose your place online.

Don't load tabs until selected: You can keep your Firefox running fast by selecting the "don't load tabs until selected" option. Firefox will only load the active tab when it starts or restores your previous session. The other open tabs will be loaded as you click on them.
And there's more…
 If you're like me, you probably run out of space on the Tab Strip quickly.  Tab Groups were made for us. They're great for grouping tabs by task (all your news tabs for instance) and then switching between them. This support article will make you a tab wizard in no time.
For the advanced tab user, there's also a Firefox Add-on that I find useful. Tab Mix Plus adds even more tab features to your browser. I like the ability to lock a tab, which means if I accidentally click on a link it will open it in a new tab, instead of overwriting the one I'm on. Check it out and see if it's right for you.
See? There are lots of ways I manage my tabs, and now you can too.