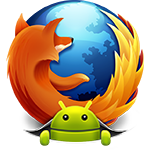 The latest release of Firefox for Android has some new features to make your mobile Web browsing even better. Do you you have Firefox for Android yet?
We've made some changes to the Awesome Screen to help you get to your Web sites more quickly.
Full Screen Browsing: The title bar automatically hides when you're not using it. This gives you back your entire screen for browsing enjoyment. When you want to access it again, simply pull down the Awesome Bar from the top of the screen.

URL Autocomplete: The Awesome Bar also now  completes your URL destination as you type – currently the only mobile browser that does this!

Switch to Tab: The Awesome Screen now has a Switch to Tab feature, that lets you easily find and switch to any open tab from your Awesome Screen without opening duplicate tabs.

Your choice of search: Change your default search provider directly from the add-ons manager. Just visit the add-ons manager and long-tap on an installed search engine. This brings up a dialog where you can either "Disable" the search engine or "Set as Default".
If you haven't given Firefox for Android a try yet, this is a great time!