"Mozilla exists to improve the nature of online life: to build the technology and products and communities that make a better internet. An internet that is accessible, safe, promotes human dignity, and combines the benefits of 'open' with accountability and responsibility to promote healthy societies." — Mitchell Baker, CEO of Mozilla, April 2020
To deliver on our goal to build a better internet that works for everyone – where everyone feels welcome to come, build, innovate, experience, shop, exchange – we need our organization to better reflect the diversity of the people on the internet and to create the environment that allows people to give their best to their work and work products.
Although we have been working to advance diversity, equity, and inclusion (DEI) at Mozilla, the racial unrest of 2020 greatly accelerated these efforts and drove our Racial Justice Commitments in June 2020. One year since making these commitments, we have made progress. Building upon this momentum, we are placing strategic focus on diversifying our workforce, enhancing a culture of inclusion, and broadening our reach with our products and platform. This 2021 disclosure details our progress through 2020. Though we have made strides, our data indicates that we still have a great deal of headway to make in diversifying our workforce, especially in regards to increasing racial and gender diversity in technical roles and leadership. Our focus in 2021 is on sustaining our momentum by building upon the efforts underway and identifying new areas for growth with an eye towards sustainability. Overall, there is more work ahead of us and we remain committed.
Our Commitments
2020 was a challenging year for many of us. The emergence of COVID-19 took an unimaginable toll on humanity and dramatically changed how we live. Businesses felt this impact in ways that were completely unexpected, and Mozilla was no different. As difficult as the year was, in June 2020, we committed to Steps Towards Lasting Change in light of the horrific displays of Anti-Black racism and white supremacist violence in the United States. We recognized our responsibility to act with urgency and as a result, we defined and developed strategic goals for pursuing racial justice. Our racial justice commitments to "what we build, what we do beyond products and who we are" provide a robust framework that we will use to guide our broader diversity, equity, and inclusion work.
What We Build
Our outreach with our products
In 2020, we began thinking differently about how to convey our values of inclusion through our products. We took several bold steps toward change and are excited to continue this important work in the coming years.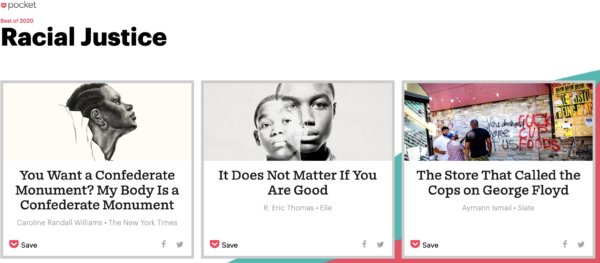 Pocket: In an effort to combat the rapid spread of misinformation and disinformation, Pocket curated high-quality content and amplified the voices and experiences of communities of color. Throughout the product, including Pocket Recommendations and curated Pocket Collections, we elevated diverse voices and publications in order to provide context, perspective, and connection through great content experiences. The aim was to spotlight content that not only shone a light on systemic prejudice and inequality but also celebrated excellence and life in communities of color from voices within those communities.
User Research and Design: We launched a project to assess where biases may creep into our user research and product design processes and identified five key recommendations to ensure we are designing and building products that serve more diverse communities.
1. Diversify teams. Ensure increased BIPOC representation on user research and design teams
2. Process checks and balances. Implement process checkpoints to evaluate racial inclusivity throughout the product design and development lifecycle
3. Vendor diversity requirements. Establish vendor requirements to cultivate intentionally diverse insights and processes
4. Baseline research. Conduct foundational research specifically focused on BIPOC populations
5. Target markets. Consider how the target market of choice impacts racial inclusivity and focus on diversity within the selected market
The user research and design team began delivering on the recommendations by integrating into more diverse design communities outside of Mozilla and embarking upon a research project focused on underreported populations.
Code Review: Mozilla has led efforts to reduce the use of racialized terms in our code. In 2020, we worked with our community to begin removing derogatory language and terms such as blacklist and whitelist from the Gecko platform and any references to slave in Firefox.
What We Do Beyond Products
Our broader engagement with the world
The power of Mozilla also lies beyond our products. It is in our platform, our mission, and the broader community. Our focus in 2020 was to partner more deeply, authentically, and innovatively with communities that have been marginalized.
Tackling Bias
Dialogues & Debates, a speaker series by the Mozilla Foundation as a part of MozFest, brought diverse voices together to talk about the impact of technology and AI on communities of color and communities that may be disproportionately harmed by big tech. We conducted 7 Dialogues and Debates in 2020 and had just under 200,000 views.
The Mozilla Foundation launched campaigns calling on Nextdoor and Amazon Ring to pause their relationships with police departments and assess the impact of their platforms on users and communities of color. More than 28,000 people signed the petitions, and several organizations partnered with Mozilla on escalation actions, including Kairos Action, MediaJustice, Color of Change, Ultraviolet, and Free Press. Although there is more progress to be made, Nextdoor has since announced a new feature aimed at reducing racist language on the platform.
As part of our commitments to a lasting change, Mozilla committed to directing at least 40% of Mozilla Foundation grants in 2020 to Black-led projects or organizations. Having made this commitment halfway into our funding year when much of our funding was already committed or allocated to restricted funding streams, we fell short of our 40% target. Ultimately, Mozilla committed 33% of our Awards and Fellowships team funding (over $480,000) to Black-led projects and organizations in 2020. This funding included Mozilla's latest round of Creative Media Awards. These awards provided $260,000+ to Black artists who are exploring the effects of AI systems on everyday lives and how AI can perpetuate and amplify biases that have long existed offline. These funds also include $220,000+ to support Fellows working to increase the technical capacity of civil society organizations around the globe. Examples of Black-led projects funded in 2020 include:
Dark Matters | by Johann Diedrick in the U.S. | @johanndiedrick
This interactive web experience spotlights the absence of Black speech in datasets that train voice assistants like Siri, Google Home, and Alexa. The project also reveals the exclusion and code switching that results. Through a three-dimensional visualization of major speech datasets, viewers come into contact with vacuums of space representing these data voids. Intertwined are narratives attesting to the resilient and resistive qualities of Black speech, suggesting how we might create more equitable futures.
Hope | by Tracey Bowen in the UK | @hopeimmersive, @controlrapp, and @onallee
This collection of immersive journalism and Afrofuturism artwork imagines two possible futures: one where bias and discrimination has been banished from technology, and one where it runs rampant. Through the experience, viewers learn how AI and data sets are vulnerable to bias, but also learn about the real-world, Black-led initiatives underway to counteract this bias.
Melalogic | by Melalogic in the U.S. | @getmelalogic
Melalogic is an app that gives Black People a single source of skin health information from trusted professionals who look like them. Participating users can help to build the Black Skin Health AI Data Set which will provide them with the ability to submit a photo of a skin issue they may have and receive instantaneous feedback as to what it could be and suggestions on how they should treat it. This new public dataset will be able to fuel AI-powered dermatology research and prediagnoses.
Innovation in Africa
The Africa Mradi was launched in August 2020 to catalyze innovation with and for communities in Eastern and Southern Africa. Recognizing that Mozilla will not succeed if we only build for, and within, our legacy markets. This initiative seeks to broaden the scope and influence of Mozilla from a product, policy, and thought leadership standpoint. The Africa Mradi creates interdependencies between these approaches by working with partners at the local level who are developing solutions that best address real-world African internet user needs in alignment with our internet health goals.

In September, we announced a partnership with Afrilabs to explore new technology ideas in the Africa region.
In October, we announced a Memorandum of Understanding with African Telecommunications Union for a joint project to promote rural connectivity in the Africa region.
In November, we announced a partnership with the Africa Network of Data Protection Authorities to provide institutional capacity-building support to the network. By deepening the understanding of Data Protection Authorities (DPAs) through collaborative capacity building, we are strengthening an initial network of over 20 DPAs across the region for enforcement of privacy and data protection, as well as sustained ethical data protection practices that can inform and shape the future of data protection across the region. See the announcement here in French and English with details of the project.
Teaching and Learning
In 2020, we initiated partnerships with Historically Black Colleges and Universities (HBCUs) to increase the number of technically-ethically-informed students. We launched partnerships with Hampton University and Virginia State University with initial grants to provide Computer Science and Engineering students with additional remote learning opportunities. These partnerships with both institutions will continue into the 2021-22 academic year.
Mozilla Foundation initiated a partnership with Spelman College in August 2020. The foundation provided funding for a lecture series that launched in March 2021 titled "The Future is Intersectional: Black Women Interrogating Technology." Our partnership with Spelman will also continue into the 2021-22 academic year.
In partnership with Omidyar Network, Schmidt Futures and Craig Newmark Philanthropies Mozilla Foundation launched the Responsible Computer Science Challenge to support the conceptualization, development and piloting of curricula that integrate ethics with undergraduate computer science training. A commission was launched to identify actions for increasing participation from students attending HBCUs.
   
The Mozilla Corporation participated in Outreachy, which is a global program that organizes three-month paid internships with free and open-source software projects for people who are typically underrepresented in those projects. Mozilla has partnered with Outreachy since 2013 and has funded 146 interns throughout our partnership.
Who We Are
Our employee base and our communities
While it is important that Mozilla extend our reach beyond our organizational boundaries with our products, platform, and community network, it is equally vital that we build a more diverse and inclusive organization and culture.
A Culture of Inclusion
Mozilla Resource Groups (MRGs): Prior to 2020, Mozilla had informal employee resource groups which had varying levels of engagement, structure, and impact. We recognized an opportunity to celebrate our differences and leverage the innovation borne from diversity. We kicked off more robust celebratory and learning opportunities starting with "Yo Soy!", a series of employee spotlights we shared during Hispanic and Latinx Heritage Month. In 2021, we have added a women's resource group (womoz) and an Asian and Pacific Islanders resource group (Moz-API).
Pridezilla: Mozilla wholeheartedly embraces the LGBTQIA+ community. We have an active Mozilla Resource Group called Pridezilla where we discuss queer topics, share resources, and provide support. In March of 2019, we announced formal guidelines and policy for people transitioning at work and made resources available to their managers and colleagues to ensure support. Trans rights are human rights, and it is important to codify our commitment to support trans rights. This is only one of the many reasons why we received a score of 95 on the Human Rights Campaign ("HRC") Corporate Equality Index.
Racial Justice Ally Action Group: In the aftermath of George Floyd's murder, we initiated a task force, the Racial Justice Ally Action Group (RJAAG). The goal of this group was to develop recommendations for a sustained culture of inclusion by bringing together dedicated and empowered individuals to identify and take action to enact anti-racist principles in our work and our organization. The RJAAG developed 3 primary recommendations for change including building an Allyship program, increasing celebratory acknowledgements, and establishing more robust training and skill development.
Diversity, Equity, and Inclusion Councils: We piloted DEI councils within two large business groups with the goal of building a more inclusive culture within their teams and strengthening connection with the central Diversity and Inclusion team. The pilot served as a strong model that will be scaled to additional business groups in 2021.
Well being: We recognize the isolation and uncertainty from 2020 contributed to an already growing global mental health crisis. As the impact of COVID-19 became more widespread, Mozilla expanded its existing resources for employees and introduced new benefits to promote physical, social, and mental wellness. Mozilla's already remote-friendly culture became more flexible. In 2020, 9 wellness days were introduced as company-wide paid time off to allow for rest. We made it clear that empathy and compassion should be prioritized over speed. We openly welcomed children, parents, significant others, and pets who suddenly found themselves in the background of meetings.
Looking Forward, 2021 Focus
In 2021, we will continue to focus our efforts on "what we build, what we do beyond products and who we are" in a way that is authentic to Mozilla, with openness, collaboration, community, and commitment. Our goal is to build a sustainable DEI strategy that has a transformative effect on our organization. As such, we aim to scale and strengthen efforts that are already underway and establish new foundational and structural capabilities. As we continue on our DEI journey we are committed to transparently sharing our learnings, findings, and practices broadly.
Representation in our workforce remains a priority for Mozilla Corporation and Foundation. We aim to build a diverse workforce with continued investment in talent acquisition and people processes. We are equally invested in building an inclusive culture that embraces and empowers employees of all backgrounds to thrive, grow, and do their best work at Mozilla.
We will explicitly measure our progress in 2021 by:
Working to increase Black or African American representation to 7% in the United States
Working to increase Hispanic or Latinx representation to 7% in the United States
For Mozilla Corporation, there will be additional emphasis on increasing Black, African American, Hispanic and Latinx representation technical roles
Leveraging our engagement and diversity and inclusion scores from our semi-annual engagement survey to assess whether the organization sees a culture of inclusion improving
We have unprecedented momentum and are optimistic about the progress we can make in 2021 and years to come.
2017 to 2020 Progress Across Mozilla
Mozilla began publishing our D&I disclosure in 2018 (separately as the Corporation and the Foundation).
Mozilla Corporation
In the four years covered by our reporting work, we've seen a 9 percentage point increase of women and a 3 percentage point increase in Black or African American representation in our workforce at the Mozilla Corporation, with close to 10 percentage points increase in Black or African American leadership alone in 2020. While we have seen an increase in the diversification of our workforce, we remain committed to sustained growth and progress.
Mozilla Corporation Gender Diversity, 2017 to 2020

| | | | | |
| --- | --- | --- | --- | --- |
| | 2017 | 2018 | 2019 | 2020 |
| Men | 75.5% | 71.7% | 67.4% | 66.4% |
| Women | 24.4% | 28.3% | 32.4% | 33.5% |
| Other Gender Identities | 0.1% | 0.1% | 0.2% | 0.1% |
Mozilla Corporation Racial and Ethnic Diversity (U.S. only)
2017
2018
2019
2020
White
75.1%
73.3%
68.8%
67.2%
Asian
15.5%
16.1%
16.6%
16.5%
Black
1.8%
2.7%
3.0%
4.8%
Hispanic or Latinx
3.9%
4.0%
3.8%
4.1%
American Indian or
Alaskan Native
0.7%
0.5%
0.5%
0.2%
Native Hawaiian or
Pacific Islander
0.5%
0.7%
0.6%
0.5%
Two or More Races
2.5%
2.7%
2.6%
3.2%
Mozilla Foundation
The Mozilla Foundation had an over 8 percentage point increase in women in the workforce. Racial and ethnic diversity — as well as the overall size of our staff complement — dropped in 2017 due to the winding down of US-based education programs funded by the MacArthur Foundation. Since that time, we have worked to diversify our hiring slates and thereby increase representation of our staff's racial and ethnic diversity. We are eager to share more information about this in our next Mozilla Foundation-specific diversity disclosure later this year.
The Mozilla Foundation data represented below is pulled from the Mozilla Foundation's 2017 disclosure. For 2020, the data below was pulled from our HRIS system on December 31, 2020. The Mozilla Foundation also published a disclosure in Q4 of 2020 with data as of August 10, 2020. The Mozilla Foundation did not publish disclosures in 2018 and 2019.
Mozilla Foundation Gender Diversity, 2017 to 2020

| | | |
| --- | --- | --- |
| | 2017 | 2020 |
| Men | 41.6% | 31.4% |
| Women | 58.4% | 67.1% |
| Other Gender Identities | 0.0% | 1.4% |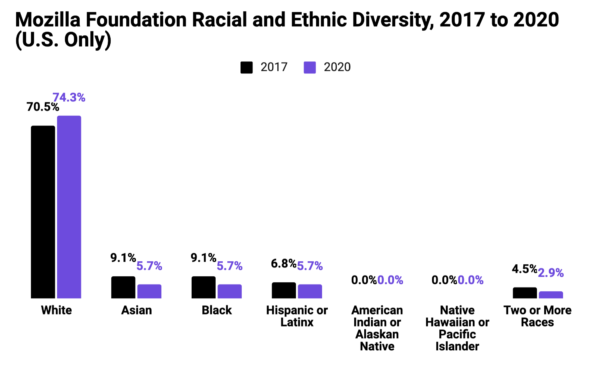 Mozilla Foundation Racial and Ethnic Diversity, 2017 to 2020 (U.S. only)
2017
2020
White
70.5%
74.3%
Asian
9.1%
5.7%
Black
9.1%
5.7%
Hispanic or Latinx
6.8%
5.7%
American Indian or
Alaskan Native
0.0%
0.0%
Native Hawaiian or
Pacific Islander
0.0%
0.0%
Two or More Races
4.5%
2.9%
Mozilla Corporation Representation, 2020 Data
Gender
Women make up about one-third of Mozilla's workforce, and we experienced a 1.1 percent increase in women from 2019 to 2020. We are nearing gender parity in leadership with women now representing 46 percent of leadership roles. We recognize the need to double down on our recruitment and retention efforts to increase the low proportion of women in technical roles. Moving forward, we plan to also share the experiences of women at the intersections of race and gender. While our diversity and inclusion efforts have made an impact on our growth, we are eager to strengthen these efforts.
Race and Ethnicity (U.S. Only)
In 2020 alone, we saw an increase in overall representation by 1.8% for Black or African American staff and 0.4% for Hispanic or Latinx staff. We experienced a significant increase in our Black or African American leadership nearing 10 percentage points and Hispanic or Latinx leadership to 2 percentage points. We also had an increase to 9.2% of Black or African American representation in non-technical roles. We are focused on increasing Black or African American and Hispanic or Latinx representation in technical roles and increasing American Indian or Alaskan Native and Native Hawaiian or Pacific Islander representation overall.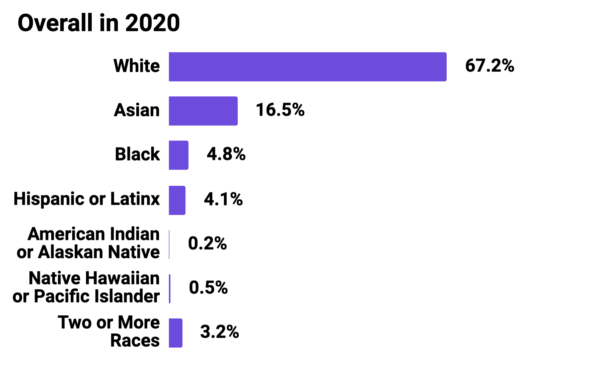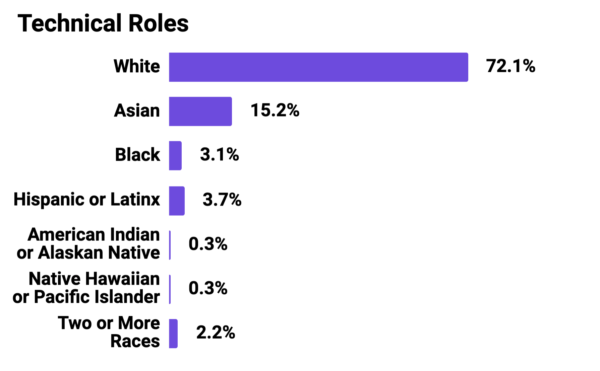 Age
The median age of our staff at the Mozilla Corporation was 37, which is the same as 2018 and 2019, and 38% are at or over the age of 40.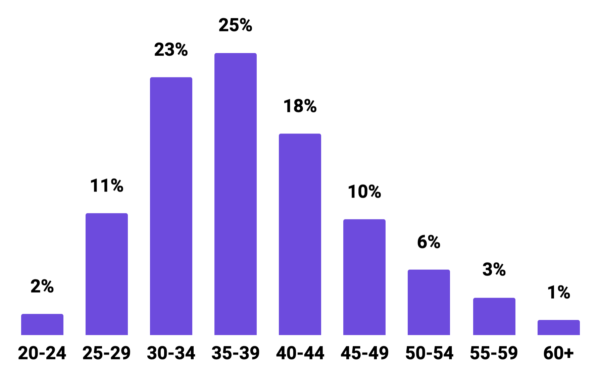 Office/Remote
Mozilla embraced remote working for many years prior to the pandemic, and our remote work culture has remained strong. If shelter in place orders were not implemented in early 2020, 54% of our employees at the Mozilla Corporation would have identified as remote workers (up from 47% in 2019).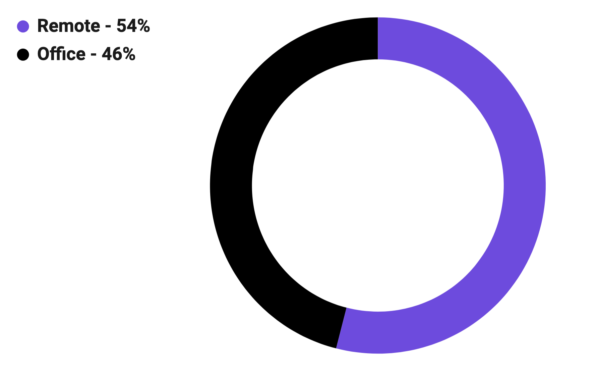 Mozilla Foundation Representation, 2020 Data
Gender
Women make up a little over two-thirds of the Mozilla Foundation employee base. The directors and executive team continue to be primarily comprised of women, with 57% of women in leadership roles. Individuals with other gender identities now make up 7 percent of leadership roles.
Race and Ethnicity (U.S. Only)
Between August and December of 2020, we saw a 3 percent increase in Black or African American representation, bringing us to nearly 6% representation overall. We are focused on increasing racial and ethnic representation overall with a particular focus on leadership.
Age
The median age of our staff at the Mozilla Foundation was 37.5, and 44% are at or over the age of 40.
Office/Remote
Mozilla embraced remote working for many years prior to the pandemic, and our remote work culture has remained strong. If shelter in place orders were not implemented in early 2020, 53% of our employees at the Mozilla Foundation would have identified as remote workers.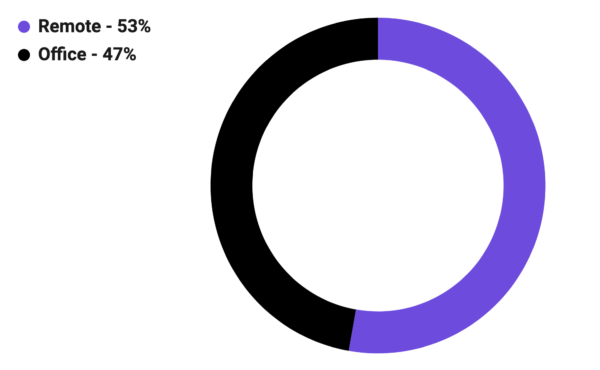 Methodology
All diversity data are self-reported and come from the Mozilla Corporation and Foundation's Human Resources Information System for regular employees as of December 31, 2020. Progress over 12 months is compared against December 31, 2019.
Staff at the Mozilla Corporation includes only regular, full time employees. Staff at the Mozilla Foundation includes regular, full time employees and fixed term employees, as some fixed term staff are tied to grants or specific funding sources.
Leadership representation excludes executive-ranked technical fellows and is Directors, Vice Presidents, and the executive team.*
Technical workers are defined as staff working on our products and within IT.
Currently, less than 1% of Mozilla employees select "other gender identities." We recognize that gender identities exist on a spectrum.
At this time we do not track race and ethnicity outside of the United States to comply with global laws. All race and ethnicity data are for employees in the United States only, and categories are driven by United States government requirements for disclosure.
Employees who decline to provide demographic data are not included in the metrics provided.
*Over the past few years, we have shared data on our leadership defined as Vice Presidents and the executive team. Moving forward, we plan to expand the definition to include Directors as this group has significant sway in decision making at Mozilla. Additionally, leadership is often defined as Directors, Vice Presidents, and the executive team at other organizations, and this redefinition allows us to make meaningful comparisons with other organizations.
A Correction to our Previous Disclosure
While preparing for the 2020 disclosure, we identified errors in our 2019 disclosure. We updated our 2019 disclosure to include corrected data. Often, the difference was less than 1%, however, in one case the difference was as much as 9.9% (the intersection of race and ethnicity and non-technical roles). The most significant discrepancies found were that we overreported women in leadership positions and people of color in technical roles, and we underreported people of color in non-technical roles. To prevent these issues going forward, we have upgraded our data collection, reporting processes, and tools, which have built-in quality assurance.
2020 Mozilla Corporation Data
Mozilla Corporation Gender Diversity (global)

| | | | | |
| --- | --- | --- | --- | --- |
| | Overall | Leadership* | Tech | Non-Tech |
| Men | 66.4% | 54.0% | 75.8% | 30.0% |
| Women | 33.5% | 46.0% | 24.0% | 70.0% |
| Other Gender Identities | 0.1% | 0.0% | 0.2% | 0.0% |
Mozilla Corporation Racial and Ethnic Diversity (U.S. only)
Overall
Leadership*
Tech
Non-Tech
White
67.2%
63.0%
72.1%
53.8%
Asian
16.5%
18.5%
15.2%
20.2%
Black
4.8%
9.3%
3.1%
9.2%
Hispanic or Latinx
4.1%
1.9%
3.7%
5.0%
American Indian or
Alaskan Native
0.2%
0.0%
0.3%
0.0%
Native Hawaiian or
Pacific Islander
0.5%
0.0%
0.3%
0.8%
Two or More Races
3.2%
1.9%
2.2%
5.9%
Mozilla Corporation Age Diversity (global)

| Age in years | Overall |
| --- | --- |
| 20-24 | 2% |
| 25-29 | 11% |
| 30-34 | 23% |
| 35-39 | 25% |
| 40-44 | 18% |
| 45-49 | 10% |
| 50-54 | 6% |
| 55-59 | 3% |
| 60+ | 1% |
Mozilla Corporation's Distributed Workforce

| Location | Overall |
| --- | --- |
| Remote | 54% |
| Office | 46% |
2020 Mozilla Foundation Data
Mozilla Foundation Gender Diversity (global)

| | | |
| --- | --- | --- |
| | Overall | Leadership* |
| Men | 31.4% | 35.7% |
| Women | 67.1% | 57.1% |
| Other Gender Identities | 1.4% | 7.1% |
Mozilla Foundation Racial and Ethnic Diversity (U.S. only)
Overall
Leadership*
White
74.3%
40.0%
Asian
5.7%
0.0%
Black
5.7%
0.0%
Hispanic or Latinx
5.7%
20.0%
American Indian or
Alaskan Native
0.0%
0.0%
Native Hawaiian or
Pacific Islander
0.0%
0.0%
Two or More Races
2.9%
20.0%
Mozilla Foundation Age Diversity (global)

| Age in years | Overall |
| --- | --- |
| 20-24 | 1% |
| 25-29 | 13% |
| 30-34 | 24% |
| 35-39 | 18% |
| 40-44 | 18% |
| 45-49 | 11% |
| 50-54 | 10% |
| 55-59 | 4% |
| 60+ | 1% |
Mozilla Foundation's Distributed Workforce

| Location | Overall |
| --- | --- |
| Remote | 53% |
| Office | 47% |