In hindsight, it's obvious that cancelling Mozilla's in-person All Hands, planned for mid-June in Toronto, was the right call. By the week of the would-be event, the number of COVID-19 cases in the city had reached nearly 14,000, and the country's border with the U.S. had long since closed. But in mid-March, when we made the decision, I wasn't nearly so sure.
Mozilla is a global company, and the outbreak had been on our radar for weeks at that point. During January's All Hands in Berlin, we'd made masks and hand sanitizer available, and I helped rebook some team members' return flights so they could avoid layovers in Shanghai and Hong Kong (so they wouldn't have to quarantine). By February, the hundreds of Mozillians who usually filled our offices had joined their "remotee" colleagues and started working from home. But in mid-March, with just 100 confirmed cases in all of Canada and fewer than 1,000 in the U.S., I was still hopeful things could turn around in time—so the cancellation hit me hard.
At first, I don't think I was able to separate how I felt about the pandemic as a person from what it meant for my work. I was, like the rest of the world, simultaneously worried about and grateful for the health of myself and the people I cared about. But I was also watching nearly every friend I had in the events industry lose their job, and I was struggling with my own identity at work—especially as Mozilla made the difficult decision to cancel some of the future All Hands, as well. I'd spent more than five years overseeing these events that had come to embody so much of what makes us Mozillians, and I loved what I did. The loss took a long time to accept.
I spent my evenings talking myself into trying something I felt like I had no idea how to do: recreate at least some of the magic and culture-building of All Hands, but in a virtual environment. It took a lot of support from the AV team and my boss, Mardi Douglass—but eventually, I started to figure out how, in a moment where so many people were craving connection, we could bring the team together. Everyone should have a boss like Mardi at some point in their career, and the guidance she gave me in that moment is just one example of why: She told me my goal should be not a perfect virtual All-Hands or even a successful one. Instead, I should aim to learn five things. She said the learnings didn't have to be profound; the point was to try something new. If our first attempt failed, we'd just do it differently the next time.
My first task was to pare things down. At an in-person All Hands, the days are fun but long; each morning kicks off with an all-company "plenary," then we break up into departments for smaller meetings, and there are team events most evenings. But no one wants to spend 12 hours on Zoom, and we knew we couldn't simply move all of that online. So we identified the "nonnegotiable" parts of All Hands that would not only transfer relatively well to a virtual environment, but would go furthest toward giving us a shared experience as a company. We decided the whole team would meet for just an hour or two each day, starting at 8 a.m. PT to accommodate as many time zones as possible, and recorded for those who couldn't attend. Then, we would fill out the rest of the mornings with smaller, more casual meetups, where people could opt in. We also made sure to accommodate a range of technical options, including Zoom, AirMozilla and Hubs, Mozilla's incredibly cool AR/VR platform, which had blown my mind as soon as the team gave me a tour.
During that busy month of planning, we also put together a little surprise for all 1,200 Mozillians: an official Virtu-All Hands swag box filled with lots of work-from-home-themed goodies including stickers, a pop socket, a camera cover, a face mask, and some putty, which to my surprise ended up being at least as popular with our team members as it was with their kids. Once the boxes started arriving, the All Hands Slack channel lit up. It felt like we had some momentum.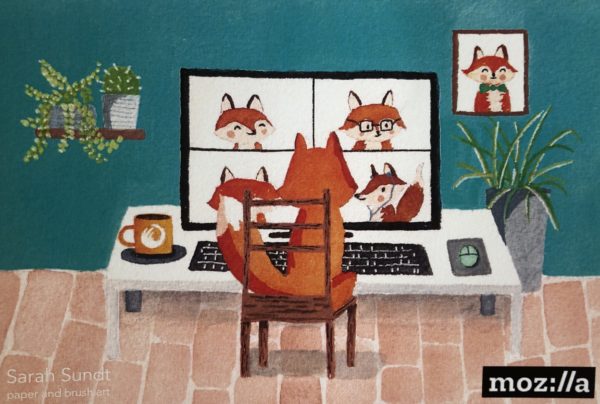 Surprise! Swag boxes to help kick off our first Virtu-All Hands.
When the week of June 15 began, we were as ready as we could be, given the all-new format—and while I was still sad that the team couldn't be together in person, we did manage to capture some of the magic I'd worried would be lost. The small-group meetups ranged from Zoom karaoke to virtual board games to a "pet parade" featuring chickens and snakes alongside cats and dogs. On one call, a Mozillan's son taught some other kids to code. We also managed to take our traditional All Hands photo, albeit through very non-traditional means: We set up six separate Zoom calls, then stitched the screencaps together in Photoshop to get everyone in one image.
Together, apart: 800+ Mozillans.
And when it came to the morning plenary, the virtual environment actually offered an unexpected benefit: Because none of the scheduled speakers had to fly around the world to attend, we were able to be more agile and responsive to the current moment—and ended up basing much of our content, including a wonderful talk from Dr. Safiya Noble, on her book, Algorithms of Oppression: How Search Engines Reinforce Racism.
In ways small and large, subtle and obvious, the week was entirely different from being face-to-face. I took away far more learnings than the five Mardi had hoped for—including that if you don't want something to feel like every other meeting, it's best to use different tools from the ones you use day-to-day. Next time around, that may mean more Hubs, rather than Zoom and AirMozilla, and I hope to build a special website as a "home base" for the entire Virtu-All Hands experience. I'd also like to organize "viewing parties" where people can gather in the same virtual space with Mozillians from their area, to watch the plenary together.
But for all I'd like to do differently next time, I ended our first Virtu-All Hands feeling grateful not just for the things I learned, but for what we were able to accomplish. The week wasn't perfect. But it was, for hundreds of Mozillians, a much-appreciated and valuable opportunity to connect with their teammates.
And for me, it was also an opportunity to see my job in a new way. I realized for the first time that my colleagues thought of me as not only an event planner, but an advocate for Mozilla's culture more broadly—and I started to think of myself that way, too. In fact, all of the new things I tried, inspired me to rewrite my job description, expanding my role beyond All Hands and cultural onboarding to include employee experience and engagement. Thanks to the support and encouragement of my teammates, I've realized I can still do what I love—create experiences. I'm just doing it in a new way.
***
Interested in working with Brianna and the rest of the Mozilla team? Check out our open roles.