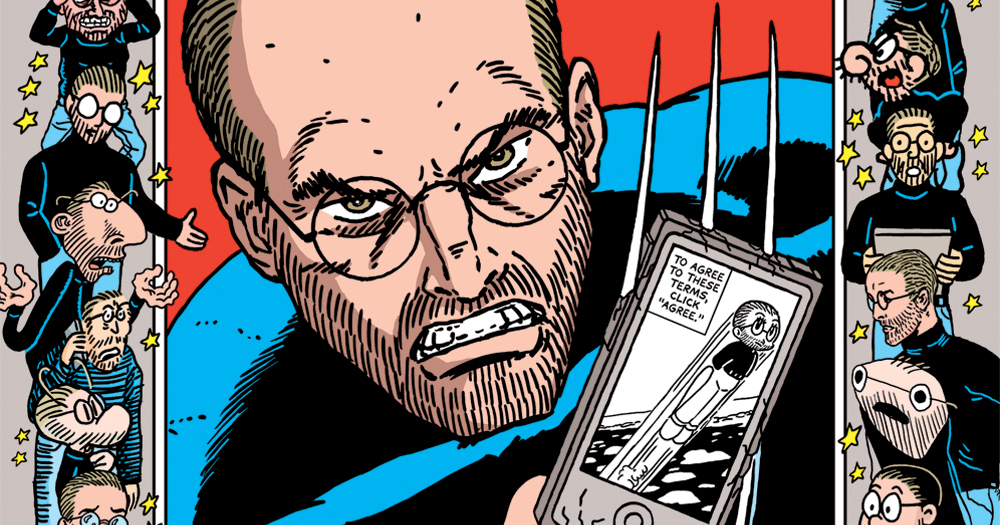 Terms and Conditions, The Graphic Novel
When artist Robert Sikoryak put the iTunes Terms and Conditions into graphic novel format, he tapped a familiar problem. Most of us don't read the terms and conditions because it's a bore and a chore. Researchers at Carnegie Mellon University estimated the median length of a single online privacy policy, for example, to be 2,514 words. This would take 10 minutes to read. Multiply that by the number of apps and sites you use daily, and it adds up to a fairly onerous burden.
A healthy Internet depends on our ability to make meaningful choices online about what we share with what companies and understanding the trade-offs we're making when we do. By skipping past lengthy terms and conditions in the hunt for the "I agree" button, we have no idea what we're giving away — like our first born child for use of a fake social network or the shirt off our back to win an iPad. Too often, our personal, private data is also offered up in the mix.
We sat down with Sikoryak to hear more about his new book, Terms and Conditions, The Graphic Novel, which not only makes reading the fine print more enjoyable, it also highlights the challenges consumers face in controlling of how personal information is collected and used by companies.
From a room surrounded by comics, Sikoryak described his work as pastiche, a mash-up technique that joins the iTunes fine print with redrawn "swipes" of previously published comics. He pairs Persepolis with iBooks storage rules, Superman with submissions to the iTunes service, Josie and the Pussycats with exceptions for public institutions, Captain Marvel with Apple Music usage rules, and The Simpsons with intellectual property protection. And those are just a few of the nearly 100 comics he celebrates in the book.
Each page features a familiar comic book character satirically reimagined as Steve Jobs who relays the iTunes legalese to us. Steve Jobs as Mr. Natural, Bone, Felix the Cat, Cathy and Snoopy's Joe Cool — all sporting black turtlenecks, glasses and beards — is irresistible.
Sikoryak is known for adapting literary classics into comic format, meshing highbrow with lowbrow. Waiting for Godot meets Beavis and Butt-Head; Crime and Punishment meets Batman; Wuthering Heights meets Tales from the Crypt. When he was looking for a new long-form project, the infamously long terms and conditions came to mind.

"One of the reasons that I got excited about adapting [the iTunes terms] is that there's no characters, no plot, and people don't have a connection to the text. I really wanted people to reconsider the possibilities of comics," Sikoryak said. "I want them to look at comics a different way as much as they look at terms and conditions in a different way."
He initially drew Terms and Conditions as single comics and sold them at his local shop and conventions before trying online publishing. The response astonished him.
"I put [the comics] on Tumblr, and I sent an email out to everyone I knew to say 'Hey, I did this thing,'" Sikoryak said. "Within 24 hours, Boing Boing found me. I was on Morning Edition on NPR with in a week. Fresh Air called. I didn't have a publicist. I just put it out in the world."
Throughout Sikoryak's project, the iTunes Terms and Conditions fluctuated in length from 14,000 words to a whopping 23,000 words. The book serves to capture a historical record, for after he published the book, the terms changed again. Today it's called "Apple Media Services Terms and Conditions" and is trimmed to 6,800 words.
"All of the [Apple] products are so beautiful and elegant, and the Terms and Conditions are so massive and awkward and not poetic," he said. "Maybe there are lawyers who find it well written. It's not Gertrude Stein. There's a lot of repetition, but it's not poetry."
Learn more about Terms and Conditions by R. Sikoryak from publisher Drawn & Quarterly.