It's a wrap!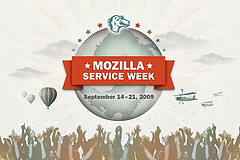 Thank you to each and everyone of you who participated in and helped promote Mozilla Service Week!    The Mozilla community didn't disappoint – thousands of you got out, and made a difference in our communities and the Web. Kudos to all!
Now it's time to see how we did.  Please take a moment to report your hours and share your stories by Sept. 25th (we'll start displaying completed hours on our site tomorrow). We're throwing in a little memento for those that do this!
Wondering what's next?  Today is OneWebDay, a global celebration of the Web — which is a wonderful way to wrap up Mozilla Service Week!  Here's how to celebrate:
Thanks for making a difference this week!  We're hoping the spirit lives on all year long.