Mozilla leaders to DC: "There are alternatives to SOPA"
"We urge Congress to think hard before changing the regulation that underpins the Internet. Let's not deny the next generation of entrepreneurs and founders the same opportunities that we all had."
That's the conclusion of a letter that went to the Hill today signed by seventeen Internet company founders and leaders, including Sergey Brin, Reid Hoffman, Arianna Huffington, Brewster Kahle, Jerry Yang and Mozilla's own Mitchell Baker. The letter asks that members of Congress recognize the unintended consequences of legislation aimed at combating online piracy.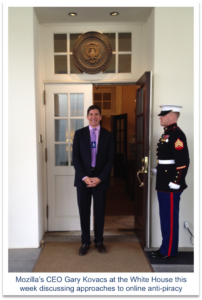 The controversial bills in question are the Stop Online Piracy Act (SOPA) and PROTECT-IP in the House and Senate, respectively. Mozilla has been working closely with many leading organizations and companies to communicate our concerns with the bills to policy makers in Washington. (See our previous post for more information.)
Just this week, we sent our CEO Gary Kovacs to the White House to discuss alternative approaches to combating online piracy and addressing the specific problem of "rogue sites." We also signed onto two other letters to the Hill  supporting consideration of the Online Protection and Enforcement of Digital Trade Act, which was introduced last week as a viable alternative to tackling overseas copyright infringement.
Finally, a big "thank you" to all our users and community members! When we asked you to get involved in this issue a few weeks ago, we were blown away by the response. We overheard a Hill staffer at the initial House hearing on SOPA say "the Internet is on fire today." That was hundreds of thousands of you contacting your representatives with your concerns over the impact of SOPA and PIPA to the Net.
Keep the pressure on. Let your members of Congress know you're still concerned!A new organization called Engine Advocacy is running a campaign for you to "Add Your Voice and Protect Internet Innovation."