Reality Redrawn Opens At The Tech
The Tech Museum of Innovation in San Jose was filled on Thursday with visitors experiencing new takes on the issue of fake news by artists using mixed reality, card games and even scratch and sniff cards. These installations were the results of Mozilla' Reality Redrawn challenge. We launched the competition last December to make the power of misinformation and its potential impacts visible and visceral. Winners were announced in February.
One contributor, Australian artist Sutu was previously commissioned by Marvel and Google to create Tilt Brush Virtual Reality paintings and was the feature subject of the 2014 ABC documentary, 'Cyber Dreaming'. For Breaking News at the Tech, he used AR animation to show the reconstruction of an article in real time and illustrate the thought process behind creating a fake news story. Using the AR app EyeJack, you can see the front page of the New York Times come to life with animation and sound as the stories are deconstructed and multiple viewpoints are presented simultaneously: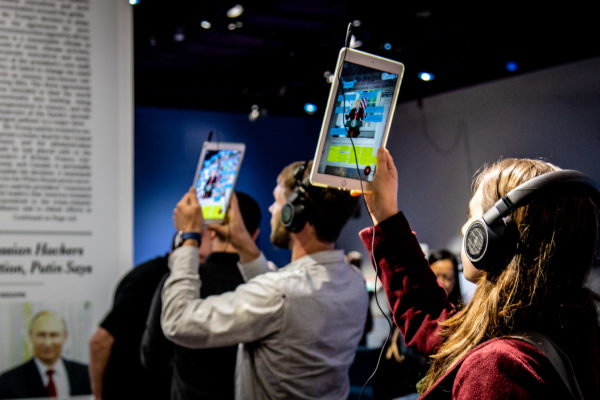 Visitors on opening night of this limited run exhibition also enjoyed conversation on stage around the topic from Marketplace Tech Host Molly Wood, Wired Contributing Editor Fred Vogelstein, BBC North America Technology Correspondent Dave Lee and our own Fellow on Media, Misinformation and Trust, Renée DiResta. There was a powerful message by video from the Miami Herald's reporter Alex Harris. She found herself the target of a misinformation campaign while reporting on the tragedy at Marjory Stoneman Douglas High School in Parkland, Florida.
Reality Redrawn is open until June 2 at the Tech and admission is included with entry to the museum. Follow the link to find out more about ticket prices for the Tech. If you're visiting the Bay Area soon I hope you'll make time to see how it's possible to make some sense of the strange journeys our minds take when attacked by fake news and other misinformation.