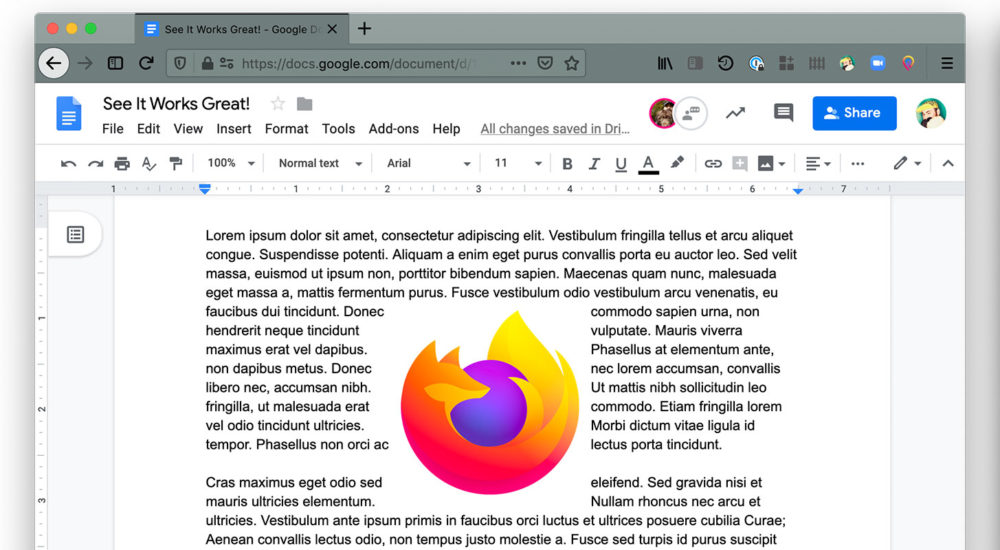 Google Meet and the rest of G Workspace are working better than ever on Firefox
Been thinking about making the switch to Firefox, but worried about how well Google Workspace products will work? Well, we've got some good news for you.
Google services have always worked great on Firefox, thanks to our collaboration with the G Workspace team, who want to make sure their products work on all major browsers. But the internet never stops evolving, so we're always looking for ways to improve people's experience with services they choose to use on Firefox. 
Here's an example of a recent improvement you can expect to see when you use Google Meet on Firefox:
Google Meet
Want to turn on fun video effects during your next call? Or do you need to blur your background when you hop on your next online work meeting? You can now do both in Google Meet on Firefox. If you use Firefox version 115 or higher, you can set your visual effects either before or during your Meet meeting.
If you are in the waiting room prior to your call, you can select "Apply visual effects" (the button with sparkles), which will present you the usual Google Meet menu of filter options.
If you're already in the call, you can select "More Options" (the button with the three dots) in the menu bar at the bottom of the page and then select "Apply visual effects."
It's not just Google Meet. Here's a list of other Google tools and services that works great on Firefox:
Workspace (Gmail, Calendar, Chat, Docs, Drive, Meet, Sheets, Slides)
Classroom
Forms
Keep
Maps
Photos
Translate
Voice
YouTube (videos and Music)
So if you're considering a switch but have had concerns with compatibility, you can be confident that Google services work great with Firefox — and that we're always working on meeting your ever-changing needs.
Get Firefox
Get the browser that protects what's important