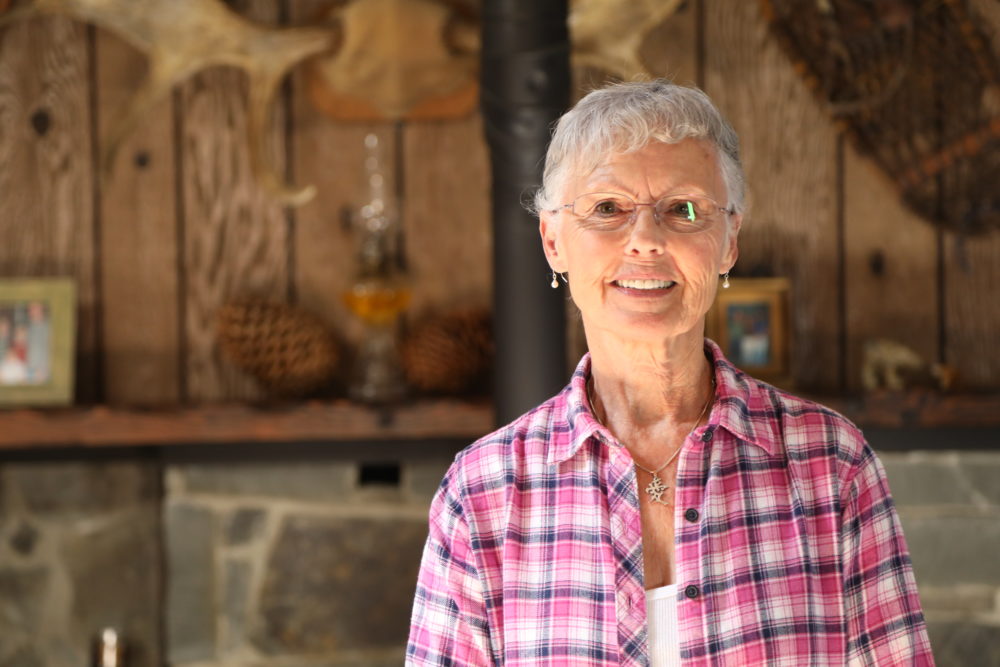 Meet MaDonna, a one-woman Firefox theme machine
Way up in a bucolic corner of the Pacific Northwest lives one of the most prolific designers of Firefox themes, a twinkly 78-year-old great-grandmother who goes by the online handle "MaDonna." When her grandson, who works in the IT department at a nearby university, set up her computer, he installed Firefox on it. MaDonna discovered she could spruce up her browser's look with custom graphical themes, so she started dabbling with her own creative ideas.
"I like to keep busy," she told me over coffee and a slice of delicious rhubarb pie (her grandmother's recipe) one sunny morning in her kitchen.
According to the numbers, she has been very busy. Over the last ten years, MaDonna has created an astounding 17,000 themes for Firefox, all available for anyone to use.
"We joke internally that MaDonna is our best QA tester," said Amy Tsay, who manages Mozilla's Add-ons community experience. "We actually had to update our system because we never anticipated anyone would create so many themes."
User-submitted themes — free, easy-to-install graphic "skins" — have long been a part of Firefox. Today the Add-ons page hosts more than 400,000 colorful themes, all designed and freely submitted from around the world by thousands of contributors like MaDonna. Any time you want a fresh look, drop into the themes page for a refresh, from manga to sports to unicorns to cats to abstractions to just about anything else you can think of. And if what you want isn't there, you can create and add it yourself.
MaDonna submitted her first Firefox theme design in 2008, which she designed with Microsoft Picture It software. Then she made another and another, and soon she was off and running, creating some of the most used themes on our site. At one point, Sunset over Water, which features her own photo of locally famous Chuckanut Drive, boasted over a million users.
"Whenever one of my themes rises to the most popular category, I have to admit I'm pretty thrilled," she said with a cheery smile.
Within a few years, MaDonna upgraded to Adobe Photoshop, and she has an extensive collection of visuals, all organized at her fingertips. She likes natural scenes with wildlife like bear, elk and deer, but wolves are her favorites. Not every design makes it from her computer to her theme page.
"Some of them end up in the recycle bin and never get used. Others get saved into a file and then I'll check it later and I'll think 'That is awful!' And then it goes in the recycle bin," she said. "I bet I have ten thousand or more made, in files, ready to go right now."
MaDonna primarily uses the Internet for making themes, finding recipes, research and keeping in touch with friends. Hearing from people all over the world about her designs keeps her inspired.
"I've had people tell me that it makes their time that they spend online better for them," she said.  "They can enjoy being online, and that makes me feel good."
Ready to make a theme?
Firefox has hundreds of thousands community-designed themes to choose from, with more added every day. Have a creative flair? Create a theme and join the community of people who make being online a little more fun and personal.
Image Requirements
Dimensions should be 3000px wide × 200px high
PNG or JPG file format
Image must be no larger than 300 KB in file size
Tips
Subtle, soft contrast images and gradients work best; highly detailed images will compete with the browser UI.
Firefox may reveal more of the lower portion of the image if another toolbar or other UI element is added to the top of the window.
The upper right-hand side of the image should have the most important information—as a user increases the width of the browser window, the browser reveals more of the left-hand side of the image.
Ultrawide monitors can run to 3440px wide, to look good on these monitors, either increase the size of the image or ensure the left of the image fades to a solid color.
Submit Your Theme
Once your design is ready, the final step is to preview and upload through the Theme Submission page. Read more in the MDN article, How to Create Your Own Lightweight theme, and get started today!
My favorite MaDonna theme is One Leaf Fallen. What's yours? Share it in the comments.