We're experimenting with new features in Firefox Beta to give you more ways to connect with the people and content you want on the Web.
There's a new tab sharing feature in Firefox Hello Beta so you can share any website you're viewing while talking to friends, family and co-workers. We're also testing a new integration with the popular service, Pocket. Pocket allows you to save stories, videos and websites to enjoy at a later time.
To test Firefox Hello tab sharing, follow these steps:
Click the Hello icon in the Firefox toolbar.
Start a conversation.
Connect with your guest.
Click the share icon.
To experience even more of Hello, sign up for a Firefox Account. You can then add and save contacts directly into your Hello contacts list, making it easier to connect with friends and family.
You'll see the Firefox Accounts sign up option by clicking the Hello icon and looking at the bottom right of the conversation control center.
You can even use Firefox Hello without an account, the people you're connecting to just need to click your link to join a call with you.
When you have a Firefox Account, you can also test the new Firefox Beta Pocket integration, following these steps:
Click "Sign up with Firefox."
You'll create your account and be asked to confirm your email.
Open your email service and click the confirmation link in the message we've sent you.
You're now ready to use Pocket. To start testing, visit any website and click the Pocket icon in the toolbar. For example, visit Yahoo news. Once there, click the Pocket icon. That page will be saved to your Pocket. You can access that content again through Firefox by clicking the Pocket icon and selecting View List. You'll then be taken to the screen below where you can view and manage your saved content.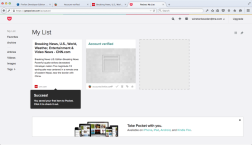 Pocket is available in Firefox Beta in English, German, Japanese, Russian and Spanish and more languages are coming soon.