Cross posting this. It was written a couple months ago and posted to Mozilla's Security Blog
This article was coauthored by Aislinn Grigas, Senior Interaction Designer, Firefox Desktop
November 3, 2015
Over the past few months, Mozilla has been improving the user experience of our privacy and security features in Firefox. One specific initiative has focused on the feedback shown in our address bar around a site's security. The major changes are highlighted below along with the rationale behind each change.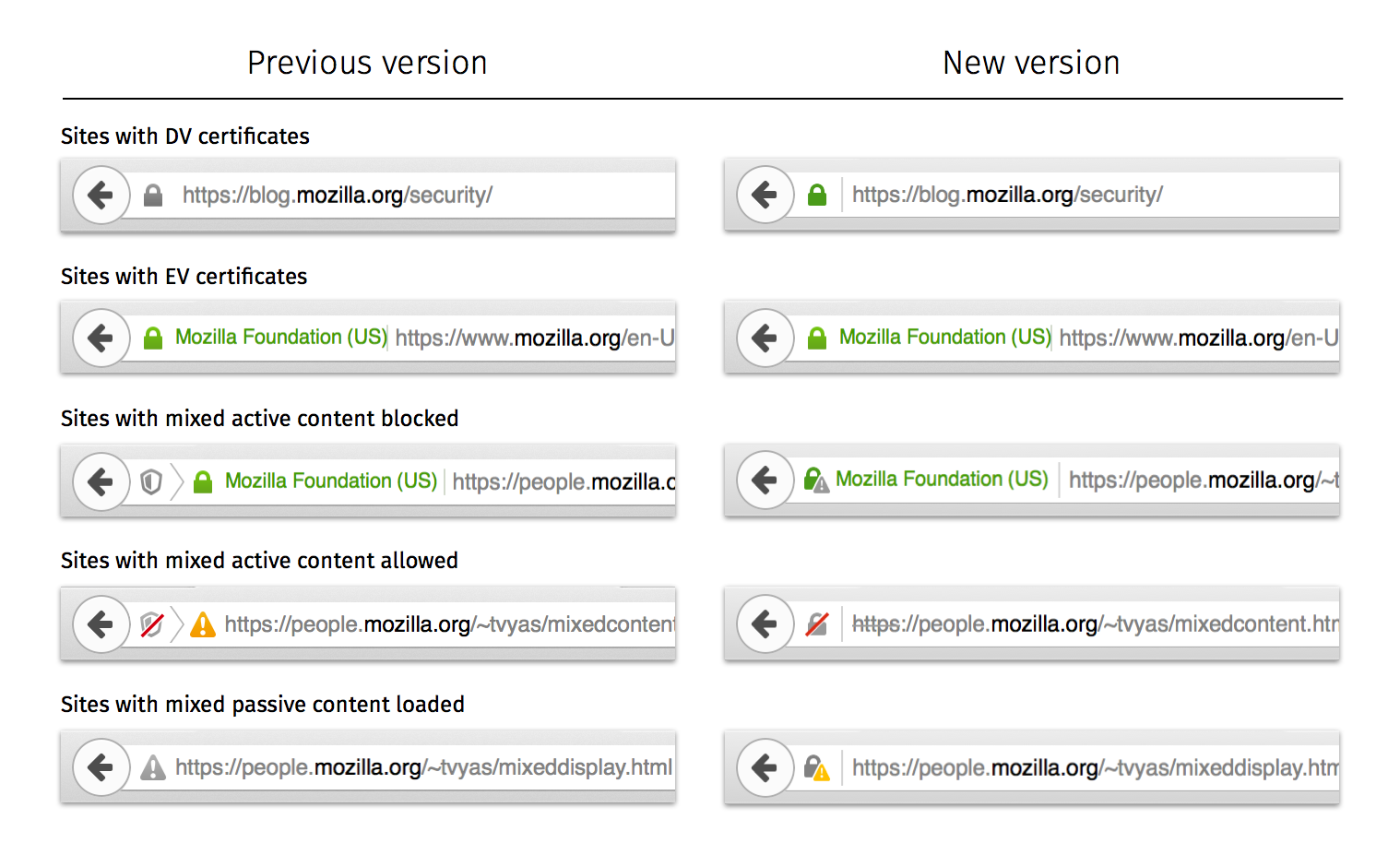 Change to DV Certificate treatment in the address bar
Color and iconography is commonly used today to communicate to users when a site is secure. The most widely used patterns are coloring a lock icon and parts of the address bar green. This treatment has a straightforward rationale given green = good in most cultures. Firefox has historically used two different color treatments for the lock icon – a gray lock for Domain-validated (DV) certificates and a green lock for Extended Validation (EV) certificates. The average user is likely not going to understand this color distinction between EV and DV certificates. The overarching message we want users to take from both certificate states is that their connection to the site is secure. We're therefore updating the color of the lock when a DV certificate is used to match that of an EV certificate.
Although the same green icon will be used, the UI for a site using EV certificates will continue to differ from a site using a DV certificate. Specifically, EV certificates are used when Certificate Authorities (CA) verify the owner of a domain. Hence, we will continue to include the organization name verified by the CA in the address bar.
Changes to Mixed Content Blocker UI on HTTPS sites
A second change we're introducing addresses what happens when a page served over a secure connection contains Mixed Content. Firefox's Mixed Content Blocker proactively blocks Mixed Active Content by default. Users historically saw a shield icon when Mixed Active Content was blocked and were given the option to disable the protection.
Since the Mixed Content state is closely tied to site security, the information should be communicated in one place instead of having two separate icons. Moreover, we have seen that the number of times users override mixed content protection is slim, and hence the need for dedicated mixed content iconography is diminishing. Firefox is also using the shield icon for another feature in Private Browsing Mode and we want to avoid making the iconography ambiguous.
The updated design that ships with Firefox 42 combines the lock icon with a warning sign which represents Mixed Content. When Firefox blocks Mixed Active Content, we retain the green lock since the HTTP content is blocked and hence the site remains secure.
For users who want to learn more about a site's security state, we have added an informational panel to further explain differences in page security. This panel appears anytime a user clicks on the lock icon in the address bar.
Previously users could click on the shield icon in the rare case they needed to override mixed content protection. With this new UI, users can still do this by clicking the arrow icon to expose more information about the site security, along with a disable protection button.
Loading Mixed Passive Content on HTTPS sites
There is a second category of Mixed Content called Mixed Passive Content. Firefox does not block Mixed Passive Content by default. However, when it is loaded on an HTTPS page, we let the user know with iconography and text. In previous versions of Firefox, we used a gray warning sign to reflect this case.
We have updated this iconography in Firefox 42 to a gray lock with a yellow warning sign. We degrade the lock from green to gray to emphasize that the site is no longer completely secure. In addition, we use a vibrant color for the warning icon to amplify that there is something wrong with the security state of the page.
We also use this iconography when the certificate or TLS connection used by the website relies on deprecated cryptographic algorithms.
The above changes will be rolled out in Firefox 42. Overall, the design improvements make it simpler for our users to understand whether or not their interactions with a site are secure.
Firefox Mobile
We have made similar changes to the site security indicators in Firefox for Android, which you can learn more about here.