This morning, addons.mozilla.org reached a huge milestone: we served our 1 billionth add-on download since we started keeping track of downloads in 2005.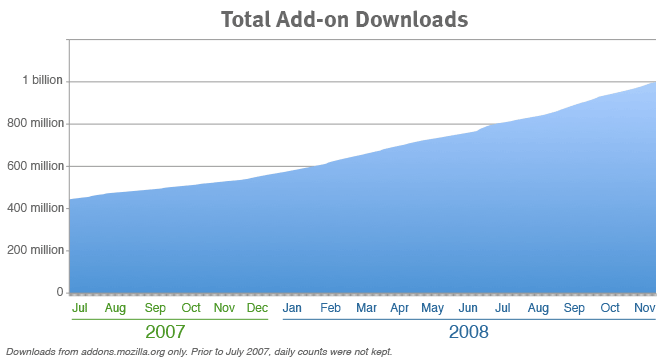 This number only includes downloads from addons.mozilla.org, but as many add-ons are hosted elsewhere, we can be sure the actual number is even higher. This is a very exciting week for Firefox add-ons, with the launch of Fashion Your Firefox yesterday, offering a new way for first-time add-on users to customize their browser.
This amazing feat was made possible by the huge community of add-on users, developers, and enthusiasts, as well as non-Firefox applications that embrace Mozilla add-ons like Thunderbird, SeaMonkey, Sunbird, Komodo, Flock, and Songbird, to name a few.
At 1.5 million add-on downloads per day and increasing, I'm confident our next billion will arrive even more quickly than the 3.5 years it took for the first. If you're not using an add-on yet, try one out. They're pretty popular.