Sinchan Banerjee is an intern from Mozilla's User Experience team and one of his projects involves ensuring add-ons get the user experience they deserve. The following is a guest post by Sinchan.
Firefox can complete a lot of tasks. It comes with the functionality to accomplish the tasks we believe most people want to finish, but everyone uses the Web differently. They often want to do tasks that we don't enable Firefox to accomplish right out of the box. Add-ons tackle this issue — they enable everyone to get the functionality they want out of Firefox. Out-of-box functionality and add-on functionality come together to make Firefox.
The current add-ons installation and customization user experience does not reflect this: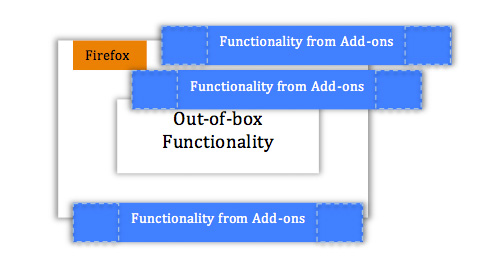 Right now, add-ons feel like they were literally added on top of Firefox's User Experience. The user experience shouldn't make add-ons feel like they are awkwardly layered over our Firefox's default UI — they should be fundamentally integrated into the UI so that Firefox fits your specific needs.
That's why Firefox's User Experience team is designing a new experience that reflects the fact that add-ons make up an integral part of Firefox Functionality: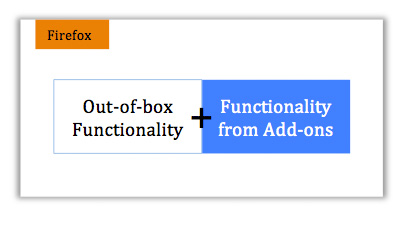 Out-of-box functionality and functionality that comes from add-ons shouldn't be treated differently because at the end of the day, to the user, there should be just Firefox functionality.
We will send out another post soon highlighting the ideas we have for this new user experience.