This must be Thursday. I never could get the hang of Thursdays.
-Arthur Dent, The Hitchhiker's Guide to the Galaxy by Douglas Adams
Thursday is push day. It's the day the AMO team gathers on IRC, figures out what's going out and sets it loose on the world with the push of our Big Red Button. A lot of the time, we don't push anything too exciting for users — it's mostly big backend changes or minor bug fixes. This week, however, we pushed two important features; both done by Chris Van Wiemeersch.
Search Suggestions
We've been working hard over the past few months to make our search as awesome as possible. A few weeks ago, it got both a fresh coat of paint and a completely new engine. This week, we've taken it a step further — instant search suggestions, as you type. Try it out »
So, as you type, you'll instantly see the add-ons with names that match your search query. If you hit <Enter>, you'll be taken to a search results page as usual. You can go straight to an add-on by using your up/down arrow to select an add-on before hitting <Enter>.
There's a little trick for you keyboard fans out there — hitting "s" on any AMO page will focus your cursor on the search box so you can just start typing.
Add-on Dependencies
Many add-ons require another add-on to be installed before it will work. We don't currently enforce this anywhere, however we now give add-on developers a way to indicate this on the add-on detail page. Check it out »
Developers can indicate which add-ons are required in the Technical section of the Edit Add-on page in the devhub. Much like search suggestions, add-ons are suggested for the developer as they type.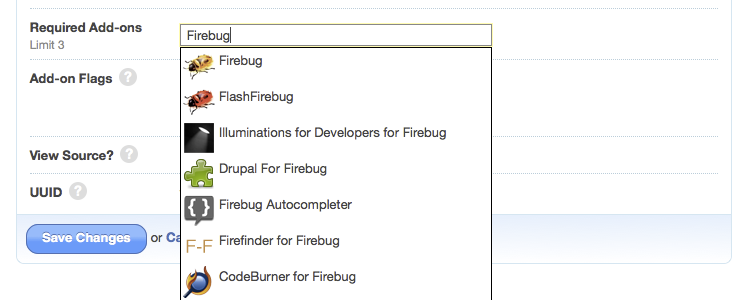 The Epilogue
That's the awesome stuff Team AMO pushed live this week! (And lest you think the rest of us took the week off and let Chris do all the work, we have a complete list of what went out today.)